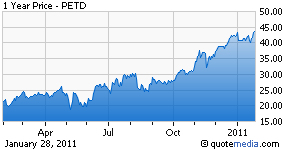 Founded in 1969, Petroleum Development Corp. (PDC) Energy (PETD) is an independent oil and gas company, primarily in operating in the Rocky Mountains and Appalachian Basin. They are primarily a natural gas company as 82% of their revenues are derived from this. In the near term they are beginning to drill their properties for oil and natural gas liquids.
PDC Energy in the past has generated most of their revenues from natural gas. As the market for natural gas has been flooded by shale drillers, many of these techniques are being applied to capture higher margin oil and natural gas liquids. The Rocky Mountains provides the largest LTM production of 88%. 8% is garnered from the Appalachian Basin with the final 4% coming from the West Texas Permian Basin. At the end of 2009 they had 717 Bcfe of reserves. They had production of 37.5 Bcfe in LTM of September 2010.
This production for LTM is broken down into these divisions:
Rocky Mountains: 33.0 Bcfe
Appalachian Basin: 2.9 Bcfe
West Texas:1.6 Bcfe
As of January, PDC Energy is looking to acquire new areas. This will increase production and cash flow. They want to build their inventory, and do this through oil and liquefied natural gas. They are lowering costs and building efficiencies. Their existing properties have oil and liquefied natural gas and they are exploring these areas the Rocky Mountains and West Texas areas.
In 2010 PDC Energy did several things to help grow their company. The first is acquisition of an area in the Wolfberry, which has 10500 acres. They estimate 40 acre spacing, which translates to 250 drilling locations. Planning to add 20-30 wells by the end of this year. PDC Energy also purchased 70000 net acres in the niobrara. They also de-risked and developed their Marcellus location. Three wells were drilled, completed and online, with a fourth well in process. They also initiated three-year partnership buy back plan. Lastly, they raised 236.7 MM net proceeds last November.
PDC Energy maintains low leverage and strong liquidity. Over the past 4 years they have kept leverage between 1.5x and 1.8x. Liquidity is up from $144.8 million in 2007 to $245.3 million September of 2010. Debt maturity on their revolving account is $321.3 million in 2015, convertible notes due 2016, and 12% senior notes are due in 2018.
Looking at their inventory, this company may be switching to oil plays quickly. Their 70000 acres in the DJ Wattenberg area could have as many as 125 prospective horizontal drill sites. The first was drilled last October. Their Permian Basin play is 90% oil and liquefied natural gas. They have found 242 low-risk drill sites. PDC Energy is estimating that their ratio with liquids to gas will increase in liquids to 35% in 2011-2012 from 20% in 2009. To make sure these estimates are reached they are spending $205 million to $240 million on increased oil drilling. That's 75% to 85% on oil based projects. PDC Energy is estimating capital spending will provide 20%-25% production growth.
Do to this company's exposure to natural gas, it is my guess many wouldn't take a chance on this company. It's large exposure is also heavily hedged. 2011 is 78%, 2012 69% and 2013 66% hedged, adding substantial protection even if natural gas prices continue to remain low.
PDC Energy has added to its holdings recently. They have reached into the Permian Basin for several reasons. They need to increase oil production. With this area it is essential to have success as it is a moderate rate of return with low risk asset. Because of these reasons, PDC thought this particular purchases would fit their company well. They made two acquisitions, one in July and one in November. These acquisitions added 10560 acres. It has a net production of 900 Boe/d. That have executed cleanly on the first six wells. They plan to accelerate this to a 25 well drilling program. Estimates from December of 2010 show net production between 700 and 1000 Boepd. More importantly, if someone is looking for a little upside not planned previously, three areas may be of interest. Bend, Strawn and Fusselman zones have unplanned possibilities. PDC believes these three zones may have additional value due to reservoir opportunities. Wolfberry's development is currently ahead of schedule. This entire area should be tested by the end of this year. As they continue to develop the area, production optimization is increasing production. Capital costs are expected to come in at $1.5 to $1.75 million. IRR will come in between 35% to 70%.
In summary, PDC Energy is a well hedged natural gas producer. These hedges have help keep their company viable and should continue to be into the future. With better margins in liquids, they have used and plan to use considerable funds to acquire and produce through acquisitions. It seems they have enough new production plus with most being in oil that they should be able to grow at least for the next few years.
Disclosure: No position