So who is the China online travel sector "best of breed?" If you're talking about the best full service online travel service company in China, the answer is simple, Ctrip.com International (NASDAQ:CTRP).

How could you deny this well-managed, $6 billion market cap, growth company that distinguished title. After all, they do everything well - air ticketing, hotel reservations, corporate travel, and packaged tours. In 2009, they commanded a market share of more than half of China's online travel market.
And what makes CTRP even more attractive is that China's online market is expected to top RMB 5.4 billion in 2010 and triple to RMB 15.91 billion by 2013.
2008-2013 China Online Travel Market Size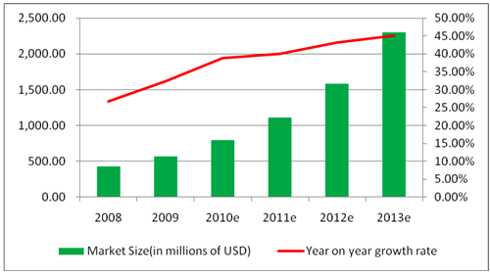 (Source: iresearch)
With these sector growth estimates working in your favor, you can understand why CTRP commands a pricey 43 PE multiple on consensus estimates of 2010 EPS of 99 cents and a forward 2011 PE of 33 on consensus estimates of $1.29 in EPS.
But in conducting due diligence on CTRP by listening to last quarter's conference call (see transcript here), I was struck by the fact that only 37% of their quarter's business came from online transactions. Therefore, 63% of this online China travel "best of breed" is getting 63% of its revenue via offline business.
This news brought me to some research on the travel booking preferences of the Chinese. According to an iResearch study, only 10% of Chinese booked their travel online in 2009. That number is expected to double by 2011, but that still means that 80% of all Chinese travelers will book their travel offline in 2011.
At this point in my research, the light bulb was glowing bright in my mind as I quickly asked myself, "What China travel services company specializes in offline travel services?" I wanted a piece of that action where the majority of China travel dollars are spent today – offline!
I found the company that met my four target guidelines for this particular investment idea:
Offline China travel company positioned for growth
Good management team
Undiscovered with earnings multiple cheap to CTRP
Trading on a major exchange
All of these roads led me to Universal Travel Group (UTA), a leading travel services provider in China.
Although UTA sells airline tickets and hotel reservations just like CTRP, their largest business segment is packaged tours. And packaged tours are 100% offline revenue for UTA. The business breaks down as follows in three segments (packaged tours, air ticketing, and hotel reservations):
UTA Revenue Composition (see pdf here):
73.6% packaged tours
16.6% air ticketing
9.8% hotel reservations
Details per Segment:
Packaged Tour:
100% offline
People served: 2007 (210,000), 2008 (540,000), 810,000 (2009)
Air-Ticketing:
80% call center, 20% "online related", 2% via online payment
1.7 million tickets (2008), 2.4 million tickets (2009)
Of 2.4 million, 480,000 (online related), 48,000 (paid online)
Hotel Reservations:
70% call center & franchisees
30% "online related"
customers pay at front desk
1.5 million room nights (2008), 2.3 million room nights (2009)
Another key to UTA's attraction as an investor is their strength in packaged tours. I shared how this is the fastest growing segment of the China travel biz in a recent Seeking Alpha article. This segment of business is 100% offline for UTA and probably close to that for CTRP too. It is the nature of this type of travel to deal with an individual agent via phone or in person, not a computer interface.
To quote UTA CFO Xie:
The travel industry and consumer behavior are very different in China, where there is huge potential and demand for packaged tour business. This is also what separates us from our competitors and an important part of our growth strategy.
The fact that UTA is designed right now for offline strength over CTRP is a competitive advantage in the highest growing segment of the sector, packaged tours. And in December, UTA's packaged tour reach increased further when they obtained the International Travel License issued by the National Travel Authority granting it the right to operate and offer global package tours in mainland People's Republic of China ("PRC"). Only 1 in every 20 travel agencies in China has been granted this privileged access to global sales.
Even though UTA is focused on being the leader in offline, China packaged tour travel, they continue to execute growth plans to reap the benefits of the forecasted surge in online travel growth. According to UTA's management, they are preparing their infrastructure and business relationships for the day when China consumer spending behavior changes to a more overweight online model like the United States. This is clearly evidenced by their partnership with Priceline (NASDAQ:PCLN), via its Agoda subsidiary.
With that said, UTA's current packaged tour, predominantly offline, lower margin business model does warrant a lower PE than a more online, higher margin CTRP. And CTRP's 30-35% year over year growth compared to UTA's 15-20% also adds a higher premium. My fair value estimate for CTRP is $45.00 or 35X the consensus 2011 EPS estimate of $1.29. And my fair value target for UTA is $16.00 or 10X my 2011 EPS estimate of $1.60. It is very compelling that UTA can double and still be fairly valued. Yet CTRP is currently within 5% of its fair value but has a history of trading at multiples over 50.
Upcoming catalyst for both company's are Q4 earnings (Feb. 13 – CTRP and mid March for UTA) as they report their full year results. UTA has a history of running up into earnings and it got a nice bounce after CTRP reported last quarter thanks to CTRP's 100%+ year over year increase in packaged tours. CTRP has guided for another 100% packaged tour increase in Q4 which should bode well for both companies, especially the offline China package "best of breed," Universal Travel Group.
Disclosure: Author long UTA