LinkedIn (LNKD) and Twitter (NYSE:TWTR) are some of the leading momentum stocks in the current bull market. Shares of both companies have gone through a turbulent period this year, selling off by as much as 40% at one point mainly due to concerns about their stratospheric valuation.
The two companies are the fastest growing in the social media sector. LinkedIn finished the second quarter of fiscal 2014 with revenue of $534 million, a 47% year-on-year growth, therefore beating consensus estimate of $511 million. Twitter finished the quarter with revenue of $312 million, or 124% year-over-year growth, beating consensus revenue estimates by $29.72 million.
LinkedIn PE Ratio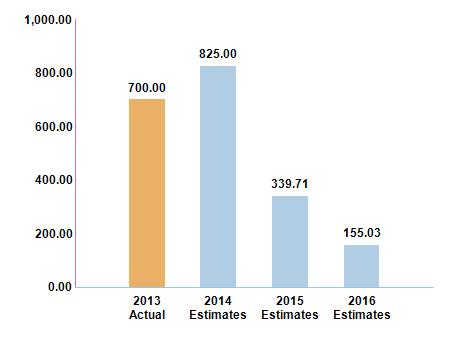 Twitter PE Ratio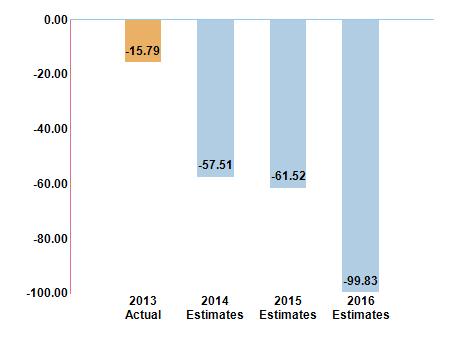 Source: NASDAQ
LinkedIn topline growth has slowed down quite a bit, while its bottom-line growth has worryingly gone back to the red after enjoying a profitable run for several quarters. The company finished the quarter with GAAP EPS of $(0.01) compared to GAAP EPS of $0.03 for the previous year's comparable quarter. Meanwhile, Twitter continues with its loss-making streak. The company finished the quarter with GAAP EPS of $(0.24) compared to $(0.32) last year.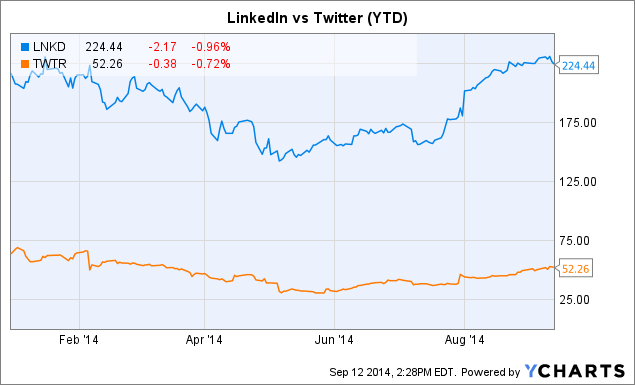 Despite robust topline growth, both companies are still plagued by various factors that seem to impinge on overall performance.
What's wrong with LinkedIn?
LinkedIn is really facing the bugaboo of many high-growth companies with spiraling sales and marketing costs. The company spends almost 35% of its revenue on marketing expenses each year. Its product development costs as well as general and administrative expenses are also growing faster than the company's revenue.
LinkedIn also sports a relatively high stock based compensation. The company expects to dole out about $305 million, or 14.7%, of its fiscal 2014 revenue as stock-based compensation. That's 57% higher than the $193.9 million the company paid out last year. The figure is also growing faster than the company's revenue, which is rather worrying.
In its defense, LinkedIn expects full-year sales and marketing expenses to clock in below last year's 34% of revenue. The company also showed a very marked improvement on a very important metric-page views. In fiscal 2013, LinkedIn page views grew just 5% despite a 36% growth in the company's user base. This is a clear sign of lack of user engagement. Page views, however, increased 22% during the second quarter to 25 billion while unique members grew 13%. That's a good sign that user engagement is improving.
Twitter's Achilles heel
It appears as if many of LinkedIn problems are rather temporary and the company is likely to outgrow them. For Twitter, however, the long-term outlook is not so rosy. What's particularly worrying is that many of the company's problems are outside its control.
Twitter's user base exhibits an odd dichotomy. The company has about 271 million users, of which only 23% are in the U.S. While this is nothing strange, the bad part is that there is a huge revenue disparity between U.S. users and non-U.S. users. Twitter's U.S. users are far more lucrative than non-U.S. users, bringing in more than 6 times per user on average than U.S. users. Twitter's ad revenue per 1,000 timeline views clocks in at $3.80 in the U.S. and just $0.60 outside the U.S.
At the moment, this is not a problem since Twitter has only covered less than 20% of the U.S. population giving it some room to run. But, at the current growth rate in its user-base, Twitter will have covered the entire U.S. population in just 7-8 years. From here the company's growth will mainly have to come from foreign markets. With such poor monetization rates for the company's non-U.S. users, Twitter could face a real revenue cliff, unless it can figure a way to monetize its foreign markets much better than it's currently doing.
Twitter might, however, get some reprieve as smartphone adoption rates in developing economies continue to rise. One reason why Twitter's ad revenue in these economies is so poor is because many users there still rely on feature phones, which happen to be not very ad-friendly.
Twitter is operating in a rather crowded online advertising market. The company has just 1% share of the market, compared to 51% for Google (NASDAQ:GOOG) and 11% for Facebook (NASDAQ:FB). There are many other large players in the space such as Yahoo (YHOO), Baidu (NASDAQ:BIDU), Yelp (NYSE:YELP), LinkedIn and others, each with a set of tools that it can leverage to help it exploit a certain segment of the market.
Twitter's stock-based compensation looks profligate. The company plans to spend about 51% of its expected fiscal 2014 revenue, or $640-$690 million, as stock-based compensation. Granted, companies like Twitter and LinkedIn have to try hard to attract and retain top talent. About 50% of Twitter's 3,300 employees are engineers, and these professionals can be expensive to hire. But spending more than 50% of revenue on stock-based compensation is hard to justify.
Throw in the fact that Twitters shares are still expensive even after this year's big selloff, coupled with the view that shares don't look that attractive.
Bottom line
Judging by the valuation of Twitter, it appears as if a lot of growth has been priced into the shares. The company's international users are, however, bringing in very little revenue. The company's stock-based compensation is simply excessive and acting as a major drag on its profitability. Twitter is likely to continue growing rapidly for 7-8 years, after which growth might slow down considerably. Most of LinkedIn's problems appear to be quite temporary, and the company is likely to outgrow them soon, making it a better long term investment than Twitter.
Disclosure: The author has no positions in any stocks mentioned, and no plans to initiate any positions within the next 72 hours.
The author wrote this article themselves, and it expresses their own opinions. The author is not receiving compensation for it (other than from Seeking Alpha). The author has no business relationship with any company whose stock is mentioned in this article.