Part 1 is available here. Part 1 of this series covers my individual case study on inflation of grocery items over a year, and compares it to the BLS inflation number. Based upon that case study, I have prepared Part 2 of this series to discuss potential investments that take advantage of items you will buy every day.
Grocer Stocks
From an investor's perspective, how do we take advantage of rising inflation in grocery items? There are some obvious ways that I will get to. But first, I want to discuss ways in which to avoid investment risk.
It has been well documented that the grocery segment is currently taking a beating, leading one analyst to stay completely out of the segment until he sees improving operating margins. Again, the poorness of margins, the A&P bankruptcy, and Kroger (NYSE:KR) / Safeway (NYSE:SWY) profit issues paint a big red stop sign on grocer stocks.
Grocers have not been able to pass food inflation fully to their customers, and most currently suffer from heavy debt. Consolidation isn't an option for many of these companies.
Wal Mart (NYSE:WMT), Target (NYSE:TGT) and Costco (NASDAQ:COST) may be waiting in the wings to absorb a failing grocer, but I would recommend caution here. In an industry where margins are falling, merging healthy and poor companies can poison the host. The mortgage industry is an excellent example of this. Do we want to invest in a company where 51% of domestic revenues come in grocery, such as Wal Mart?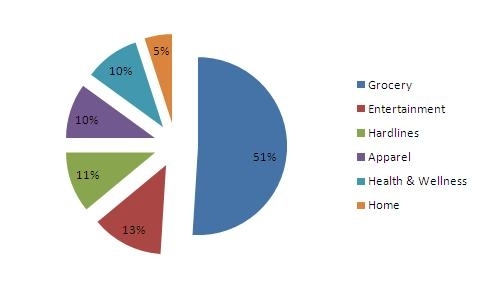 Wal Mart could attempt to stock more supply to mitigate price increases, but they are not set up with enough storage space to hedge prices for extended periods of time. The company's other option is to accept reduced margins, raise prices, or increase efficiency in the supply chain. In the end, if prices are inflating strongly and continuously, those costs will eventually have to be passed on to the consumer in the form of higher prices, regardless ofhow much more efficiency Walmart squeezes out of its supply chain.
Costco makes 1.7% off of $77 billion in sales. They have pretty razor thin profit margin already. Total current assets are higher than total current liabilities, but about half of assets are inventories. If sales slow and margins decrease, that could become a cash flow problem for Costco in the future.
I thought about farmers, ranchers and other producers. While we may be able to find some large public companies that produce goods, I am not sure they would be an inflation hedge for the same reason grocers won't be. Consumers will vote with their wallet, and competition will force profit margins down for producers as much as for retailers. I am not sure the farmers and ranchers could increase margins significantly, but they might be able to.
Lesson: stay out of the grocery stock sector, for now.
The best broad, pure inflation hedge is physical gold and silver. You can read my previous articles to get my thoughts on these two metals. I'll concentrate more directly on items that fit the grocery theme for this article.
Commodities Futures
The following analysis is often technically oriented, and therefore is examining the short term. Fundamentally, I see the agricultural sector as bullish due to what I consider extremely strong inflation and food crisis factors in the economy. So while I always advise proceeding with caution on any investment decision, I think the sector is overall bullish and should be strongly considered in your portfolio.
The quickest way to invest in commodities is to pick an ETF/ETN that covers a basket of goods. For the difference between ETFs and ETNs, check
Investopedia
.
I am currently invested in Powershares DB Agriculture Fund (NYSEARCA:
DBA
). We can find my investment results so far with this fund
here
. DBA's
top ten holdings
:
Cocoa Futures Mar11: 11.79%
Sugar #11 (World) Jul11: 11.36%
Coffee "C" Future Mar11: 11.34%
Live Cattle FUTR Feb11: 10.15%
Soybean Future Nov11: 8.31%
Corn Future Dec11: 7.49%
Wheat Future (KCB) Jul11: 6.15%
Lean Hogs Future Feb11: 5.49%
Corn Future Mar11: 4.64%
Soybean Future Jan11:.48%
That gets us exposed to several farm and livestock futures, which is a nice start since those showed sizeable inflation in my
case study
.
Click to enlarge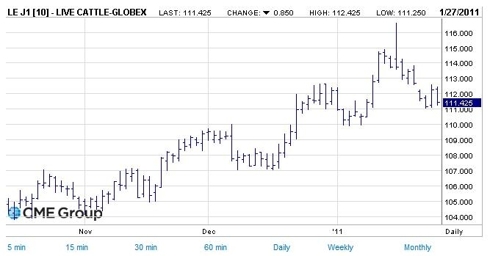 Next we have Elements Rogers International Commodity Agriculture ETN (NYSEARCA:RJA). This is a broad fund holding of wheat, corn, cotton, sugar, orange juice, rice, soybeans, coffee, live cattle, cocoa, hogs, lumber, rubber, canola, and even wool. Nice to see canola covered here since this also showed significant inflation in my case study.

Click to enlarge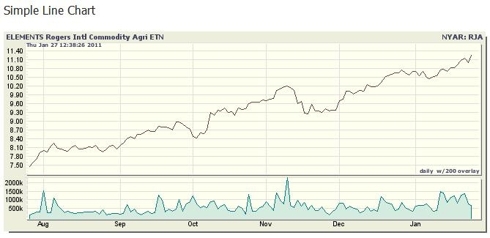 How about iPath Dow Jones - UBS Agriculture Total Return (NYSEARCA:JJA), which carries:
Soybeans (38%)
Corn (37%)
Wheat (25%)
Click to enlarge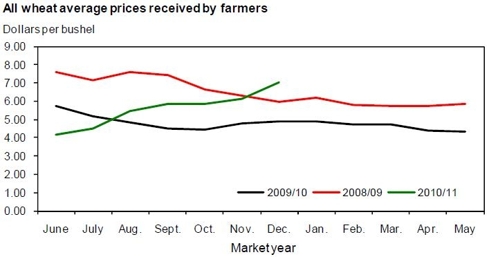 The iPath DJ - UBS Grains Total Return Sub-Index (NYSEARCA:JJG) invests in:

Corn (31.03%)

Wheat (24.92%)

Soybeans (44.05%)

Click to enlarge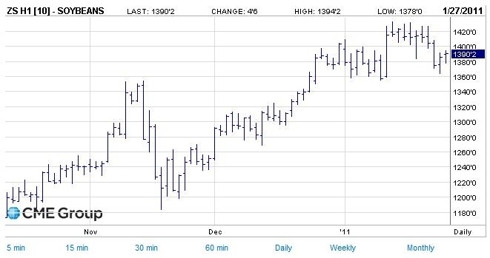 ETFS Agriculture ETF (LSE - AIGA) also has nice variety, holding:
Soybeans 27%
Corn 18%
Wheat 16%
Cotton 8%
Sugar 10%
Coffee 11%
Soybean Oil 10%
Click to enlarge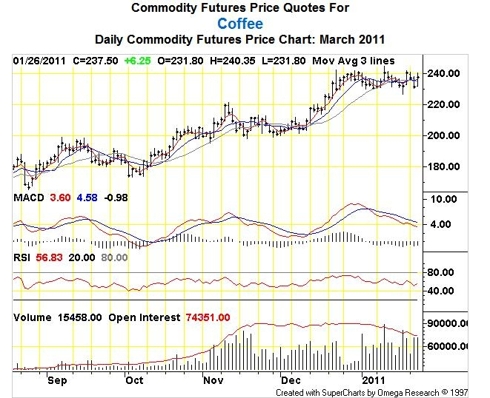 Suppliers
Another way in which we can take advantage of rising commodity prices is by looking at suppliers to farmers and ranchers. As world demand for food brings the world closer to crisis, higher costs of producing food are providing support industries with more revenue opportunities.
Potash Corp (NYSE:
POT
) is the world's largest fertilizer company. They produce potash, phosphate and nitrogen. POT
reported it's second highest EPS in 2010
, reflected by growing demand for fertilizer products in support of agricultural demand.
Monsanto (NYSE:
MON
) sells seeds,
biochemical traits
and crop protection chemicals. The company supports increased agricultural production and should see solid growth as demand for grains increases. A
bit of caution about Monsanto
is the price volatility. If you are a buy and hold investor, this one may be too bouncy for you.
Archer Daniels Midland (NYSE:
ADM
) is the largest processor of oilseeds, corn, wheat and cocoa in the world. ADM produces both bio-fuel and food. ADM's primary risk is the ethanol fuel market. If this market does not grow, then ADM will miss expectations.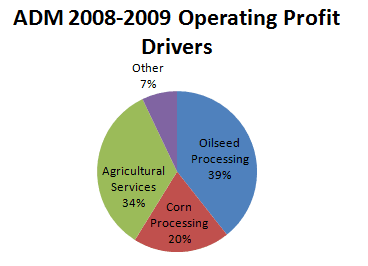 ADM has been increasing current liabilities and dropping cash, even though financially they still look solid. Using LIFO accounting has boosted their paper financials without necessarily boosting their actual performance of late. Net income has fallen YOY and cash flow from operations is currently negative. Analyst opinion is slightly weighted to the buy side. ADM is trading at about two year highs.

Agrium Inc. (NYSE:

AGU

) produces fertilizers and nutrients, seeds, and crop protection products. They have solid earnings and solid cash flows. Their price is near a two-year high, so I would recommend being cautious with the entry point.

CFS Industries (NYSE:

CF

) makes fertilizers. They have solid earnings and a very good balance sheet, but they are a tad expensive in my opinion. Analyst opinion is mixed. I recommend watching this one for a near future potential entry point on pullback.

Chemical & Mining Co. of Chile Inc. (NYSE:

SQM

) not only markets fertilizers and nutrients, but makes products for medical and industrial markets. While not specifically concentrated in agriculture, they have strong agriculture business lines and should benefit. Their earnings and balance sheet look very, very solid, with plenty of cash and current assets to cover any future obligations. Analyst opinion is currently mixed upon the latest price run up, so I see this as another wait and see in the near term. While solid, they may be a bit overpriced at the moment.

Intrepid Potash, Inc. (NYSE:

IPI

) makes chemicals and byproducts for agricultural, industrial and feed markets. They are a smaller company with a $2.7 billion market cap. In June of 2008, they traded at $67 per share but have pulled back the last two years to range trade between $21 and $38 per share. Analyst opinion is slightly to the sell side with a median target of $31.50. They have a nice balance sheet, but also schizophrenic income reporting and bad current losses on investments. This one also will take you for a bouncy ride.

If you want to invest in several suppliers, try Powershares Global Agriculture Portfolio ETF (NASDAQ:PAGG). Top holdings include:

Potash Corp. of Saskatchewan Inc. - 8.27%
Syngenta AG - 7.82%
Mosaic Co. - 7.66%
Wilmar International Ltd. (OTCPK:WLMIF) - 7.59%
Monsanto Co. - 6.42%
ICL-Israel Chemicals Ltd. - 4.27%
Archer Daniels Midland Co. - 3.95%
IOI Corp. Bhd - 3.92%
Yara International ASA (OTCPK:YARIY) - 3.86%
Sociedad Quimica y Minera de Chile S.A. - 3.81%

Or, try Market Vectors Agribusiness (MOO), which holds 47 agribusiness companies, acting as a broad agribusiness index fund.


Disclosure: I am long DBA.