Background and Analysis
Several years back Mercedes Benz produced a commercial where that tag line was "perception is not always reality." At the time many thought it was an arrogant statement. I on the other hand found it to be profound. Not in terms of Mercedes Benz but in terms of how humans interact and understand the economy and the financial markets in particular. Expectations run high during both bull markets and bear markets with emotions and disappointments along the way, producing illogical thinking at times.
The recent string of "disappointments" in the guidance arena from the likes of Amazon (NASDAQ:AMZN), Microsoft (NASDAQ:MSFT), VMware (NYSE:VMW) and others have brought about a needed correction in the broader markets. Here again, expectations needed to be pulled "kicking and screaming" back into the realm of reality. Once this is accepted though, buying opportunities will abound.

In February 2010 SaaSChronicles published a list of the top 50 SaaS (software as a service) companies. From that list 17 companies are publicly traded which are used for this analysis. I ranked performances (on a return basis) over the past year, took a look at earnings and estimates and noted the beta of each company.
Looking forward I continue to support cloud computing as an area of strong growth for 2011. For the purposes of this analysis I've looked at the "leaders and laggards" within the SaaS space during 2010 and forecasts for 2011.
The list of 17 are (alphabetically): Akamai Technologies (NASDAQ:AKAM), Amazon, AT&T (NYSE:T), Cisco (NASDAQ:CSCO), Citrix Systems (NASDAQ:CTXS), EMC (EMC), Google (NASDAQ:GOOG), IBM (NYSE:IBM), Microsoft, Novell (NASDAQ:NOVL), Oracle (NYSE:ORCL), Rackspace Hosting (NYSE:RAX), Salesforce.com (NYSE:CRM), Savvis (NASDAQ:SVVS), Terremark Worldwide (NASDAQ:TMRK), Unisys Corp. (NYSE:UIS), WMware, and Yahoo! (YHOO). 3Par was amongst the original top 50 and was purchased by Hewlett Packard (NYSE:HPQ) in 2010. The balance of 32 are not publicly traded.
The entire list participates within the larger cloud-computing sector and then within the subsector of SaaS (software as a service). Revere Data's classification system (Revere Hierarchy) digs deeper and classifies these companies according to the products they produce and the services they offer. Accordingly, here is the breakdown as to where the companies are focused:
Click to enlarge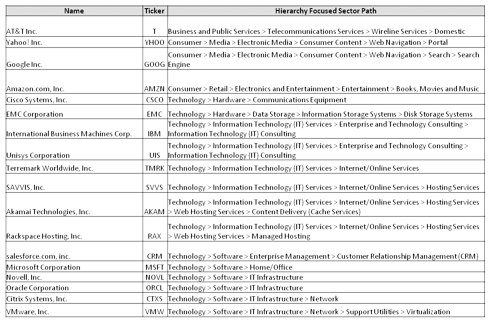 Returns for this group of 17 have produced some lofty numbers. As a whole this group outperformed the S&P 500 on a 1-, 2-, 3- and 5-Year basis. Here are the numbers (as of 1/27/2011):
| Name | 1-Yr Return % | 2-Yr Return % | 3-Yr Return %* | 5-Yr Return %** |
| --- | --- | --- | --- | --- |
| Group of 17 SaaS providers | 39.78% | 170.30% | 37.20% | 86.20% |
| S&P 500 | 18.33% | 41.20% | -10.60% | -15.00% |

* RAX not included
** RAX and VMW not included
Taking a look inside the group reveals some powerhouse returns among the top 4 (ranked by strongest 5-Yr Return - returns as of 1/27/2011):
| Name | 1-Yr Return % | 2-Yr Return % | 3-Yr Return % | 5-Yr Return % | Beta*** |
| --- | --- | --- | --- | --- | --- |
| Amazon (AMZN) | 50.26% | 253.40% | 126.00% | 292.50% | 1.17 |
| Salesforce.com (CRM) | 96.09% | 366.50% | 142.30% | 219.30% | 1.44 |
| Terremark Worldwide (TMRK) | 68.47% | 272.30% | 155.10% | 169.20% | 1.64 |
| SAVVIS (SVVS) | 64.93% | 288.90% | 24.20% | 157.00% | 2.11 |

Amazon reported earnings on 1/27/2011. While the company beat estimates on earnings it fell short on revenue. Here again we see a classic case of expectations not meeting reality and the result being a 10% drop in the stock price. This pattern has now played out several times within the growing cloud-computing sectors - NetApp (NASDAQ:NTAP), VMW and now AMZN for example - and now we are seeing the negative energy spreading quickly where MSFT, YHOO, GOOG and others are seeing prices retreat.
Amazon will continue to grow - the company forced traders back into the realm of reality with "negative" guidance. According to Zacks, "The group forecast year-on-year net sales growth of 28% to 39% but operating income is expected to drop by between 2% and 34%, reflecting charges related to stock awards and intangible assets amortization."
Technically, AMZN was overbought and extended. The recent highs went unconfirmed by the MFI oscillator. A correction is/was due. Amazon's continued growth within the cloud will ultimately provide stronger results to the bottom line. Look for growth within the Amazon EC2 and Web Services product lines. A significant pull back may provide a good opportunity to buy.
Click to enlarge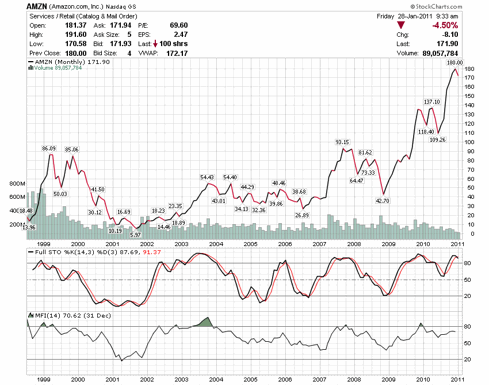 Verizon (NYSE:VZ) announced on 1/27/2011 that it is buying Terremark (TMRK): "Verizon (VZ) says it will buy Terremark Worldwide (TMRK) for $19/share in cash, or $1.4B, a 35% premium over today's closing price of $14.05/share. Verizon expects to close the tender offer late in Q1. Some of Terremark's peers are enjoying a premarket boost (1/28/2008) after the Verizon takeover announced late yesterday: SVVS +16.7%, RAX +7.7%, INAP +7.6%, EQIX +6.1%. TMRK +36.2%, VZ -0.2%."
This is a trend that will likely continue as larger firms elect to "not reinvent the wheel" so to speak but build with this growing sector via acquisition. Keep an eye on RAX, SVVS, and InterNAP (NASDAQ:INAP).
Here are the bottom four (ranked by 5-Yr Return - as of 1/27/2011)
| Name | 1-Yr Return % | 2-Yr Return % | 3-Yr Return % | 5-Yr Return % | Beta*** |
| --- | --- | --- | --- | --- | --- |
| Yahoo! (YHOO) | 1.38% | 39.40% | -29.00% | -55.70% | 0.87 |
| Unisys Corp (UIS) | -7.21% | 228.50% | -18.60% | -55.80% | 3.61 |
| Novell, Inc. (NOVL) | 28.97% | 58.60% | -3.20% | -35.80% | 0.90 |
| Microsoft (MSFT) | -2.70% | 63.20% | -12.60% | 8.60% | 1.07 |

Click to enlarge charts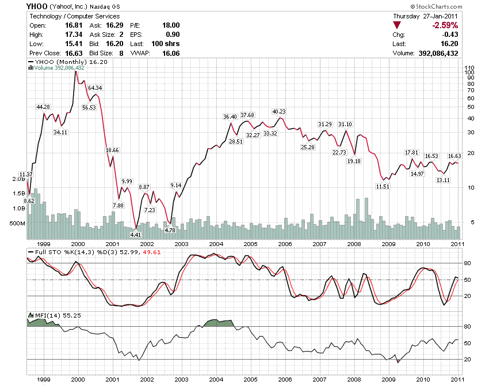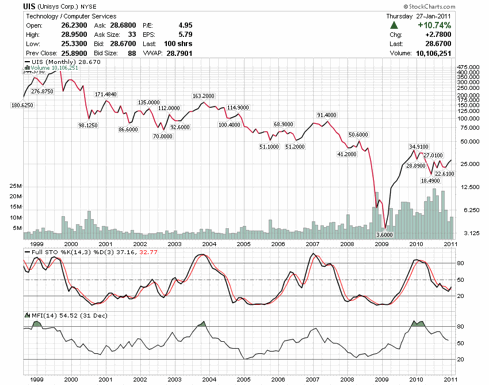 *** Definition of beta as it applies to the financial markets:
Beta is a measure of the volatility, or systematic risk, of a security or a portfolio in comparison to the market as a whole. Beta is used in the capital asset pricing model (CAPM), a model that calculates the expected return of an asset based on its beta and expected market returns.
Beta is calculated using regression analysis, and you can think of beta as the tendency of a security's returns to respond to swings in the market. A beta of 1 indicates that the security's price will move with the market. A beta of less than 1 means that the security will be less volatile than the market. A beta of greater than 1 indicates that the security's price will be more volatile than the market. For example, if a stock's beta is 1.2, it's theoretically 20% more volatile than the market.
Expectation(s) Table
Below I compiled a table (Revere Data) for our list of 17 - included are earnings date, EPS estimate, revenue estimate, total revenue MRQ, return on invested capital % (past one year) - EPS estimated growth next 5yr - Analysts (Strong Buy, Strong Sell, Hold).

Click to enlarge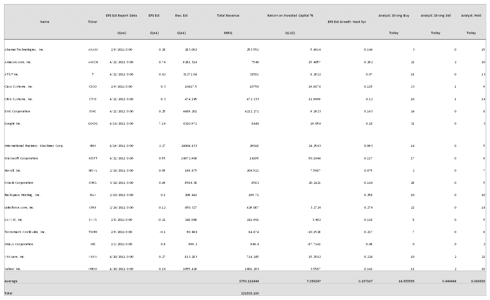 As Revere has repeated several times now - our expectations remain for economic growth albeit sluggish in some sectors and robust in others. One area of robust growth is cloud computing and its various subsectors. SaaS (Software as a Service) will continue to gain in popularity and companies that are poised to reap the benefits are on the list of 17 given above.
A recent article published by Deloitte entitled "CFO insights: Heading for the clouds," states it well:
"As we now navigate one of the most of severe recessions of the last century, it is worth asking what comes next, post recession. During this trying time, a revolution is underway in computing. It is a revolution that promises to shake the foundations of how technology is delivered to all organizations. This revolution is cloud computing and it promises to reshape the structure of the knowledge economy."
(Investors should perform their own due diligence and risk assessment to insure that any purchase or portfolio adjustment meets their investment goals.)
Disclosure: I am long MSFT, RAX.