Long-term J.C. Penney (NYSE:JCP) investors are a long-suffering lot. The beleaguered retailer has seen its shares lose more than 75% of their value in the space of just two years. The company seemed to be feebly held together by blue kinesiology tape, and every time it turned a corner, it quickly crashed into a wall.
But it appears as if J.C. Penney CEO Myron Ullman is finally succeeding in turning his battleship around. The company has reported rising same-store sales for three straight quarters. In the fourth-quarter of fiscal 2013, J.C. Penney reported same store sales growth of 2% to $3.78 billion, with the company's gross margin improving 460 basis points. Gross margin has been a key metric that J.C. Penney investors have been keeping a close eye on, after it plunged from the company's average of 37.5% to just 23.8% in the third quarter of fiscal 2013. But, perhaps what came as the biggest surprise was the fact the company finished the year with more than $2 billion in liquidity, when most sell-side analysts had expected it to go bankrupt.
In the first quarter of the current fiscal year, J.C. Penney continued on its forward march with same store sales improving by an impressive 6.2% to $2.8 billion, while gross margin improving 230 basis points. J.C. Penney extended its strong run into the second quarter with same store sales growing 6% to $2.8 billion and gross margin improving 640 basis points. Free cash flow was $76 million, a huge $1.2 billion improvement compared to the previous year.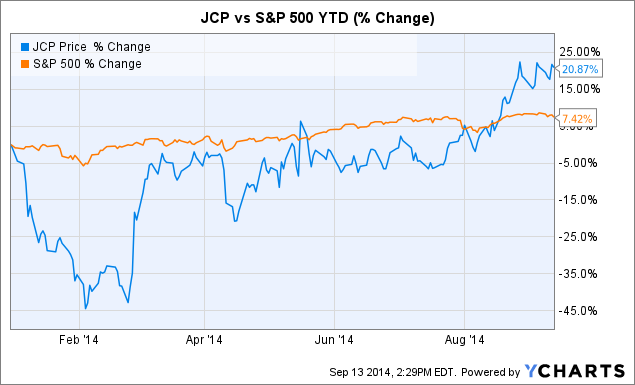 J.C. Penney's shares have made impressive gains this year, as investors have started waking up to the possibility that the company's turnaround efforts might be working after all. The shares have tucked on 20.87% compared to 7.42% for the S&P 500.
Some people might squawk that J.C. Penney had easy comps having started out so low. This is partly true, but 6% same store sales is nothing to sneeze at, nevertheless.
There are several factors that are playing into J.C. Penney's hands at the moment, and fueling its turnaround.
Improving gross margins
J.C. Penney suffered a major crisis under former CEO Ron Johnson who discarded the practice of marking up the retailer's products then offering fat discounts and coupons in favor of ''everyday low prices.'' According to Mr. Johnson, J.C. Penney's practice of heavy discounting cut into the company's pricing power and diminished the gravitas of its famous brands in the eyes of its customers. Mr. Johnson scraped many of J.C. Penney's old product lines and instead replaced them with ''fresher'' brands such as Joe Fresh and Martha Stewart products.
J.C. Penney's customers, however, did not like the company's new policies and store traffic nosedived by as much as 25% at one point. After several failed attempts at reviving the stores' flagging fortunes, Mr. Johnson finally threw in the towel and Mr. Ullman returned as CEO for the second time. Mr. Johnson's first strategy was to trim or do away altogether with merchandise from the Ron Johnson era such Joe Fresh clothes, some Martha Stewart furniture, as well as unprofitable brands such as JCP Menswear, and instead introducing customer favorites such as Am Brielle lingerie and JCP Home.
To get the unfavorable merchandise out of the door, Mr. Ullman had to entice customers with heavy product markdowns, which badly impinged on the company's gross margin. The gross margin has, however, steadily improved as the unfavorable merchandise got cleared from the shelves. J.C. Penney's gross margin now sits at 36.01%, very close to the company's traditional average of 37.5%, and a big improvement from the low of 23.8% it hit in the third-quarter of fiscal 2013.
J.C. Penney's clearance sales, especially in its home store, now accounts for a much smaller percentage of the retailer's sales. Currently, clearance sales account for less than 15% of sales, which is at par with the company's historical average.
J.C. Penney announced that it might close as many as 33 of its unprofitable stores in the current fiscal year, many of which are in Wisconsin. The company might, however, be slowed down because anchor stores have long-term leases that are very expensive to break, making it easier to continue operating these stores instead of breaking the lease and paying a heavy price.
Although J.C. Penney's store traffic remains below par, it has been steadily improving. Many of J.C. Penney's competitors such as Macy's (NYSE:M) and Kohl's (NYSE:KSS) are also experiencing a similar predicament, while many others are actually faring worse than J.C. Penney. J.C. Penney's conversion rate has also been improving, while metrics such as average transaction size and average unit retail are all showing strong recovery.
Strong online sales growth
One of the reasons why J.C. Penney's overall sales are growing at a healthy clip is due to strong growth in the company's online sales. In the first quarter of the current fiscal year, jcp.com sales grew 25% to $270 million, or 9.6% of overall sales. In the second quarter, online sales grew 20% to $250 million, or 8.9% of overall sales. Online sales for JCP account for a much higher percentage of its overall sales compared to retailers like Wal-Mart where online sales account for just 2.4% of sales.
Jcp.com is seeing a large increase in traffic, with a large percentage originating from J.C. Penney's physical stores. Customers who are unable to find certain products in JCP's physical stores are assisted by the company's employees to find them and order at its website using their hand-held devices. Online sales can still improve however. Only 30% of jcp.com's sales are done via in-store pickups. J.C. Penney can grow online sales by building out its same-day delivery capabilities.
Conclusion
J.C. Penney is not completely out of the woods yet, and there is foolproof way of knowing whether its turnaround will succeed 100%. But, judging by the look of things, J.C. Penney looks like a very good turnaround bet. Investors who buy now might end up with impressive gains.
Disclosure: The author has no positions in any stocks mentioned, and no plans to initiate any positions within the next 72 hours.
The author wrote this article themselves, and it expresses their own opinions. The author is not receiving compensation for it (other than from Seeking Alpha). The author has no business relationship with any company whose stock is mentioned in this article.