Valero Energy (NYSE:VLO) is the largest independent refiner in the United States. Valero produces transportation fuels, petrochemical products and power. Valero owns 16 petroleum refineries with a combined throughput of over 2.9 million barrels per day. The company is also one of the largest renewable fuel produces. It owns 11 corn ethanol plants with a total of 1.3 billion gallons per year (85,000 BPD) production capacity. Wind farms is also part of its power production portfolio. Valero owns popular brands such as Valero, Texaco, Shamrock, Diamond Shamrock, and Beacon.
Here is an overview of Valero's geographically diverse operations: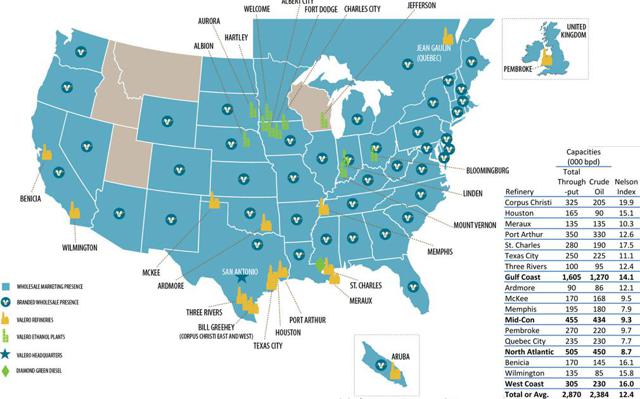 Source: July 2014 earnings presentation
Oil price drop and the lifting of the condensate oil ban
Crude prices have dropped substantially in the last few weeks. Last week The U.S. Energy Information Administration and the Organization of the Petroleum Exporting Countries both lowered their expectations for 2015 global demand growth in forecasts released this week. U.S crude oil production has reached at 28 year high. The WTI and Brent Crude oil prices have also narrowed, raising fears that refiners' margins will be cut.
The drop in crude prices lead to a sell-off in oil production and refining stocks. Valero Energy stock fell more than 8 percent last week. But the broad sell-off in refining stocks began in July when the U.S. Commerce Department gave Pioneer Natural Resources Co. and Enterprise Products Partners LP permission to ship a type of ultra crude oil known as condensate to foreign buyers. They can turn the condensate into gasoline, jet fuel and diesel. This ruling is a positive for some refiners. Valero has been investing billions in new equipment that will allow it to buy and process more U.S. ultralight oil. Valero said that the prospect of minimally processed condensate exports might actually help refiners who have struggled with the volatile ultralight oil that can be hard to handle. Valero spokesman Bill Day said processed condensate would reduce the light ends in some of the barrels and would bring the oil standards to the specs that we expect.
Some investors fear that with the lifting of the condensate ban, lawmakers will also lift the 1970 crude oil export ban. The ban was enacted because of the Arab oil embargo. Under the law, U.S. companies cannot export crude oil except under certain circumstances. However, U.S. companies are allowed to export refined products such as gasoline, jet fuel and diesel. I believe with the political brinkmanship in Washington at the moment, a consideration of changing the law is years away. Also, I believe politicians should wait till the U.S. reduces crude-oil imports. The U.S. still imports 7.5 million barrels a day from foreign countries.
Here is a chart showing Weekly Net U.S. Imports of Crude oil.

Source: iea.gov
What makes Valero a Buy?
After a sharp drop last week, Valero Energy is currently trading around $48.50. At this price, its current P/E ratio is around 9 and forward P/E ratio is around 8. That's a very low P/E when you consider that the market is currently trading at a P/E of around 17 and has a historical P/E of 15. Analysts expect the company to earn $6 per share in 2015. The stock has a dividend yield of 2.2%.
The company has great economies, a good brand recognition and very profitable. The refining business is here to stay for the foreseeable future.
Valero's book value is around $38. Warren Buffett and Ben Graham believe that stocks, especially hard asset centric and financial stocks, should trade at a minimum of 1.5 times book value. Valero is currently trading at 1.3 times book value. That's a good margin of safety for long-term investors. Also, Valero's Enterprise Value to EBIDTA is around 5, the lowest among refiners.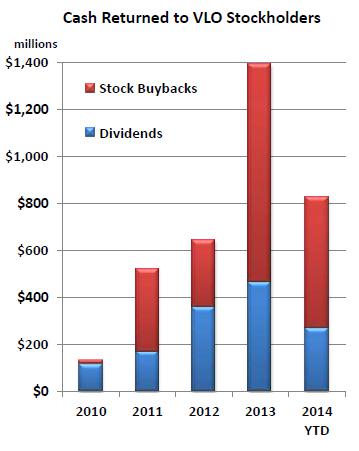 Source: Valero Investor Relations
Tremendous amounts of cash are being generated at Valero. The company has a price-to-free-cash flow ratio of about 10 - a great cash cow. Valero generated over $2.5 billion in free-cash flow in 2013. That's cash the company can use to enhance shareholder value - and the company is rightly doing so. It has continued to return cash to shareholders via dividends and stock buybacks. Valero has so far purchased $559 million worth of stock in 2014 and increased its quarterly dividend 450% from $0.05 per share in 2nd quarter 2011 to $0.275 in 3rd quarter of 2014. According to a recent presentation by the company, management stated that the company's goal is to have one of the highest cash returns among peers via dividends and buybacks.
Valero doubled the amount of cash returned to stockholders in 2013 versus 2012.
Maintaining an investment grade credit rating is also top priority for the management. It paid off $200 million of debt on April 2014 and $480 million in 2013.
Based on the last earnings report, Valero had cash and equivalents of around $3.5 billion and total debt of $6.4 billion.
Possible negatives for the stock?
The lifting of the oil export ban could possibly reduce margins and profitability. Also, a shortening of the WTI and Brent spread could severely reduce margins. Refinery shutdowns due to weather, regular maintenance and other severe events such as fires at refineries could also affect production and profitability.
Is the company focused for the long term?
Valero is spending billions in projects that exploit North American light sweet crude oil, gas and NGLs. Refineries, logistics and hydro cracking have all been in the upgrade process. The company expects continued growth in North American oil and gas. Valero is competitively exporting into growing and undersupplied markets.
According to the company's latest quarterly presentation, the management's goal is to be in the 1st quartile in the refining industry by pursing excellence in operation and project execution.
Valero plans to continue to unlock potential value of assets by pursing logistics investments and asset drop down transactions into VLP.
Valero's goal is to use its tremendous free-cash flow to return cash to shareholders via dividends and share buybacks with the intention to regularly grow its dividend.
Valero's refinery and asset expansion in strategic locations will grow book value and increase earnings power. Morgan Stanley analysts Evan Calio and Manav Gupta said in August that Valero Energy will be operating at a meaningful higher utilization rate and is best positioned to capture any wide range Gulf Coast differentials resulting from turnaround activity. In addition to 4Q14 earnings revision upside, we estimate Valero Energy has $800MM in MLP-able EBITDA (including organic growth projects) which can be dropped into Valero Energy Partners (NYSE:VLP) in the foreseeable future. Assuming a 10.0x EBITDA multiple, we estimate Valero Energy can unlock ~$19.6/shr (drop-down proceeds + GP valuation + LP valuation) in value if it chooses to drop these assets into Valero Energy Partners in the 3 years. For Valero Energy, higher pace of drops could provide a much higher EVA strategy than cutting capex.
Valero stock has a greater chance of moving higher than lower based on valuation. In the meantime, long-term patience investors can continue to accumulate shares of Valero.
Disclosure: Long VLO