On average, Cannabis-related stocks account for 15% or more of all trading in penny stocks, according to OTC Markets Group Inc. From September 2012 to May 30, 2014, the market cap of the 130 largest marijuana stocks ballooned from $500 million to nearly $7.4 billion. Medical marijuana is now legal in 23 states with pending legislation in another 3. Recreational consumption of marijuana is legal in Washington and Colorado, and public support for legalization is at an all-time high of 54%. More than three-quarters of Americans (76%) say that those convicted of possessing small amounts of marijuana should not serve jail time. The growing enthusiasm for the legalization of marijuana is leading some to believe they are at the forefront of a $100 billion industry.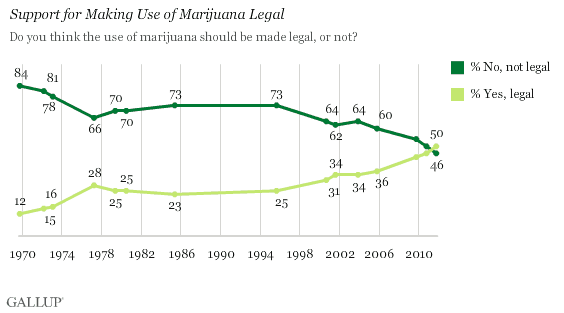 Nearly a century ago, many felt that the automotive industry would change people's lives forever. They were right. However, in a 1999 speech at the Allen & Company Sun Valley conference, Warren Buffett gave a speech on the issue:
There were two thousand auto companies: the most important invention, probably, of the first half of the twentieth century. It had an enormous impact on people's lives. If you had seen at the time of the first cars how this country would develop in connection with autos, you would have said, "This is the place I must be". But of the two thousand companies, as of a few years ago, only three car companies survived. And, at one time or another, all three were selling for less than book value, which is the amount of money that had been put into the companies and left there. So auto companies had an enormous impact on America, but in the opposite direction on investors.

Now, sometimes it's much easier to figure out the losers. And of course, the thing you should have been doing was shorting horses.
Buffett then showed the following slide:
U.S. HORSE POPULATION
1900 - 17 million
1998 - 5 million
At this point in time, it would be utterly ridiculous for serious investors to buy marijuana stocks and expect to make outsized returns over the long term. They would be better off taking their money to a casino, because there at least the counterparty risk would be minimal. Few, if any, of these companies even have access to a line of credit. Because the drug remains illegal under federal law, marijuana-related businesses nationwide have struggled to find banks that will accept their deposits.
Congress is at least aware of this situation. The House of Representatives approved a bipartisan amendment this summer allowing banks to accept deposits from dispensaries without facing punishment from the Treasury department. However, the Senate has yet to pass the bill. For the time being, dispensaries and other marijuana companies operate strictly in cash, which is a problem for an industry that will take in $2.6 billion in legal sales this year.
Even if marijuana companies resolve their cash management issues, it's unlikely to dampen the obscene volatility plaguing shares across the sector. The MJX Marijuana Index, a market cap weighted index of 43 cannabis-related companies, rallied more than 700% between September 2013 and March 2014. However, since then the index has collapsed and is down -64% from its all-time high. Even over the past three months, the index advanced 18% and subsequently dropped -23%. There is no way to consistently make money amidst this kind of volatility.
GW Pharmaceuticals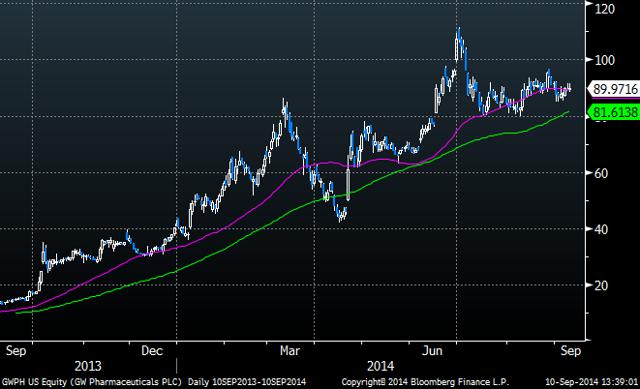 Even the largest component of the MJX Marijuana Index, GW Pharmaceuticals (NASDAQ:GWPH), with a market cap of $1.8 billion is unstable. Sure the stock is up nearly 600% over the past 12 months, but it has declined more than 20% three times over that period, including one drop of 52%.
Ideally, investors looking to make money on this theme could be short the price of marijuana, which should fall. The growing legitimacy of the cannabis industry is sure to attract more accomplished agronomists who will increase the crop's yield (quantity) and potency (quality). Potency is an important factor here, because it will take less supply to meet demand. From 1998-2008, the potency of seized marijuana in the US increased by 103%. Full-scale legalization would boost it even more.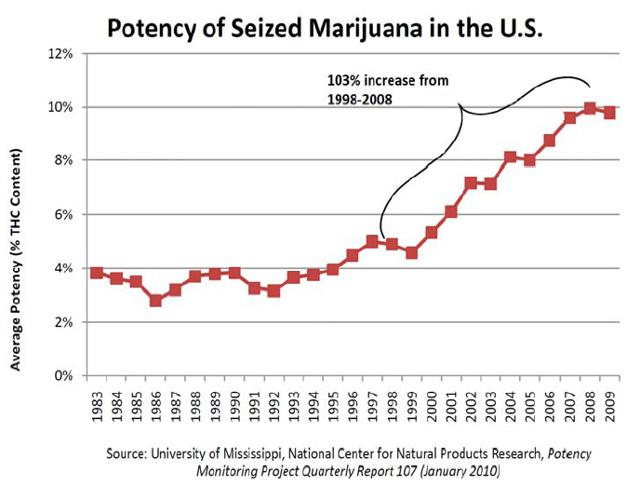 Look no further than Colorado to see what will happen to pot prices when it's legalized on a larger scale. Recreational consumption became legal in January and prices fell 25% by March. Even after taxes, these prices will more than compete with black market dealers. Mark Kleiman, a professor of public policy at UCLA, believes legal vendors will ultimately dominate because of their ability to openly invest in technologies and capitalize on economies of scale. "If you have to hide, you have to pay premium wages because people risk going to prison."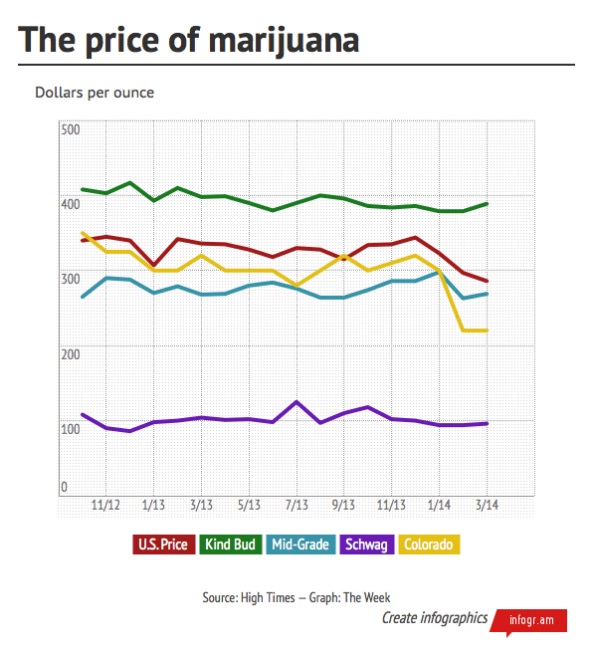 Unfortunately, there is no easy to way securitize the price of weed for public trading. The Colorado Commodity Exchange plans to launch a marijuana future in 2015, but there simply won't be enough liquidity for an investable market. Unlike corn, which has an abundantly liquid futures market, the variance in strains and quality is simply too vast.
So, thus far we've concluded that, at this point, there is no way to directly invest in the nascent marijuana industry. Like Warren Buffett's "shorting horses" example, we need to come up with a derivative way to play this theme. Under the assumption that society's appetite for mind-altering substances will remain constant going forward (a safe bet considering the state of global affairs), what markets will be affected by the introduction of legal marijuana? Alcohol. In fact, there are already signs that alcohol distributors are feeling the effects of America's growing appetite for pot.
According to a new University of Michigan study, the percentage of college students using marijuana hit 39% in 2013, up from 34% in 2006. Meanwhile, alcohol use has declined among college students. In 2013, 63% of students said they had at least one drink in the past 30 days, down from 69% in 2008. Much of this is based on the growing perception that marijuana is safer and healthier than alcohol. We're not here to debate whether or not this is true, but this perception and the explosion in media coverage of legalization continues to push sentiment in marijuana's favor.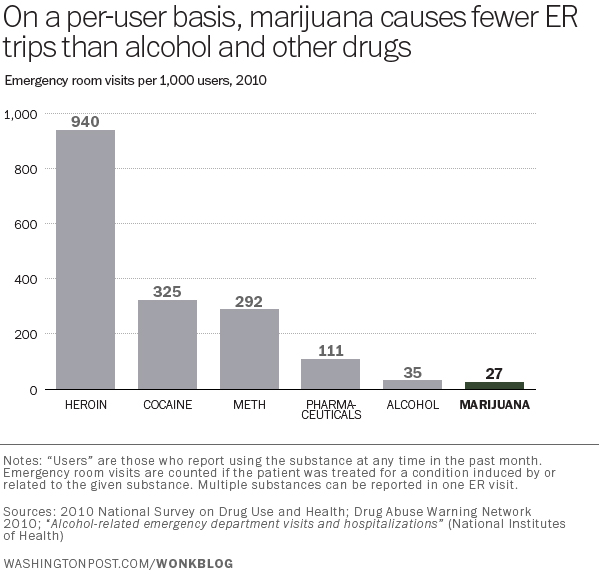 With that in mind, shorting companies with large exposure to alcohol sales is very appealing at these levels. Typically alcohol and other vice industries like tobacco or gambling do well (or even benefit) when the economy stumbles. Companies like Anheuser Busch InBev (NYSE:BUD) or Diageo (NYSE:DEO) are enormous and diverse operations that should hold up regardless of marijuana's impact on alcohol sales. However, the Boston Beer Company (NYSE:SAM) looks extremely vulnerable.
No public company has benefited more from the explosion in craft beer sales than the Boston Beer Company, which boasts a market cap of nearly $3 billion. The stock has been on an absolute tear, appreciating more than 1,100% since 2009. The brewer of Sam Adams has been able to maintain its craft status and operate mainly in the United States, giving it major exposure to domestic demand. Boston Beer's ongoing innovation with its Sam Adam, Twisted Tea and Angry Orchard brands has propped up the stock price, but long-term investors are starting to get nervous.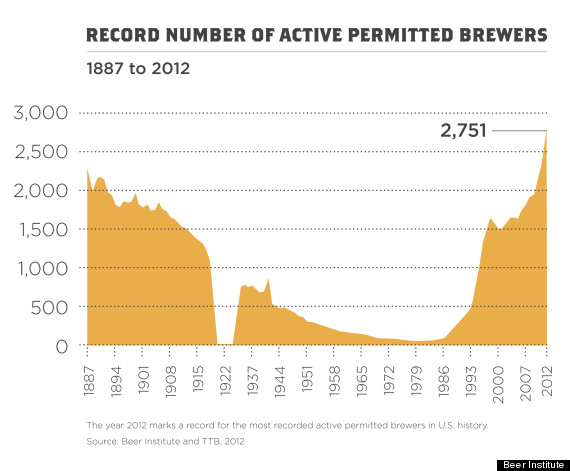 SAM is clearly trading in overvalued territory, boasting a P/E of 37 that is nearly double that of Anheuser Busch and Diageo. On top of that, SAM doesn't offer a dividend. BUD and DEO offer dividend yields of 3.56% and 3.61%, respectively. The fact that Boston Beer operates predominantly in the United States is another drawback. BUD and DEO are exposed to emerging markets (i.e. growth markets) that will not be impacted by the legalization or decriminalization of marijuana in the US.
The vast majority of Boston Beer's growth has been driven by its Twisted Tea and Angry Orchard brands, which have done well based on the perception that they are healthier and less caloric than beer. However, if marijuana is a viable alternative for consumers, they are likely to opt for the green, zero-calorie alternative to alcohol.
For these reasons, it's no surprise that C James Koch, chairman and founder of SAM, sold 4,000 shares in early August. The transaction netted him roughly $910,000 at $227/share. Analysts at Zacks have since downgraded shares of SAM from "outperform" to "neutral". On August 28, Koch proclaimed, "We're like the Silicon Valley of innovation and creativity in the beer world." Silicon Valley is on stable footing now, but in the late 1990's it was a colossal bubble. At its current price, Boston Beer Company epitomizes the bubble in craft beer, and if marijuana causes it to pop, SAM shares will bear the brunt of it.
The Boston Beer Company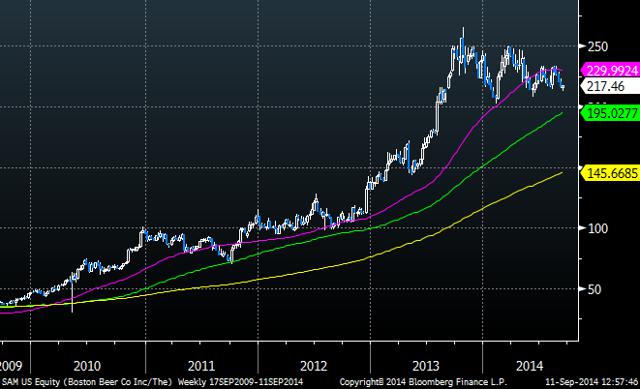 There are a lot of smart people who think that the marijuana will be a $100 billion industry within the next 15 years. That may very well be true, but at this moment in time, the stocks operating in this still illegal industry are trading purely on hype. Of course there are success stories of day traders making 20+% in one day, but that's even more reckless than gambling. In order to make money over the long term, it's best to stick with shrewd stock selection based on themes that you believe in. If you believe in marijuana over the long term, take a look into shorting SAM. Even if marijuana doesn't disrupt alcohol sales, the stock is trading at extremely frothy levels and it wouldn't take much of an economy slowdown to send the stock reeling.
Disclosure: The author has no positions in any stocks mentioned, and no plans to initiate any positions within the next 72 hours.
The author wrote this article themselves, and it expresses their own opinions. The author is not receiving compensation for it (other than from Seeking Alpha). The author has no business relationship with any company whose stock is mentioned in this article.