By Craig Bowles
Overview
Red Hat, Inc. (NYSE:RHT) is slated to report 2Q 2015 earnings after the bell on Thursday, September 18th. The earnings release is expected at approximately 4:05 p.m. EST with a 5:00 p.m. webcast conference call available through Red Hat Investor Relations. Red Hat is benefiting from several positive trends, including adoption of open-source software, virtualization, data-center expansion, and cloud-computing.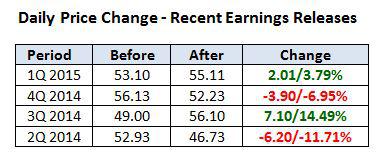 Outliers & Strategy
Key measures:
Non-GAAP Earnings Per Share: Company guidance is for 38c (conference call). The current Street estimate is $0.38 (range $0.37 to $0.39). (Source: Yahoo! Finance).
Revenues: Company guidance is for $432 mln to $436 mln. Analysts expect an increase of 16.2% y/y to $434.93 mln (range $433.3 mln to $437.0 mln).
Insiders have sold 130,517 shares the last three months but bought 174,706 shares over the past year. The company has been doing $300 mln buybacks the last few years and announcements have historically occurred in late March or April, so it's interesting that no 2014 announcement has occurred.
P/E of 67.1 compares to an industry average of 55.6, P/B of 7.6 vs. 4.8, P/S of 7.4

vs. 4.7 suggests a relatively high valuation.
Analysts show more optimism in recent quarters: 19 Buy ratings, 3 Hold ratings, and 0 Sell ratings with a consensus price target is $63.70, according to AnalystRatings.net.
Red Hat shares have a 1-day average price change on earnings of 9.04%. Options are pricing in an implied move of 7.11% on earnings.
Recent News
09/03: Red Hat CEO Jim Whitehurst said OpenStack will emerge as the "default choice for next-generation architecture." He believes he can offer these services at a fraction of the cost enterprises are paying today, according to a post by TheStreet.com.
08/27: Red Hat's CTO Brian Stevens is leaving the company after over a decade of service (now works for Google's Cloud Platforms). Paul Cormier, Red Hat's president of products and technologies, will be taking over CTO duties until the company finds a replacement. Brian Stevens recently discussed OpenStack at a Structure conference hosted by GIGAOM.
08/01: Susquehanna upgraded Red Hat to a Buy with a $71 target on a stabilizing growth rate of its core product and increasing contributions from new offerings, according to a post by Benzinga.com.
Technical Review
Red Hat's stock has ranged mostly between $45.00 and $62.00 since 2011, so we're back on the high side of the range. Support has been provided by the upward sloping 200-day moving average which at $50 has reached the more recent support area. Moving averages are back into a positive order, so the technical position appears to be more solid after a good test. Trades above $62.50 would be a breakout and support for a negative reaction is at around $50. (Chart courtesy of StockCharts.com)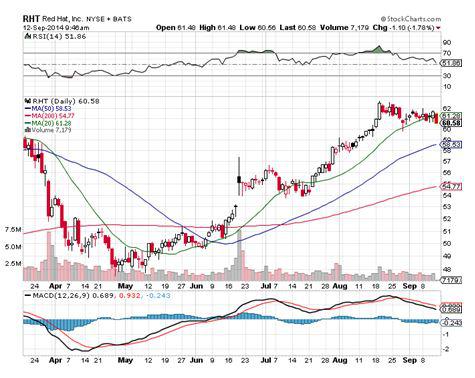 Summary
Analysts have shown more optimism for Red Hat in recent quarters despite the margin shrinkage caused by large investments in areas such as the OpenStack cloud structure. A new worry is the loss of their CTO who now heads up Google Cloud. The broad trading range of the last two years increases the potential of an eventual breakout one way or the other. Red Hat beat estimates by 1-7c the last four quarters, so probably needs to report earnings of 40c on revenue of above the $435.5 mln analyst range midpoint to have a chance of breaking out of this long-term consolidation. Last quarter benefited from better than expected billing growth and that is expected to be similarly strong this quarter. The stock has a tendency to react to the release and then reverse within a minute as underlying data is digested. Earnings and revenue guidance is then given in the conference call for next quarter and the full year.
DISCLAIMER: By using this report, you acknowledge that Selerity, Inc. is in no way liable for losses or gains arising out of commentary, analysis, and or data in this report. Your investment decisions and recommendations are made entirely at your discretion. Selerity does not own securities in companies that they write about, is not an investment adviser, and the content contained herein is not an endorsement to buy or sell any securities. No content published as part of this report constitutes a recommendation that any particular investment, security, portfolio of securities, transaction or investment strategy is suitable for any specific person.
Disclosure: The author has no positions in any stocks mentioned, and no plans to initiate any positions within the next 72 hours.
The author wrote this article themselves, and it expresses their own opinions. The author is not receiving compensation for it (other than from Seeking Alpha). The author has no business relationship with any company whose stock is mentioned in this article.