One of the oldest market truisms is that a rising tide should lift all boats. By this market analysts mean that if the economy is truly showing strength, it should manifest itself in the stock market by a broad advance across a wide variety of sectors.
There are a number of ways of visualizing this argument and showing it in meaningful, understandable ways. One is to look at charts popular with Dow Theorists. Remember, if the economy is booming, goods and services are being both produced ("Industrials") and shipped to markets for sale ("Transportation"). Companies in both sectors would be profitable and their share prices would reflect this profitability. Looking at the eponymous ETFs for the Dow Industrial Average (NYSEARCA:DIA) and Transportation stocks (BATS:IYT), we see this is the case.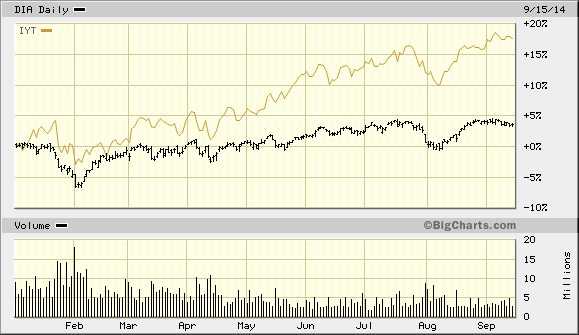 Source: bigcharts.com
Using the language of Dow Theorists, the minor secondary reactions that began in January, March, and late July promptly were resolved by both averages surging to new highs.
Sometimes indexes like the Dow or S&P 500 can mask weakness in individuals sectors. Could this be a chink in the armor of this five year bull market? Stockcharts.com has a feature which shows
The advance decline line;
On-balance volume; and
High low index.
For all nine S&P 500 subsector ETFs. Since this is grand total of 27 charts, I'll provide the link here rather than clutter the article with all the plots.
Twenty five of the charts show great strength and consistent performance across all the sectors. The only sector which shows some weakness is energy. This should not be a surprise: fracking and horizontal technology have led to a surge in production in the U.S. (and soon many other countries). Companies like Exxon (NYSE:XOM) are vulnerable to retaliation from Russia over Ukraine sanctions. For now, we can assume such factors are industry specific and not likely to threaten the recovery and current bull market.
Finally, if the U.S. economy is performing well, especially relative to Europe and Asia, we should expect
T-bond (NYSEARCA:TLT) prices to fall, as rates reflect strength and the FED taper;
Gold prices (NYSEARCA:GLD) to fall as investors flee chicken-little assets; and
The U.S. Dollar (NYSEARCA:UUP) to rise, because of higher yields, etc.
Here the story has been mixed, especially earlier in 2014. Treasury bonds have been strong---not consistent with economic growth and higher stock prices that come with it. Seasonal factors could explain this conundrum during the first quarter, but since then the economy has regained its footing. The sharp decline in bond prices over the last few weeks may indicate bonds have finally begun to understand fall into lock-step with gold (which has been weak all year) and the dollar (which has finally begun to show considerable strength).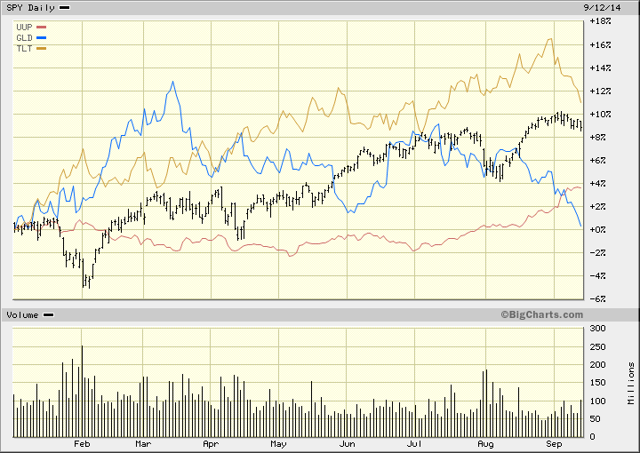 To conclude, in the last few weeks breadth and intermarket indicators have begun to speak with one voice. The economy is reasonably strong, so:
Stocks should continue their advance;
Bonds should continue to sell off; and
Gold/precious metals should remain weak.
Keep your sharpest eye on bonds; if recent weakness turns out to be temporary, concern may resurface about the sustainability of economic growth. A substantial correction or even a new bear market would most likely result.
Disclosure: The author is long XLK, IHI.
The author wrote this article themselves, and it expresses their own opinions. The author is not receiving compensation for it (other than from Seeking Alpha). The author has no business relationship with any company whose stock is mentioned in this article.
Additional disclosure: I am short Gold through DGZ, the inverse ETF.