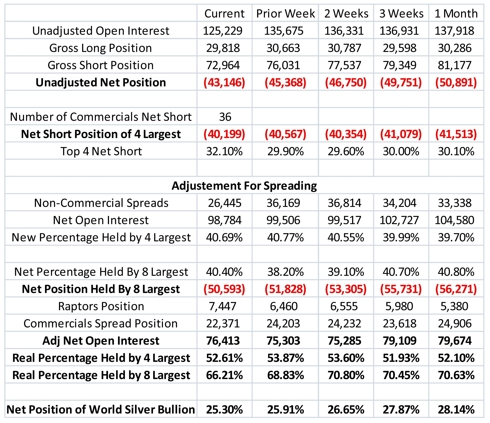 The bullish trend remains as the structural changes in the Commitment Of Traders report continues to become more bullish. Despite the downside pressure over the past couple of weeks, the fourth and eighth largest commercial traders continue to cover their massive net short positions, albeit in a very controlled fashion, paving the way for much higher prices in the future. The total net short position of all commercial traders declined more than 2,000 contracts, including over a 300 contract reduction in the top four commercial traders, and over a 1200 contract reduction among the eight largest commercial traders. This is indicative of the commercial traders recognizing the tightness in physical market.
While concentration levels appear to have increased week over week, that isn't the case once we have adjusted the net open interest position, which remains more or less unchanged (1,000 contract increases over the prior week). After the proper adjustments, the concentration levels for the four largest commercial traders decreased 1.25%, while the eight largest decreased by a rather wide margin (2.62%). Finally, the net position of total world bullion inventories decreased once again by .61% to 25.30%. The continued structural changes, coupled with the current backwardation taking place and the supply-demand fundamentals, have set a solid foundation for silver's next breakout to the upside.
Most of the increase in the adjusted net open interest can be attributed to the smaller commercial traders, (see raptors position). Overall, the commercial traders in aggregate have taken a more bullish stance as the gross long position decreased far less than it decreased in the gross short position. The current conditions in the silver market as a whole have set the stage for either a violent breakout to the upside or a price appreciation in a more controlled manner.
This is entirely dependent on whether the commercials can decrease their massive short position before a real short squeeze takes place. On one final note, Bill Haynes of CMI Gold and Silver has said the following regarding 100oz bars:
Bill Haynes is President and owner of CMI Gold & Silver for and when asked about a shortage in silver he stated, "All of the major suppliers of 100 ounce silver bars are either weeks or months out, some will not even take orders. I had some conversations with a number of people who buy from them, had to dig through the information and some of them revealed that they thought the refineries were having trouble and the manufacturers were having trouble getting the physical product which falls right into the silver shortage." Haynes continues:

"It's starting to show up in the 100 ounce silver bar market which is a primary investment vehicle for individuals who want to buy silver for investment purposes. It does surprise me because we did not see the buying that we saw in 2008, 2009 when our safes were absolutely emptied of 100 ounce silver bars, and that's the type of buying I thought we would have to see in order for there to be a shortage of 100 ounce silver bars.

I was able to get 100 ounce silver bars (recently) and then all of the sudden these guys I call them and say ok, we are talking 100 ounce silver bars, they'll say well, it's a month out on any order you place today. And then I have people telling me they will not take any orders on 100 ounce silver bars until May.

There's a couple of things that are going to happen that is going to shut a lot of people out of this market. All of the 100 ounce bars are going to be gone in a matter of days, not weeks, days. Then people are going to have to put up their money and they are going to have to wait weeks or months before they get their bars. They are also going to have to pay higher premiums for that product because the marketplace will put a higher premium on the bars on a price drop that depletes all of the vaults around the country."

You can hear the full audio interview with Bill Haynes on the KWN Weekly Metals Wrap this weekend along with Dan Norcini of jsminest.com. We are seeing the same type of shortages develop that we saw in 2008, but this time at a much higher price level.
So What Are The Best Vehicles To Take Advantage Of This Situation?
Owning the physical metal should be a core part of everyone's portfolio
Owning ETFs such as SLV, PSLV and SIVR is essentially owning the physical metal with a little more counter party risk.
My favorite vehicle with less inherent risk than investing in actual mining companies is Silver Wheaton (SLW), which provides up front payments to miners for financing purposes in exchange for a percentage of the metal mined for a specified amount of time at a specified price, usually $4.00/oz