In my series of stocks levered to the Bakken Shale, I have identified several big players in the area. Although most of the best areas are gone and now prices are way up, most of the companies that will do well are the ones that got in early. Whiting Petroleum (NYSE:WLL) is one of those stocks.
I will admit, I believe that the two most levered are Brigham (BEXP) and Northern Oil and Gas (NYSEMKT:NOG). If these seem a little too risky, there are companies like Continental (NYSE:CLR) or Whiting Petroleum.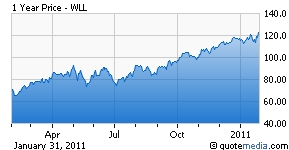 Whiting is an independent exploration and production company that searches and secures oil, natural gas, and natural gas liquids. Their locations include the Permian Basin, Rocky Mountains, Mid-Continent, Gulf Coast, and Michigan Regions. Although they are diversified with respect to locations of holdings, they are most levered to the Bakken and Three Forks positions in North Dakota and their advanced oil recovery fields in Oklahoma and Texas. These two locations will be what an investor would want to look at the closest, as these would be the largest reasons to buy stock in this company.
Whiting has a market cap of 7.19 billion. Their long term debt as of September of 2010 is 700 MM. Debt to total cap is 22.1% as of last September. Proved reserves were 275 MMBOE at the end of 2009, 81% of this number is oil. This is important and why Whiting has almost doubled over the last year. Q3 of 2010 production was 66.1 MMBOE/d.
To show the growth Whiting is exhibiting, a comparison of 2009 to 2010 gives an idea of what is happening with this company. Adjusted net income for the three months ended in 2009 was $15.8 million, in 2010 it was $71.6 million. This, for the same time period, translated into 2009 adjusted earnings per diluted share at $.29, and in 2010 it was $1.30 per share. In 2009, discretionary cash flow was $145.9 million and in 2010 it improved to $229.5 million. These large increases have something to do with increased production, but a much larger realized price in oil has turbo charged their earnings.
Whiting started to realize much better margins in 2010. 2009 was a very difficult year for Whiting as they realized margins of 57%. This compared to 2008 at 65%, I am starting to get very optimistic. 2010 margin was at 67%. Margins improved over this time frame mainly because of higher prices realized for BOE. In 2008, this was $69.06, in 2009, $45.01 and 2010, 59.32. All 2010 figures were drawn from the first nine months through September. Since 2007, average daily production has increased 64%.
When identifying Whiting's assets, 45% is in the Permian Basin, 35% in the Rocky Mountains, 14% Mid-Continent, 3% Michigan and Gulf Coast. 64% of their reserves are developed. They have 1.19 million net acres. 47% of these are developed. $2.9 billion PV 10% in pretax numbers.
Whiting is one of the top producers in three states. They are number 2 in North Dakota, number 5 in Oklahoma, and number 16 in Texas. In North Dakota, they produce 1.3 million barrels per month. In Oklahoma, they produce 1.469 million barrels per month. In Texas, they produce 3.571 million barrels per month.
As of December 2009, Whiting has probable and possible reserves that are 78% of their current proved reserves. Most of the 224 MMBOE is located in the Permian Basin at 124MMBOE. The Sanish field has 63 MMBOE. The Sulphur Creek field is 28 MMBOE and Parshall field holds 9 MMBOE. The average cost of each barrel of oil in the probable and possible reserves is $7.41.
When looking at Whiting's developed and undeveloped acreages, it seems they have a lot of potential. It is important to note they have more undeveloped acres then developed, both in gross and net. Listed below are the areas, followed by the number of undeveloped acres.
1. Rocky Mountains - 583693 acres
2. Texas - 103211 acres
3. Michigan - 19694 acres
4. Mid-Continent - 4190 acres
In summary, Whiting has five core regions with a long lived reserve base. They are geographically diversified. Since 2003, they have grown their proven reserves 284%. Over that same time, production has grown 289%.
Organic production will continue to grow do to multi-year inventory. Drilling inventory at the end of 2009 was approximately 1400 gross operated wells, but an additional 1000 is possible, based on resource potential.
Whiting still has additional exploration potential in the Rockies, Permian Basin, and the Gulf Coast. Whiting has been aggressive to add properties to their portfolio, but has been conservative with respect to company cost. They made 15 acquisitions from 2004 to 2009. These acquisitions totaled 230.7MMBOE at $8.19 per BOE. It is easy to say that Whiting will continue to grow for years to come.
Disclosure: I have no positions in any stocks mentioned, but may initiate a long position in WLL, CLR, BEXP, NOG over the next 72 hours.