Introduction
This is the first of a multi-part series outlining RH Analytics' short thesis on the HCI Group (NYSE:HCI), detailing why we believe the company's business model is deeply flawed and the stock significantly overvalued.
The article provides an introduction to the Florida Homeowners' insurance market, which we have covered in our detailed report entitled The Unsustainable State of the Florida Property Insurance Industry. We give the context in which HCI has grown into the 7th largest property insurer in Florida with pre-tax margins that look more like those of a software company than a P&C insurer.
Unfortunately, the business is much less profitable than it appears. We illustrate this by breaking down the business model into its base elements and contrasting HCI's reported ratios and margins with comparable models, including HCI's from a period in which did not have a large assumption to fortify results.
The article highlights how the timing and terms of assumptions from Citizens shape HCI's P&L. We examine the key business drivers to reveal the magic of HCI's business model: how the company is able to transform a business that is barely profitable in the best of times into what appears to be one of the most profitable insurers in the U.S. with a 40% return on equity.
Most of the time, when things appear too good to be true, they are. We believe this is the case with HCI. This article is a first step in dispelling the illusions by exposing how the Wizards of Tampa work their magic.
Florida Homeowners Insurance
The HCI Group is a product of the peculiar structure of the homeowners insurance market in Florida, which is dominated by the twin forces of catastrophic hurricane risk and state intervention.
Florida homeowners insurance is a highly cyclical business where storm-free periods are punctuated by severe catastrophic events and active storm seasons. During inactive storm periods, claims decline allowing companies to prosper, if only temporarily. When active storm seasons arrive, catastrophic losses are so deep as to cause widespread company failure and chaos in the marketplace. The chart below illustrates the phenomenon by showing direct losses in Florida from 1992-2012.
Florida Insurance Direct Loss Ratios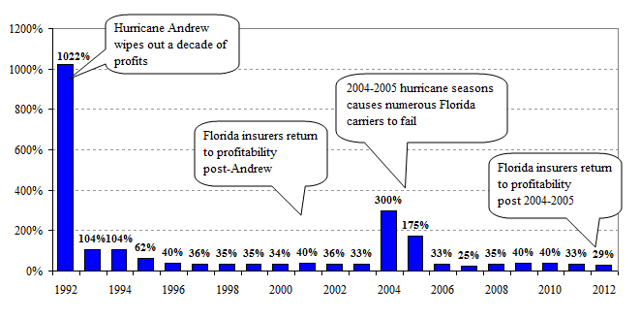 Source: Dowling Partners
State intervention to repair the dysfunctional markets following hurricanes has involved a series of measures that attempt to reconcile Florida's desire for a viable private insurance market and 'affordable' insurance for a massive catastrophic risk. The issue is so sensitive that politicians of all stripes make it a battleground issue. The current system is centered around price suppression, operating a state insurer (Citizens) and reinsurer (Florida Hurricane Catastrophe Fund FHCF) of last resort as well as an agency that deals with the failed insurers (FIGA).
Political unwillingness to either allow the state to control insurance more fully or let market mechanisms set prices for catastrophic risk for homeowners has made the Florida market, in aggregate, fundamentally unprofitable over the full course of a long-term cycle. The diagram below shows loss estimates indicating that Florida is, on average, an unprofitable market for insurers.
Florida Property Insurance Market Losses and Premiums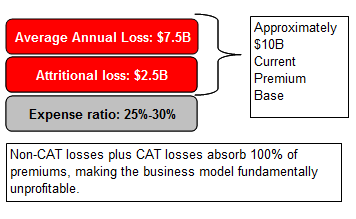 Source: Dowling, RMS, and estimates
As a consequence of the lack of profitability, the large, well-capitalized carriers that once dominated Florida have left. In their absence, the state developed its own unique market structure. Florida homeowners insurance is now dominated by Citizens, the state provider of last resort, and a group of small, thinly-capitalized domestic Florida insurers (DFIs) that operate almost exclusively in the state. Together, DFIs and Citizens provide roughly 75% of all homeowners insurance in the state.
DFIs are unlike traditional insurance companies in a number of ways. They operate on very low levels of surplus, which is partially mitigated by the purchase of a lot of catastrophic reinsurance coverage, much of which is subsidized by the state. Further, the state of Florida provides incentives to the holding companies by allowing them to take money out of the regulated statutory insurers through Management General Agreements (MGAs) in hopes of attracting risk capital into the industry.
The Florida post-storm cycle of massive losses and carrier failure drives consumers to Citizens, swelling the state-owned company's book of business. However, during storm-free periods, such as the current record 8-year lull, political pressure mounts to lessen state involvement in the market. The pressure manifests itself as efforts to reduce Citizens' policy count, reflecting the belief, which we believe to be wrong, that a smaller Citizens reduces the state's potential hurricane liabilities proportionately.
Efforts to shrink Citizens have come to be known as depopulations or takeouts. Citizens drives the process by providing insurance carriers with incentives to take policies from the state. These have taken various forms over the years, including minimal capital requirements, direct payments, low-cost loans and quota share reinsurance agreements.
Citizens depopulation efforts have given rise to the Florida takeout companies, which are carriers that assume large books of business from Citizens. There have been three major Citizens depopulation campaigns. The first began in 1996 after Citizens' policy count swelled in the years following hurricane Andrew (1992). The second took place after the active storm seasons of 2004-2005. The current round is Citizens' third depopulation effort.
The first two campaigns have met with very limited success. Nine takeout companies failed between 2006 and 2011 without a single hurricane making landfall in Florida. A number of other companies have been "taken over" by other players due to financial difficulties. Of the 761,000 policies that were transferred out of Citizens between 2007 and 2011, nearly 40% have returned, as insurers went under or the customers dropped the new coverage. Many of the companies that accepted, then returned, Citizens policies received more than $150M in bonuses and loans from the state-run company or taxpayers. In most cases, the bonuses were not returned.
The central problem with the takeout business model is that Citizens policies are often priced at levels that are unprofitable for private companies. This is evidenced in the extremely high failure rate of takeout companies that participate in the de-pop efforts. A 2012 survey of Florida insurance companies showed that only 9% of the participants had an interest in removing personal residential policies from Citizens. The inadequate rates were cited as the biggest reason for the lack of interest, with cost of reinsurance, quality and availability of data from Citizens to evaluate policies and the average annual loss-to-premium ratio of the properties making up the top four insurers' concerns.
Bob Ritchie from American Integrity sums it up: "There are three things that are needed to depopulate Citizens - rate, rate and rate. And it sounds simple, I know, but it is really complicated."4 Mr. Patel, the CEO of HCI, has likened the process of creating DFIs to one more familiar to those working in a slaughterhouse or a butcher's shop: "It's like making sausage. It's not a pretty process. What the insolvencies tell you is there is risk. You can go out of business without a hurricane." What Mr. Patel's comments says to us is that takeout companies are like sausages - they might seem ok, but don't ask what's inside.
1. Obfuscate and Inveigle - Unbelievable Growth and Profitability
HCI was formed in 2006 to participate in the second Citizens depopulation effort. In April of 2007, the company raised $12.9M in a private placement from current management and family members. The company made its first assumption of 6,000 policies from Citizens in June 2007. A year later, HCI raised roughly $10M in a small IPO.
HCI has participated in 10 different takeouts with Citizens between 2007 and 2013. The assumptions require the company to offer renewals on the policies for a period of three years subsequent to their initial expiration. During the first full year following the assumption, renewals are required to be at rates equivalent to or less than those of the state-sponsored insurer.
Regular assumptions following the initial modest 6,000 policy takeout, has made HCI the 7th largest insurer in Florida as of 4Q13. At the end of 2013, the company carried 163,000 policies for a total insured value of over $44B.
Thus far, the takeout model has allowed HCI to grow into a large insurer by Florida standards. The table below shows a short summary of HCI's financial results from 2009 to 2013.
HCI Group Financial Summary 2009-2013

Source: FLOIR and company filings
HCI grew total insured value (TIV) and policies roughly 100% between 2009 and 2012, even after accounting for the steep decline in 2010. However, 2013 growth of TIV and policy count slowed dramatically, probably reflecting the difficulty of assembling assumptions large enough to have a material impact on a company of HCI's size. We believe that current scale will make large assumptions more difficult and riskier.
In an industry where companies traditionally grow slowly, building their customer base and value exposure over time in concert with their surplus and equity to support claims payments, HCI's growth appears nothing short of a miracle. It has translated into industry leading profit margins - or at least it so appears.
There are four public DFIs excluding HCI, and they included Federated National Holding (NASDAQ:FNHC), Heritage Insurance Holdings (NYSE:HRTG), United Insurance Holdings (NASDAQ:UIHC), and Universal Insurance Holding (NYSEMKT:UVE). The table below shows the common size income statement for the DFI group.
2013 DFI Common Size Income Statement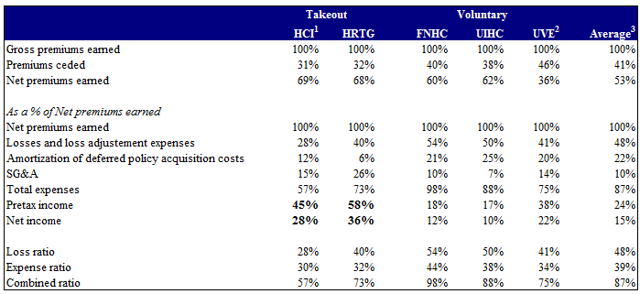 Source: company filings and estimates. Notes: 1. HCI SG&A estimates; 2. UVE's premiums ceded adjusted for commissions; 3. average excludes HCI and HRTG.
As the table highlights, HCI and HRTG's pretax margins of 45% and 58%, respectively are substantially higher than the group's average. HCI's margins are driven by apparent low premiums ceded, below average operating expenses and low losses, resulting in the lowest combined ratio of the group at 57%. We are sure national carriers are green with envy, given that the average combined ratio for the industry was 95.7% in 2013.
Although HCI's common size P&L is impressive relative to its peers, unfortunately, we believe it is largely a mirage. The margins are not sustainable. They reflect short-term subsidies embedded in takeouts, low quality related-party profits and unreasonable low loss expenses rather than underlying business fundamentals.
2. Lifting the Curtain - Not Too Good at All
HCI presents itself as a Warren Buffett inspired Florida-based insurance carrier with competitive advantages that allow the company to grow and flourish where others routinely fail. HCI's investor presentations cite technology as key competitive advantage. According to the company, its "predictive underwriting" model for policy selection, client management and claims handling software constitute a sustainable competitive advantage. HCI's business model relies on assuming large groups of policies en masse from Citizens. Presumably, these technical skills allow the company to identify policies at Citizens that others in the industry have wrongly deemed unprofitable.
We believe that HCI's technology-based competitive advantage is a complete myth. After all, roughly 50% of the company's book came from the acquisition of the failed Homewise Insurance. It is difficult to see how precision underwriting is a factor when the book doubled in size overnight. In our view, HCI does not have a competitive advantage in the market-place, technological or otherwise. The wizards of Tampa real skill, in our opinion, has been its ability to mask what we believe are the poor underlying economics of the company's book of business.
Our analysis reveals that HCI's business model is driven largely by the timing and terms of policy assumptions from Citizens. Stripped of the state subsidies embedded in the assumptions, the underlying book of business is generally unprofitable and barely profitable in the best of times. We believe the company attempts to compensate for the lack of profitability through the management of two key cost centers - reinsurance, and losses and loss adjustment expenses (LAE) while keeping churn down through aggressive pricing. We think the reinsurance program is structured to promote both profitability and coverage, though both may be illusory. Further, we think it is highly likely that the company is under-reserving for losses on the balance sheet, thus understating loss expenses on the income statement.
The chart below shows HCI's basic underwriting model with major expense categories expressed as a percentage of gross premiums earned.
HCI Business Model - Major Expense Categories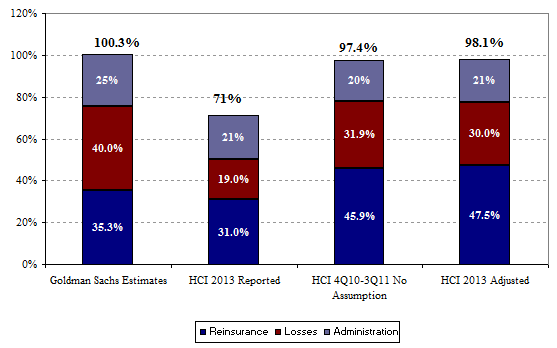 Source: SEC, FLOIR, Citizens Filings and Estimates
The graph above depicts the major differences between the HCI's 2013 reported numbers, the 4Q2010-3Q2011 results without a major assumption, Goldman Sachs' estimates of a takeout book of business and our adjusted 2013 HCI numbers. It is evident in comparing the models that the 71% combined ratio reported by the company is far removed from the reality of the book's economics.
Our estimates adjust the reinsurance costs based on the real expense for 2013 without profit kickbacks and without the benefit of the significant November 2013 assumption, which lowers the reinsurance expense ratio by spreading it as a semi-fixed cost over a much larger book of business. We have adjusted the losses and LAE expense to 30% to reflect what we believe is a more realistic loss number. We explain how we arrive at the number in a later section on losses and reserves. We kept the SG&A expenses unchanged. The adjustment reveals that the policies are barely profitable with a combined ratio of 98.1%, a stark contrast to the 71% reported figure, but in line with the previous assumption-free period and close to Goldman's estimates. Importantly, HCI's policy acquisition costs are significantly below the peer average of 13.9% of premiums. If we assume HCI must pay market acquisition costs, the administrative ratio would move from 20.6% to 26.4%, bringing the combined ratio to 103.9%.
Our analysis of HCI's underwriting model reveals that the business is much less profitable than presented. The business model may produce illusory profits, but management's extremely high compensation packages are all too real. We consider HCI yet another Florida takeout company where subsidies are used to fund extravagant salaries, bonuses and dividends. Unfortunately, the statutory company, which bears the ultimate risk for paying claims, is left financially weak, implying that should a crippling event occur, the Florida taxpayers will be left with the cost as FIGA pays remaining claims and the policies revert back to Citizens.
I. The Takeout Business Model
Why do companies assuming policies from Citizens appear very profitable, when by definition, Citizens policies are those the industry has chosen not to underwrite precisely because they are believed to be unprofitable at current premium levels? If there is extraordinarily profitable business available through Citizens, why aren't the national carriers involved?
The short answer, in our view, is that Citizens policies are at best marginally profitable for private companies under the best of circumstances. However, there are subsidies embedded in the terms of the takeout agreements that make the companies appear profitable for a short time following the assumption.
According to a May 2013 study by Goldman Sach's Investment Banking Division presented to Citizens to evaluate the viability of its proposed surplus note program, the takeout policies of the sample portfolio submitted by the Tower Hill company are barely profitable to the DFIs. The only desirable economics are in the initial period before the first policy renewal where high profitability is driven by the lack of administrative expenses, acquisition and reinsurance costs.
HCI's financial statements indicate below average costs on the three key industry cost centers: 1. reinsurance; 2. losses and LAE; and 3. policy acquisition costs. The apparent cost advantages are explained by the terms and timing of the policy assumptions.
The timing of the takeouts exploits a gap between the end of the storm season in October and reinsurance renewal which begins on June 1. We illustrate the process below.
The Impact of Year-end Citizens Assumptions

Source: Company filings and estimates
As shown above, Citizens allows companies to assume policies in November/December and does not require them to purchase coverage until the beginning of the next hurricane season. Alternately, companies that assume policies closer to the June 1 can be paid through backdated reinsurance contracts. The system creates the potential for private carriers to realize several months of unearned premium without assuming full risk. Policies can then return to Citizens if the price is increased significantly upon renewal. However, the resulting churn creates negative operating leverage that completely reverses the favorable economics. As a result, takeout companies have almost no pricing power.
The table below summarizes the factors that make HCI appear more profitable than the economics of the underlying book of business would suggest.
Deconstructing the Illusion - Factor Analysis
Category

Factor and Impact on P&L

Premiums

* Subsidized in the assumption process with the transfer of unearned premiums and expiring policies that revert to Citizens.

Reinsurance

* HCI carries assumed policies without reinsurance for 6-months post-assumption, which understates real reinsurance costs.

* The use of long-term financial reinsurance structures with accrued profit-sharing arrangements reduce the GAAP (but not cash) cost of reinsurance. Accrued benefits may be reversed in the event of a storm.

* The company uses captive reinsurer and related-parties to obtain pricing that might not be available in the marketplace.

* When evaluated using the AIR v.15 model, HCI's coverage is inadequate.

Losses and LAE

* Policies are acquired from Citizens 'liability-free', making them appear very profitable early on. However, as the book matures, losses revert to natural levels.

* Aggressively managing claims to reduce loss expenses.

*We believe the company is understating reserves based on comparisons with competitors. This results in lower loss expenses and a smaller balance sheet liability.

Policy Acquisition Costs

* Policies are acquired without acquisition costs and commissions paid to agents, which typically range from 10%-20% of premiums earned.
Source: Estimates
The section above breaks down HCI's business model into its key parts and broadly illustrates how they impact the P&L. The section below provides detail to key areas. We begin by outlining the structure common to all DFIs, and move on to provide a summary of our analysis showing how pricing, reinsurance and losses are used to make a marginally profitable business appear to have industry leading margins.
MGA and The Holding Company Structure
DFIs utilize a holding company structure, with the regulated statutory insurance company as an operating subsidiary. The diagram below shows a simplified version of HCI's group chart. We have only included the core insurance-related entities and excluded several non-core units such as Cypress Claims Service, as well as all non-insurance related subsidiaries.
HCI Group Company Structure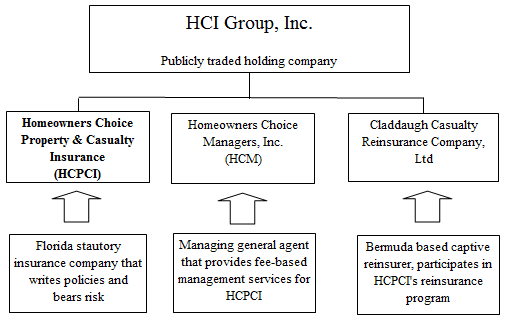 Source: company filings and estimates
The diagram shows the three key subsidiaries for HCI - HCPCI the statutory insurance company, HCM, the managing general agent, and Claddaugh, the offshore captive reinsurer. All of the DFIs have similar structures but not all have captive reinsurers. The statutory company collects the premiums and bears the risk of paying claims.
The statutory insurance companies are regulated by the Florida Office of Insurance Regulation (OIR). There is a legal framework establishing limitations on profits and restrictions on dividend payments to avoid gauging and excess payouts to management. However, it leaves ample room for maneuvering.
The insurance companies are managed by "managing general agents" or MGAs owned by the parent company. Our structural diagram shows HCI's MGA is Homeowners Choice Management (HCM). MGAs charge the statutory companies a management fee, much like hedge fund general partners charge the limited partnership.
While HCPCI is collects premiums and pays claims, the other affiliates in the structure, principally the HCM and Claddaugh, are the means by which companies can move cash out of the regulated entity to the holding company. Once cash is out of the statutory company, restrictions no longer apply. The funds can be used to pay dividends, and extravagant pay packages to management.
The best way to illustrate how cash moves up to the holding companies is to review the total related-party fees. The table below shows the total overhead burden of the statutory companies paid to affiliates owned by the parent.
Statutory Companies: Total Related Party Fees Paid in 2013

Source: statutory filings and estimates
As the table illustrates, over 50% of HCPCI's total expenses are related-party fees. The MGA structure has a key implication for the statutory companies. All key expenses - reinsurance, losses and management fees - should increase in tandem with premium growth. Thus, statutory companies have little or no operating leverage.
MGA fees have long been controversial in Florida, largely because management appears to profit handsomely while surpluses at the statutory level remain weak at times resulting in company failure. The Pulitzer winning journalist Paige St John noted that although OIR regulated insurers tightly, the Florida legislature amended rules governing MGAs to make the laws more favorable to managers. "There are laws that require managing agents to charge a fair rate and allow regulators to audit their books, and laws that impose penalties for violators. But those laws do not apply if the insurance company owners form their own MGA and charge themselves for the services."
The incentives to starve the statutory capital of surplus growth are especially high if there is little chance of long-term book profitability. A review of the key factors that drive the DFIs business reveals that is the case especially for the ones following the takeout model.
2. Premium Pricing - No Pricing Power
The primary issue of underpricing of policies taken from Citizens is compounded by churn. In an effort to bring assumed policies to profitability, companies raise premium rates. Bob Ritchie of American Integrity stated that attrition rates could be up to 50%, with customers reverting to Citizens when companies tried to raise rates.
HCI has had the very experience described by Mr. Ritchie. In the company's 2009 Financial Examination HCI's churn associated with a takeout was discussed extensively. The OIR noted that in a 95,000 policy takeout, approximately 30% opted out initially, leaving 66,500. Of those, only 65% renewed upon expiry in the first year and 80% upon the second renewal. Of the initial 95,000 policies only 34,580 remained after two years. The numbers imply a 35% first-year churn and 20% second-year churn on the initial 66,500 policies, for a two-year churn of 52%.
We think churn is a key issue for Citizens policies and HCI. HCI's annualized churn calculated by using the first through the third calendar quarters, which exclude assumption quarters, was 28.6%, 15.2%, 22.5% and 14.7% in 2010, 2011, 2012 and 2013, respectively. That has essentially prevented the company to take full advantage of the overall price increases in Florida in the last few years, as indicated below.
Price Increases on Citizens' Policies 2010-2014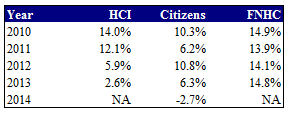 Source: Company filings, management, and press releases
Between 2010 and 2013, the figures above indicate that HCI has raised prices a total of 38.9%, in line with Citizens, which raised rates 38% and significantly less than Federated 71.4% price increase. It would appear as if HCI is attempting to keep prices, on average, in line with Citizens to avoid increasing churn levels.
We believe pricing is linked to low reserve levels. Rate change applications with the Florida Office of Insurance Regulation (OIR) must be supported by documentary evidence that includes losses. Therefore, rate suppression in effort to minimize churn could be an incentive to under-reserve for losses.
We believe HCI's pricing tactics are designed to retain policies at the cost of severely underpricing risk.
3. Reinsurance - Much More Expensive Than It Seems
The main issue with a business model based on Citizens depopulations is that the policies tend to be risky, underpriced and impossible to reinsure at a reasonable price even in the current extremely low reinsurance price environment. In fact, in a 2012 presentation to the Citizens' board by Advocate Reinsurance Partners, HCI's reinsurance broker, HCI proposes a depopulation plan with a cornerstone tenet that Citizens provide excess catastrophe reinsurance on takeout policies for a period of three years.
The chart below shows the concentration of gross premiums written in the most hurricane-prone counties in Florida for HCI and several competitors.
Tri-county (Miami-Dade, Broward, Palm Beach) GWP as a % of Total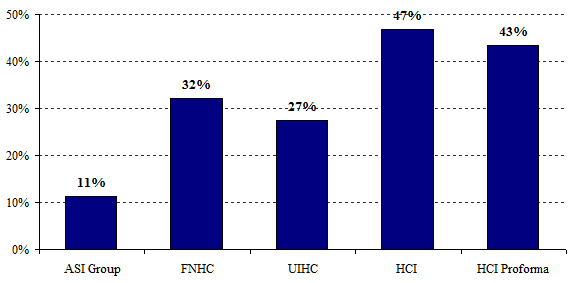 Note: Data as of Q3/213; ASI Group's numbers include only policies with wind exposure
As the chart illustrates, HCI's portfolio is much more focused on the riskiest counties in Florida than those of its competitors. ASI's group wind exposure is the lowest of the group at 11% while HCI before the latest November 2013 assumption of policies derived 47% of its GPW from the tri-county area. Although following the assumption that exposure decreases to 43% of total GPW, that is largely at the expense of increasing the Pinellas county's exposure from 13% of GPW to 16% of GPW. Pinellas is another one of the riskiest counties in Florida.
Despite the very soft reinsurance pricing over the last couple of years, reinsuring a portfolio of $37B of total insured value that is focused on "Hurricane Alley" and rests on a tiny surplus is not cheap. According to our estimates, HCI spent 47.5% of its GPW on its reinsurance program for the 2013/2014 season. That number is significantly higher than other DFIs like ASI Group (33%), FNHC (38%) and UIHC (36.4%). A summary of the findings is presented below.
Gross Premiums Written, Gross Reinsurance Premium and Rate on Line

Notes: Data as of Q3/213; ASI Group's numbers include only policies with wind exposure and only reinsurance relating to Florida; Gross Cost of Reinsurance includes private and FHCF treaties as well as reinstatement costs not accounting for any profit and commission share agreements
As the table indicates, HCI has the highest absolute reinsurance expense and the highest cost of reinsurance as a percentage of gross premiums. However, companies purchase reinsurance once a year with private reinsurance contracts commencing on June 1. HCI is not required to purchase additional reinsurance for the significant takeout policies it assumed in November, essentially "flying naked" for the rest of the season. This "subsidy" is evident in the improved reinsurance ratio once the cost is spread over a much larger policy base allowing the company to report a ratio of reinsurance expense to gross premium of 30.5% in its 10K filing with the SEC. The actual reinsurance cost as a percentage of gross premium before the acquisition was 47.5%.
The storm season in Florida runs from June to October. The implicit bet is that HCI can carry the unreinsured book for 6-months off-season without incurring substantial claims. Two factors make that a risky bet. First, although storms in the off-season are low probability events, they do occur. There are records of a total of 490 storms in Florida, 30 of which occurred between November and May, indicating that 6.1% of storms occur in the off season.
Second, HCI's assumptions from Citizens add significant exposure, historically in the 30%-50% range. HCI is not adding minor, incremental catastrophic exposure in the off-season. Rather, the increase in exposure can be immense. For example, in the November 2011 acquisition of the failed Homewise Insurance, HCI essentially doubled the size of its book. Astoundingly enough, despite the growth in exposure, HCI never filed a detailed reinsurance program for the 2012/2013 season with the OIR. According to the company: "For the 2012-13 treaty period the company's reinsurance program provides coverage that is comparable to the 2011-12 treaty year."
Some analysts at the time commented that the acquired book of business was toxic having taken out three other companies (Homewise Insurance, Homewise Preferred, and First Home). We are befuddled by the fact that TIV and GPW grew by 88% and 69% respectively over that period while the increase in 1st event reinsurance coverage was only 51%. That effective decrease in coverage is on top of company's own evaluation that: "The company's reinsurance program for the 2011-12 treaty period provides coverage up to limits that are moderately lower than the company's historical reinsurance programs." (OIR Filing Number: 13-02899). In our view, this is firm evidence that under-insuring (and hope), are central tenets of HCI's business model.
4. Losses & LAE - Under-reserving
The takeout terms with Citizens allow HCI to assume policies without legacy liabilities, which remain with Citizens. At the same time, Citizens transfers the remaining unearned premiums associated with the policies to HCI. Citizens retains liabilities associated with the policies, and HCI is the recipient of claim-free premiums. For the first 1-2 years of ownership, policies appear very profitable due to low claims, but over time as the book of business matures, claims rise to natural higher levels.
Total losses are accounted for as the balance sheet liability of "unpaid losses and loss adjustment expenses". The changes in the balance sheet account, which include costs incurred in the year as well as adjustments to costs from prior years, flow through as the losses and LAE expense line on the income statement.
Between 2010 and 2012, measures of HCI's reserves losses to gross premiums were stable. During the period, HCI's income statement losses averaged 31.1% of gross premiums, within range of most peers. In 2013, losses as a percentage of gross premiums plummeted, significantly increasing profitability. The loss ratios decreased to 19.3% from 28.4% in 2012 and far below the 2013 peer group average of 31.4%. HCI's -38.5% loss differential with the DFI average seems particularly improbable given the company's higher risk profile.
We suspect that HCI's low reserves and related loss ratios are at least in part based on not handling claims properly. The financial analysis indicating that HCI is under reporting losses is supported by qualitative evidence as well. The bullets below provide a summary of the evidence. In a section to be published later, we provide a full discussion of each element.
2010 financial examination report citation stating that HCI did not maintain either a claims manual or complaint log, indicating the company has past issues with claims.
HCI's 2013 actuarial statement includes a qualification that reserves are at risk for a "material deviation", indicating losses could be understated.
Recent articles in the media cite consumer complaints that HCI does not pay claims. In the comment section of another article, an HCI customer states that "HCI is a shameful company that systematically denies claims".
Complaints against HCI have skyrocketed in 2013, and by our estimates are up 2.3x the proportional levels from 2012.
Interestingly, declining loss expenses coincides with a change of auditor. In 2013, HCI switched from the small firm of Hacker, Johnson & Smith PA to Dixon Hughes Goodman LLP. Hacker, although smaller than Dixon, had a clean bill of health from the latest Public Company Accounting Oversight Board (PCAOB) examination. Not so with Dixon. Dixon Hughes' August 2013 PCAOB examination revealed significant deficiencies in 5 of 8 audits reviewed.
The OIR conducted financial reviews of HCI in each of the years 2008, 2009, and 2010; They have never conducted a market conduct examination of the company.
In 2010, HCI was not a top 25 Florida insurer as measured by policy count. It is only after the Homewise acquisition in 2011 that the company has moved into the top 10. We find it astounding that the OIR has conducted neither a financial review or a market conduct examination of HCI after it doubled in size by acquiring an insurer with policies that had caused three carriers to fail. In our view, evidence indicates that the OIR should initiate a thorough examination of Florida's 7th largest homeowners insurance company.
The table below shows HCI's income statement loss ratio to gross premiums earned and reserve ratio to gross premiums earned on both a reported and estimated basis.
2013 Loss Expense/Reserves: Reported and Estimates

Source: Company filings and estimates
The adjustments bring the ratios into HCI's historical range and closer to those of the peer group. Our loss expense ratio estimate is used as a plug into HCI's basic underwriting model to evaluate profitability and to adjust 2013 results. The reserve estimate is used to adjust the balance sheet liability and book value.
Financial results change significantly when adjusting for our estimated ratios. As seen in the earlier chart, the basic underwriting combined ratio moves from a reported 71% of gross premiums to 98.1%. This will carry through to our pro-forma 2013 detailed in a later section. Reserve adjustments causes equity to decline -12% to $141.3M from $160.5M, reducing book by approximately $1.73 per share.
Conclusion
Florida's unusual insurance dynamics has given rise to a market structure whereby a group of small, thinly-capitalized local carriers shoulder the bulk of the state's catastrophic risk. Takeout companies were designed and facilitated as a way to help the state recover from market disruptions and re-distribute policies to private insurers. However, limited overall market profitability coupled with underpriced risk associated with Citizens policies makes the takeout business model only marginally profitable in the best of times. The problems are evident in both the high failure rate and the incentives for management to starve the statutory company and shift cash to the holding company level to pay dividends, salaries and bonuses.
Regular, yearly assumptions coupled with creative reinsurance structures and under-reported losses, allow HCI to create the appearance of a P&C insurance company with the margins of a software company. However, as we have shown, just below the surface is a marginally profitable business, even in the current storm-free, low-cost reinsurance environment that is probably as good as it gets.
To maintain the current business model, HCI must perform year-end assumptions to avoid the impact of policy churn, cost increases and collapsing margins. This lends a Ponzi-like quality to company. Now that HCI is larger and operating in a more competitive environment, we suspect that transformative assumptions will be harder to come by. If that proves the case, HCI's barely profitable business may quickly move into the unenviable state of negative operating leverage and underwriting losses as it has in the past.
Disclosure: The author is short HCI.
The author wrote this article themselves, and it expresses their own opinions. The author is not receiving compensation for it. The author has no business relationship with any company whose stock is mentioned in this article.