Sohu.com (NASDAQ:SOHU) reported earnings overnight, and thus far the results seem to ironically be driving competitor Sina.com (NASDAQ:SINA) more than Sohu itself. Sohu has a bigger gaming component that Sina, but both its brand advertising and gaming (combined 87% of the company's revenues) showed nice 30% year over year growth metrics. Brand advertising revenues were $60.1 million, up 31% year-over-year and 2% quarter-over-quarter, while online game revenues reached $91.7 million, up 30% year-over-year and 7% quarter-over-quarter.
The other two business lines are really too small to matter (search) or shrinking (wireless) . Gross margin was flattish year over year. EPS for the quarter was $1.07 versus an estimated $0.99. The company is actually a pretty solid value at these levels, at 21x the just-completed year of 2010, and 17x next year's estimates. More info can be found here and at Bloomberg.
In terms of guidance, Bloomberg notes:
Sohu forecast first-quarter revenue may rise to between $164.5 million and $169.5 million. This compares with the $161.5 million average of eight analysts' estimates compiled by Bloomberg.
[Click all to enlarge]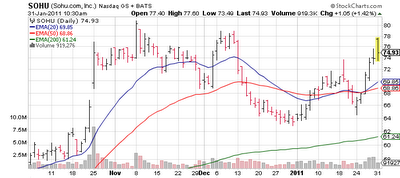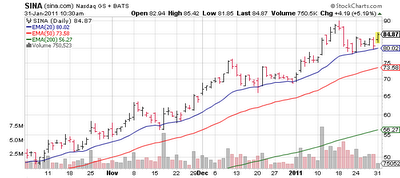 Disclosure: No positions