By: David Russell
Canadian stocks are hovering near multi-year highs, and the bears are stepping in.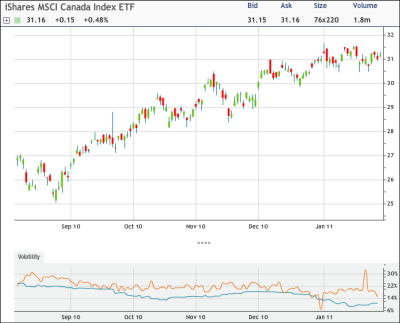 optionMONSTER's Depth Charge tracking system detected the purchase of 2,500 June 30 puts on the iShares MSCI Canada Index fund (NYSEARCA:EWC) for $1.05. An equal number of June 34 calls were sold at the same time for $0.35. Volume was more than 20 times open interest in both strikes.

The EWC is up 0.48 percent to $31.16 in morning trading. It rallied from around $25 in late August to $31.66 in early December, then slammed into resistance at the same level where it peaked in August 2008 before crashing along with the rest of the stock market.

The ETF has been drifting sideways for more than a month, and today's option trade reflects a belief that it's going to drop. The position cost $0.70 to open and will make money if the EWC falls below $29.40.

If done as a naked trade, it will lose money above $34. However, it may have been the work of an investor looking to hedge long exposure to the fund or the index. In that case it would be a collar, a common hedging strategy.

The transaction pushed total option volume in the EWC to 42 times greater than average, according to the Depth Charge.
(Chart courtesy of tradeMONSTER)