Accuray (NASDAQ:ARAY) announced its financial results on Thursday night, which easily beat analysts' expectations.
The company reported revenues of $54.2 million and a net income of $ 4.1 million, or $ 0.07 per share. Analysts, on average, expected a loss of a penny per share on $49.8 million in revenues. Shares of Accuray rose about 30 percent on the news, to close at $8.91 on Friday. The stock also reached its 52-week high.
The company reaffirmed its outlook for revenues between $210 million and $225 million in fiscal 2011. Analysts expect $217.8 million in revenue. Revenues dipped 5% year over year to $54.2 million, but as usual with Accuray, it must be remembered that a change in its accounting practices makes a true comparison between quarters difficult.
Accuray booked revenues of $29 million in fiscal 2010 under its Platinum service agreement, which was discontinued. The impact of Platinum service revenues in fiscal 2011 will only be $5 million. If we exclude those revenues from the quarter, on an "apple to apple" comparison, Accuray increased revenues from $50 million in Q2 2010 to $ 53.3 million in Q2 2011.
The good news:
Gross margins climbed to 54.3%, from 45.3% a year-ago.
Operating expenses declined 8.8% Y/Y.
The company booked 19 orders for its CyberKnife system (a record number for the company).
Total order backlog, at the end of the quarter, was $410 million, almost an 8% increase from the previous quarter and a 26% increase Y/Y.
Accuray ended the quarter with cash and cash equivalents of $ 152,0 million – the company has no debt.
The bad news:
Accuray installed only six new CyberKnife robotic radiosurgery systems in the quarter, compared to 11 in Q2 2010.
Four orders were canceled from backlog: Two of them by customers (dissolution of buying entity) and two of them by the company as they aged beyond the two and a half year limit fixed by Accuray for current backlog calculations;
Management changes at Siemens (SIE) delayed the partnership as far as new products research, while Siemen's distribution efforts of Cyberknife progress as planned.
Here is a quick look at Accuray's updated backlog segmentation and rollforward:
[Click all to enlarge]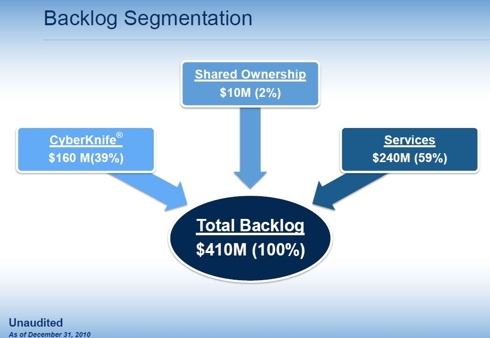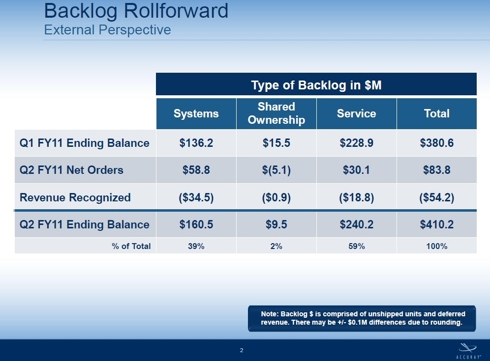 The company still expects to install more systems in fiscal 2011 compared to 2010. However, Q3 is forecast to be in line with Q2 as far as revenues, so Q4 should become the company's strongest quarter of the year.
Out of the 19 new systems booked, eight of them were in the U.S., and two were received by major academic institutions.
Piper Jaffray (NYSE:PJC) has raised its price target on Accuray from $8 to $10 and maintains its Overweight rating. Here is a quote from its report:
ARAY has now successfully escaped its troubled past that included material backlog revisions and deferred revenue recognition controversies. Given the solid new order growth, sales growth and unexpectedly strong gross margin and earnings outperformance we believe the stock no longer deserves to trade at a discounted valuation relative to other small cap medical technology companies. Our revised price target of $10 is now based on 1.7x our FY12 EV/REV estimate, which is in-line with the current median multiple for our small cap medical technology comp group. We remain strong buyers of the stock at current levels.
Sometimes charts are the best way to show trends: here is a look at total CyberKnife installations in the last few quarters: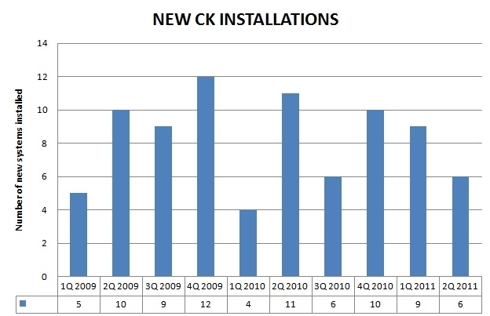 And here is a look at the last few years (partial number for fiscal 2011):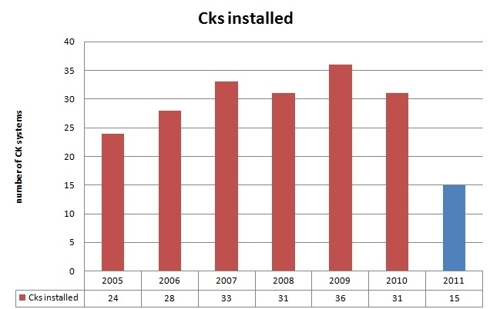 While there is no doubt that the increased backlog bodes well for the future, we've already noticed in the past that planting seeds for future growth is useful, but the real inflection point will be reached the day the company starts growing steadily its CyberKnife sales, exceeding any previous performance.
Disclosure: I have no positions in any stocks mentioned, but may initiate a long position in ARAY over the next 72 hours.
Additional disclosure: I sold my long position into Friday's run-up, which seemed a bit overdone to me, hoping to buy back at a later stage. Still a great believer in the technology, and the company's long-term potential, however, I think I can describe my attitude toward Accuray right now as "please show me the installations."