Last year, I wrote an article showing the similarities between Kinder Morgan (NYSE:KMI) and Berkshire Hathaway (NYSE:BRK.A) (NYSE:BRK.B), and explained how these similarities should lead to excess returns for both companies going forward.
Although it is common knowledge that Warren Buffet is one of the wealthiest people on the planet, while writing the article I learned that Richard Kinder, the CEO of Kinder Morgan, is ranked as the 39th wealthiest American in the Forbes 400. With 2 of my favorite companies found amongst the list's top 50, and a number of the other top 50 companies having traits I look for in an investment, I felt this may be a fertile ground for finding attractive investing opportunities.
Looking deeper into the top 51 wealthiest Americans (there was a 3-way tie for 49th), I found that 22 of them had created their wealth with currently public companies, 23 others made their billions with private companies or companies that had been taken private or acquired, and the remaining 6 made their fortune through investment management (running hedge funds, etc.). A list of the 22 people and the companies that made them rich is below:
| | | | |
| --- | --- | --- | --- |
| 1 | Bill Gates | Microsoft | MSFT |
| 2 | Warren Buffett | Berkshire Hathaway | BRK.A |
| 3 | Larry Ellison | Oracle | ORCL |
| 6 | Christy Walton & Family | Wal-Mart | WMT |
| 7 | Jim Walton | Wal-Mart | WMT |
| 8 | Alice Walton | Wal-Mart | WMT |
| 9 | S. Robson Walton | Wal-Mart | WMT |
| 11 | Sheldon Adelson | Las Vegas Sands | LVS |
| 12 | Jeff Bezos | Amazon | AMZN |
| 13, 14 | Larry Page, Sergey Brin | Google | GOOG, GOOGL |
| 20 | Mark Zuckerberg | Facebook | FB |
| 21 | Steve Ballmer | Microsoft | MSFT |
| 24 | Phil Knight | Nike | NKE |
| 26 | Paul Allen | Microsoft | MSFT |
| 30 | Rupert Murdoch & Family | Fox, News Corp | FOX, NWS |
| 32 | Charles Ergen | Dish | DISH |
| 33 | Harold Hamm | Continental Resources | CLR |
| 35 | Laurene Powell Jobs & Family | Apple | AAPL |
| 39 | Richard Kinder | Kinder Morgan | KMI |
| 47 | Pierre Omidyar | eBay | EBAY |
These 22 people were made rich by 16 companies, with Google, Microsoft and Wal-Mart each putting multiple people in the top 50.
Looking at these companies, I found a number of commonalities which explain why these people landed on this list, and why many of these companies will continue creating wealth going forward.
Competitive Advantages
One of the most distinct traits of a company with a competitive advantage (often called an economic moat) is its high returns on capital over extended periods of time. This factor provides strong evidence of a competitive advantage as high economic returns brings in competition, trending returns back toward a normal level. A company benefiting from competitive advantages is able to maintain high returns despite heightened competition.
Having a high return on capital is one of the most important factors in wealth creation, as compounding and reinvesting capital at high rates of return grows capital rapidly. As most of the people on this list created their fortune over a single generation, this quick compounding is important to generate significant wealth.
With 8 of the 16 companies having ROE greater than 20% (DISH has a ROE of greater than 100% due to high debt levels and minimal equity), this provides evidence that many of these companies have moats.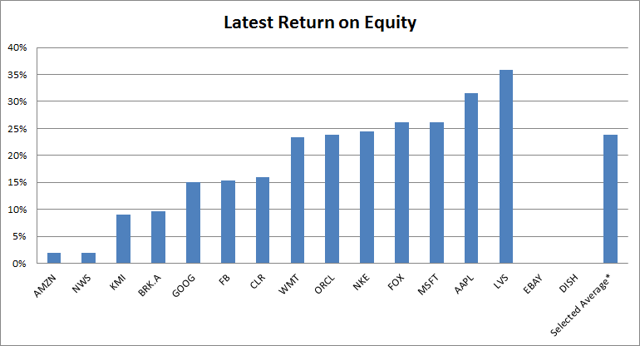 *The selected average ignores AMZN, NWS, KMI, BRK.A, DISH, and EBAY as explained below
Despite low levels of current returns, there is evidence that Amazon (NASDAQ:AMZN) benefits from competitive advantages. Amazon has unrivaled scale in online retailing and is a clear low cost leader. With significant growth still ahead of it, and the company spending heavily to achieve this growth, it is likely that Amazon will benefit from sustained high returns on equity at some point in the future. This point is further justified as Amazon earned an ROE above 15% recently, only to decline again due to increased spending on growth initiatives.
Fox (NASDAQ:FOX) and News Corp. (NASDAQ:NWS) were only separated lately, with NWS having subpar returns compared to its larger predecessor. These businesses have vastly different characteristics, with NWS essentially being a spinoff of FOX's legacy newspaper businesses and strategically unimportant assets. It appears that Fox still enjoys a reasonable economic moat, but that News Corp's economic moat was eroded upon the emergence of low cost, online competition to newspapers.
Although it is likely that NWS' early years contributed a fair amount to its owner's growth in wealth (newspapers have at least had competitive advantages in the past, as shown by Buffett's previous and continued involvement, and these companies' higher historical profitability), it appears that going forward FOX will be the horse to bet on of this pair. Both companies appear to have reached a mature growth stage (or decline), however, where most of their wealth creation is in the past.
Both Kinder Morgan and Berkshire Hathaway haven't shown their competitive advantages in the same way as other companies due to some rather unique characteristics each company enjoys. As described in my other article, both companies leverage the returns of low risk equities, Berkshire by buying equities with its insurance float and Kinder Morgan by owning a general partner interest in its LPs, with much of this economic benefit not captured by an ROE measurement (although KMI's acquisition of its LPs will nullify this benefit and display its ROE more traditionally in the future). Berkshire in particular doesn't show the entirety of its stock holdings' earnings, with only the dividends paid showing up on Berkshire's net income and ROE measurements. Despite their lower stated ROEs, many people would say both Berkshire and Kinder Morgan have competitive advantages and will continue building wealth going forward.
Growth
Another common characteristic of these companies is their impressive, often stratospheric growth rate. A high, sustained growth rate combined with a high internal return on investment helps to compound an owner's wealth quickly.
A company with a high ROE but low growth will put out a lot of cash, but won't be able to compound its high rate of return; a company that's growing quickly but generating a low internal rate of return will quickly run out of growth capital and won't deliver high returns. The sweet spot is finding a company that will experience continued high returns on investment with plenty of growth opportunities.
With the majority of these companies experiencing double digit growth over the last decade (growth rates shown below), and the group as a whole averaging a 20.1% CAGR (not measuring new entries such as KMI, FB and NWS due to their insufficient history, or FOX due to the NWS spinoff), these companies clearly have faster growth prospects than the overall market.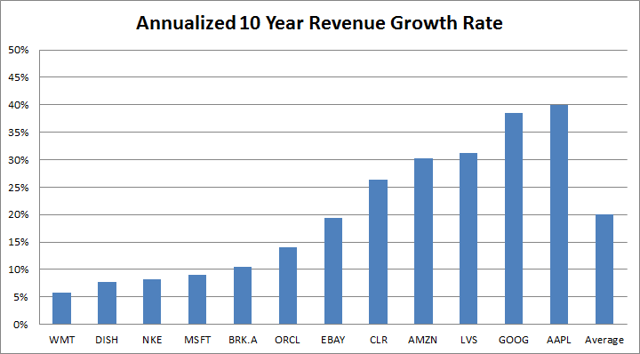 This figure is backward looking, however, and many of these companies' growth rates are bound to slow in coming years. In order to find a worthwhile investment, investors must look to the future. Companies which have entered the more mature phase of their life cycle, such as Fox , Wal-Mart (NYSE:WMT), and Nike (NYSE:NKE) may not be able to create as much wealth going forward. Even Buffett has stated that Berkshire's growth going forward is likely to be significantly lower than past rates due to the difficulty in sustaining fast growth as a larger company.
Amongst the fastest growing companies in this list are a number of popular tech companies, namely Google (NASDAQ:GOOG) (NASDAQ:GOOGL), Apple (NASDAQ:AAPL), Amazon, eBay (NASDAQ:EBAY), Facebook (NASDAQ:FB), and Oracle (NYSE:ORCL). You don't need to go far to find people taking opposing sides to the argument as to whether these company's best days are behind them or if they are in the early stages of a new growth story. I intend to leave this decision to the reader, and present other factors which an informed investor should consider.
Aside from tech companies, there are other notable companies with fast growth rates such as Las Vegas Sands (NYSE:LVS), Kinder Morgan and Continental Resources (NYSE:CLR). Each of these companies has secular tailwinds which should help their growth rates going forward: Las Vegas Sands owns a number of top casinos around the world and should benefit from increasing wealth in developing markets, and KMI and CLR should both benefit from the resurgence in oil and natural gas production throughout the US.
High Insider Ownership
By the very nature of becoming wealthy through equity ownership, it is common for people on this list to own a large percentage of their company. Inside ownership is important as it helps align the interests of shareholders and management, and it is well documented that inside ownership leads to higher returns. With many of the people on this list owning more than 10% of their company, they clearly have a lot of their own skin in the game, and shareholders' best interests in mind.
This is one factor where there is clear distinction between "old money" and "new money." Many of the people on the list of richest Americans are no longer involved in the day to day operations of the company. Many people, such as Bill Gates and S. Robert Walton have elected to take the chairman role. Others such as Laurene Powell Jobs (inheriting Steve Jobs' fortune) or Paul Allen (co-founder of Microsoft) inherited their wealth or are no longer involved in the company at all.
The remaining list of active owners is below, along with their ownership amounts:
Rank

Name

Ticker

% Owned

Role

2

Warren Buffett

BRK.A

26%

CEO

3

Larry Ellison

ORCL

24%

CEO

11

Sheldon Adelson

LVS

7%

CEO

12

Jeff Bezos

AMZN

19%

CEO

13, 14

Larry Page, Sergey Brin

GOOG

GOOGL

31%

CEO, Director

20

Mark Zuckerberg

FB

20%

CEO

30

Rupert Murdoch & Family

FOX

?

CEO

33

Harold Hamm

CLR

68%

CEO

39

Richard Kinder

KMI

24%

CEO
Many of the companies in this list are blessed with a talented, devoted management team, which should help improve shareholder returns going forward.
Active Management
Another feature common to most of this list is that management is very active in growing shareholder value, often pursuing a number of acquisitions and other corporate actions in order to grow shareholder value.
Berkshire Hathaway recently acquired Burlington Northern Santa Fe and Heinz, and regularly looks at new opportunities as a regular part of their operations. Oracle continuously pursues tuck in acquisitions to expand its opportunities, with Sun Microsystems expanding the company's product line into hardware and a number of cloud related acquisitions opening up new growth avenues.
Google's Motorola deal and Kinder Morgan's El Paso acquisition and limited partner purchases were large and transformative and help branch out each companies influence and expand their strategic options.
This factor goes beyond simple acquisitions and empire building, however. Kinder Morgan was taken private in 2006 at a premium to its then market value, before IPOing again in 2011. The company recently acquired its limited partners to help realign the interests of the combined Kinder Morgan, leaving the company open for more strategic options.
News Corp. was willing to split its operations this past year, with the divestiture leaving Fox with a stronger competitive position and the new News Corp. with more strategic opportunities and cash on the balance sheet to pursue an acquisition or merger (or to be taken over at a premium).
A fair number of the other people on the Forbes list (those without currently public companies) were willing to step aside and let their company be taken over at some point in the past; this willingness to "sell out" has not only helped to grow their wealth, but has also benefitted fellow shareholders. Almost every company on the list has engaged in major deals at one point or another, and it is likely this trend will continue going forward, to the benefit of shareholders.
Valuation
Although each of these companies share characteristics which are positive for future returns, these factors are diminished somewhat by the lofty valuations many of these companies trade at. By simple virtue of looking at the world's richest people, this group will include people who own companies which trade at higher valuations, as a person's rank will go up with their company's value. Many of these companies trade at extreme valuations and this group as a whole trades at high multiples to book, earnings and sales.
It makes sense to pay more for a quality company, but as seen with the results of the "Nifty Fifty", if you pay too high a rate for even the best companies your returns will suffer.
Once again there is a clear difference between companies with currently active management and the rest of the list. The median price to earnings multiple is almost 50% higher, with the median price to book and price to sales also significantly higher (with median being used to diminish the outsized effect of outliers such as AMZN's P/E).
Currently Active
| | | | |
| --- | --- | --- | --- |
| | P/E | P/B | P/S |
| BRK.A | 16.0 | 1.4 | 1.8 |
| ORCL | 17.1 | 3.9 | 4.9 |
| LVS | 19.4 | 7.0 | 3.5 |
| AMZN | 833.3 | 14.4 | 1.9 |
| GOOG | 30.4 | 4.1 | 6.1 |
| FB | 83.3 | 10.9 | 19.7 |
| FOX | 20.7 | 4.4 | 2.5 |
| CLR | 44.1 | 6.5 | 7.9 |
| KMI | 33.0 | 3.1 | 2.5 |
| Median | 30.4 | 4.4 | 3.5 |
Inactive
| | | | |
| --- | --- | --- | --- |
| | P/E | P/B | P/S |
| MSFT | 17.8 | 4.3 | 4.5 |
| WMT | 16.2 | 3.2 | 0.5 |
| NKE | 27.5 | 6.6 | 2.7 |
| NWS | 41.2 | 0.7 | 1.1 |
| DISH | 29.5 | 21.3 | 2.1 |
| AAPL | 15.8 | 4.9 | 3.4 |
| EBAY | N/A | 3.5 | 4.0 |
| Median | 22.7 | 4.3 | 2.7 |
Notable Opportunities
eBay
Although earnings took a hit due to foreign cash repatriation, eBay has strong cash flow generation ability and growth, with these factors protected by an enviable economic moat. With a fairly low valuation (based on normalized earnings), eBay stands positioned to outperform the market going forward.
Amazon
Amazon is a fairly controversial stock due to its impressive growth rate, yet notable lack of earnings. With an unrivaled scale and ability to disrupt entire industries, Bezos has the potential to continue to surprise investors, and the world, although whether and how well investors are compensated for this is yet to be seen.
Wal-Mart
Storied growth stock turned slow growing, dividend champion, Wal-Mart appears well positioned to outperform going forward due to its low valuation and efficient operations. Although its days of rapid growth are behind it, Wal-Mart was built on a strong foundation and has plenty of time still to add shareholder value.
Continental Resources
With Harold Hamm at the helm owning over 2/3 of the company, and a strong acreage position in fast growth oil and gas properties, Continental Resources should continue to outperform going forward. Although it trades at a somewhat high P/E multiple, it should quickly grow into it. Its relatively small size could also make this company an acquisition target for one of the large oil and gas companies looking for growth in the fast growing US market.
Kinder Morgan
I have long believed that Kinder Morgan is one of the best dividend growth choices available, and its recent reorganization will only improve its overall competitive positioning. With returns leveraged to growth in gas and liquids volumes, KMI has a long growth runway ahead of it. Although its valuation has risen somewhat after the deal to purchase its limited partners, I believe Richard Kinder, and his fellow shareholders will continue growing their wealth at a faster rate than the market going forward.
Berkshire Hathaway
Warren Buffet has amassed an impressive collection of businesses and investments, embedding Berkshire Hathaway with strong competitive advantages and impressive returns on capital. Although its growth rate is likely to slow going forward, Berkshire is trading at a historically inexpensive valuation and represents an attractive, diversified and safe investment.
Oracle
Larry Ellison has done a great job at the helm, almost quadrupling Oracle's revenues over the last decade. With the market worried over Oracle's transition to the cloud, the company trades at a very attractive valuation. If you believe Oracle will continue to dominate the future enterprise computing world, this stock should deliver handsome returns going forward.
Google
Still dominating the search market with a commanding market share, Google is a force to be reckoned with. Google has been able to expand from a simple search engine to provide many services, all linking back to their online advertising platform. With Larry, Sergey and a lot of prime talent continuing to search for new revenue opportunities, and advertising dollars continuing to migrate online, it seems likely that Google will continue to grow at an above market rate for years to come.
Disclosure: The author has no positions in any stocks mentioned, and no plans to initiate any positions within the next 72 hours.
The author wrote this article themselves, and it expresses their own opinions. The author is not receiving compensation for it (other than from Seeking Alpha). The author has no business relationship with any company whose stock is mentioned in this article.