SM Energy Company (NYSE:SM) is an oil and gas exploration and production company concentrated in North America. Over the last year, SM Energy has made major changes. These changes were primarily to liquids. By increasing production in oil and gas liquids they will realize larger margins. Higher margins mean greater profits. Their production in Bakken/Three Forks and Eagle Ford seems to be driving growth for the company.
The Eagle Ford is an important area for SM Energy. They have approximately 165,000 net acres in Eagle Ford. SM Energy has managed to keep working interest high in this area, and in return, production has increased. Gross operated production was 59 MMcf/d and 2000 Bbl/d in the Eagle Ford operating acreage. They are quickly working this area and in turn saw nine wells turn to sales.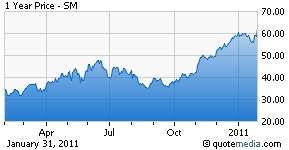 Since SM Energy is being proactive, they are turning wells into operational profit. Production is increasing quickly, and this means higher profits for investors. In the second quarter of 2009, overall production was .6 MMCFE/d, and by the third quarter of 2010 it was 38.8 MMCFE/d. The biggest jump was in oil as production for the second quarter of 2010 to the third quarter of 2010 more than doubled.
Since oil prices have increased while gas prices have not, SM Energy is increasing production of liquids faster then that of gas. Average daily production of oil volumes grew 46% sequentially. Quarter of quarter gas also increased production by 35%. Due to higher prices of oil SM Energy is securing work to help maintain production increases. They have extended contracts on two rigs. Two additional new builds have been committed and arrive this year. They have made agreements for completion services and transport services in the area.
SM Energy has other acreages in Eagle Ford. In this section, SM Energy is a non-operator. This area has 84,000 net acres with their working interest being 25% of the total. They have six rigs in the area. The current backlog in the area has slowed possible production. They are waiting for completion equipment to become available, when there is availability, they will see an increase in production. They are also participating in midstream and down stream arrangements. Even with the back log, non-operator production is growing very fast. The sequential average equivalent daily production grew 142%. Average daily oil was up 128%, and gas 159%.
SM Energy also has a position in the Bakken/Three Forks area. They have approximately 81,000 net acres. They are looking to add acreage to their current foot hold. Three horizontal wells were drilled in a 1280 acre unit and were completed to sales last October. All three wells are running at 955 BOEd. Average equivalent daily productions grew 31% sequentially. Oil numbers up 32% and gas 19% in the Bakken area. Although, Eagle Ford has seen higher increases in production then the Bakken. There is considerable upside at this location. Fraccing crews are difficult to come by, but when they become available, numbers will increase substantially. Look for numbers to increase with respect to production when the bottle neck opens.
Other company activity outside the Eagle Ford and Bakken/Three Forks are accomplished at several different locations. In the Permian Basin they just completed a 20 acre downspacing pilot. The Woodford Shale just finished the drilling of four wells simul-frac. Their Haynesville Shale position just had two solid horizontals completed. Granite Walsh just completed McGuire 1-6H with four more planned. Their Niobrara location had a second test well drilled.
Although other locations do not provide the upside of the Bakken and Eagle Ford, they provide added production. These locations are in the Permian Basin, Woodford Shale, Haynesville Shale and the Niobrara. Each location is in an area that is showing good production and resources. These areas have seen net production increase of 8% quarter over quarter. This growth is seen through liquids mostly, as oil increased 12% sequentially.
SM Energy is in sound financial condition. They are currently paying down debt, and have no debt maturities until next year. They are maintaining good liquidity and currently have a 19% debt to capitalization. They have increased their borrowing base to $1.1 billion. The capital budget for 2010 was $871 million and increased to $1 billion this year. SM Energy has stated the bulk of this investment will go to the Bakken/Three Forks and the Eagle Ford. They believe they can pay their entire capital expenditures in 2011 from current revenue. No added debt will be needed in 2011.
In summary, SM Energy seems to be in a very good position. Their purchases in the Bakken/Three Forks and Eagle Ford are prime shale locations. Their net increases in oil production should also help their margins. All of this is coupled with better oil prices, that seem to still be moving higher. Historically, they have also been conservative as to guidance. So it will not be strange if the company continues to beat numbers, pay down debt, and increase production to the high end of expectations.
Disclosure: I have no positions in any stocks mentioned, but may initiate a long position in SM over the next 72 hours.