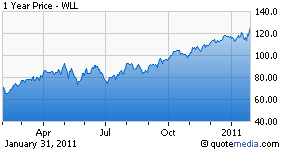 The common shares of independent oil producer Whiting Petroleum (NYSE:WLL) offer unlevered appreciation potential of 28% to a McDep Ratio of 1.0 where stock price would equal Net Present Value (NPV) of $150 a share, up from $128. After reviewing our recently revised estimates of NPV for all stocks to reflect a long-term oil price of $100 a barrel, we concluded we were not giving WLL enough credit for its 20% increase in oil volume in 2010. The company is among the top producers in North Dakota where new shale oil volumes have been enough to help reverse a declining oil trend for the whole U.S. Knowing that the stock has appreciated more than five times from its low of $20 in early 2009, we are cautious for now about making WLL an official buy recommendation. Yet, a comparatively low McDep Ratio among peer stocks suggests a bright outlook for more gain in the years ahead.
North Dakota Rises to 7% of U.S. Oil Production
Whiting's appeal includes aggressive application of new technology in drilling and formation fracturing to increase oil volume. Practically all of the company's incremental production in 2010 has come from North Dakota where Whiting was the second largest oil producer a few months ago. On a steep incline, North Dakota oil production was 7% of the U.S. in August 2010, up from 4% a year earlier (see chart below - click to enlarge).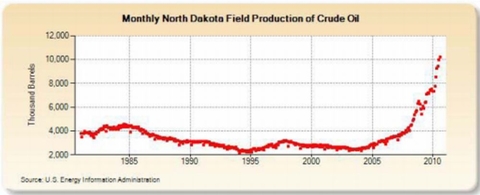 It is a bit extreme to compare Whiting's stock price to early 2009. Had oil price remained at the low point of $34 a barrel only a few small cap independent North American oil producers could have remained solvent. That is the risk of being in a high marginal cost business and it is the main reason, we believe, that the major oil companies sold most of their North American oil properties to independents. The other side of the coin is that when price increases, profits increase faster for higher cost operators. Considering that oil price is up almost three times since early 2009 and that North Dakota oil has been growing rapidly, it is less surprising that Whiting's stock price is up as much as it is.
Probable Reserves Hint at Longer Life
New Securities and Exchange Commission rules allow companies to report estimates of probable reserves in addition to proven quantities though few U.S. companies made those disclosures last year. As a result, we make our comparisons for most companies on the basis of proven reserves for which we calculate an adjusted life index, which is 9.3 for Whiting. Beginning last year we modified our approach for Canadian companies to include probable reserves, which traditionally have been reported regularly. In that context we calculate an adjusted life index of 12.5 for Whiting.
Comparing adjusted life index to cash flow multiple implied by our estimate of present value suggests Whiting might have an NPV of $158 on the proven reserves basis. On the probable reserves basis, NPV in comparison to those companies where we have probable reserves might be $177. Both comparisons exceed our new standard estimate of $150.
Growing Production Lifts Cash Flow
A steep curve for North Dakota oil production is also raising WLL's cash flow base for the first year in a present value type calculation. We don't always know whether the growth is coming from reserves already reported or if reserves are also growing faster. For practical purposes we estimate a cash flow base tied largely to latest quarterly production.
Income and Small Cap Stocks McDep Ratio at 0.95
Stocks in our group of Small Cap Independent Producers are priced at a median McDep Ratio of 0.92 while Cash Payers offer a median distribution yield of 6.9% a year. Unlevered cash flow multiple (EV/Ebitda) for independent producers is 10.6 times for an adjusted reserve life of 11.8. EV/Ebitda for Bottom Line Cash Payers is 11.2 times for an adjusted reserve life of 12.6. Nearly all the stocks are in a price uptrend compared to the 200-day average.
Originally published on January 7, 2011.