VSE Corporation (NASDAQ:VSEC) serves as a centralized management and consolidating entity for business operations. Their business consists of diversified program management, logistics, engineering, information technology, and construction program and consulting services performed on a contract basis. VSE's contracts are with agencies of the United States government and other government prime contractors, non-government organizations and commercial entities. They conduct operations under four principal segments: Federal, International, IT, Energy and Management Consulting and Infrastructure.
According to their 2009 annual statement, VSE derived 58% of its revenue from federal sources and 31% from international, 7% for IT, energy, and management consulting, and 4% from infrastructure consulting. Roughly 82.8% of revenues were derived from the US military. For those that are getting confused with the numbers, I believe that "international" means military contracts for the US government outside of the US (aka in Iraq/Afghanistan).
The outlook for the US Department of Defense military budget is pretty grim for next 5 years. 2011 sees a small increase in military spending, followed by a large decrease in 2012, and a small increase each year until 2015. 2015 is expected to have a similar level of spending as 2010. These are projections, so they are not guarantees. Here is a link to the projections I am using. My argument is that VSEC will continue to grow the business despite lower defense spending. Let's compare DoD spending to VSEC's bottom line. US DoD spending has grown from $367B to $896B, or 144% over the last 10 years. VSEC has managed to grow revenues from $112M to $910M or 712.5%. VSEC has managed to grow revenues at an arithmetic average of 71.25% while defense spending has grown at 14.4%, outpacing growth by 56.9% per year.
VSEC has managed to outpace US defense spending by a mile. However, chances are that the growth in DoD spending inflated VSEC's revenue growth. It is easier for small companies to grow in an expanding market, while it is very hard to capture new business in a mature or dying market. If we assume that 80% of revenue growth came from the increase in US DoD spending, then assuming 0% industry growth, VSEC should be able to grow revenues at ~11.38% per year.
VSEC's balance sheet looks good. Debt is low-- VSEC has $12M in long-term debt, and $119M in equity. The assets look fine. One exception is that VsEC has a fairly high goodwill balance. Currently, goodwill accounts for 13.2% of assets. This is the only alarming figure on the balance sheet.
Management performance has been outstanding, and they are putting their money where their mouth is! VSEC's 5-year average RoE is 27.0%. There have been no additional equity offerings in the past 3 years. Insiders seem to be confident in the firms future-- insider ownership of VSEC is 30.9%. There have been no insider sales in the last 6 months, and a few purchases.
Given this fairly attractive business analysis, one would expect that VSEC's stock has performed similarly. Well, it was, until about a year ago. Over the last year VSEC's stock price has depreciated by approximately 41%. This has been a result of a grim defense spending outlook. Insiders have not sold a single share, but mutual funds and financial institutions have been selling heavily. Net position change of institutional owners has been -854,147 shares in the last 12 months. Considering there are only 5 million shares outstanding, they have been dumping shares as fast as they can sell them.
This sell off has created a great buying opportunity. Let's see what an investment in VSEC today gets us. Let's assume the revenue growth model of 11.38% per year, and further assume it decreases slowly over the next decade. Let's also assume relatively stable profitability, as in the past. This being said, VSEC should be able to grow EPS by ~11.38% per year, decreasing at a slow pace moving forward. The current payout ratio is 4.0% of earnings, and it yields 0.7%. The P/E ratio is trading at a 5-year historic low of 6.65. VSECs 5-year average P/E is 10.3. Using my EPS model and conservative assumptions renders great ROI.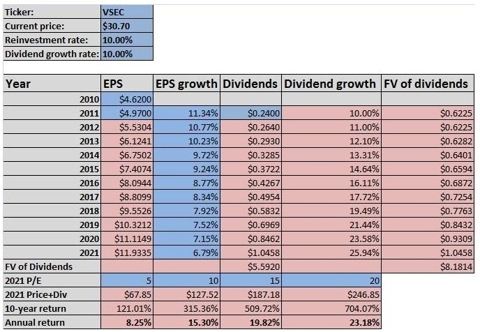 All things considered, VSEC is a great business operating in an industry will a grim outlook. Historically, VSEC has managed to grow a a much faster pace than the industry. VSEC has a solid balance sheet, great return on capital, and high insider confidence. Recently, mutual funds and hedge funds have sold off positions in response to the DoD reducing its budget. Assuming a fairly conservative growth estimates, an investment in VSEC today would appreciate anywhere between 121.01% and 704.07% over a 10-year time period.
Disclosure: I have no positions in any stocks mentioned, but may initiate a long position in VSEC over the next 72 hours.