With my apologies for paraphrasing the classic poem, "The Rime of the Ancient Mariner", I find some difficulty in uncovering high value stocks to buy at current prices. As a person who regards value more than just a passing afterthought, I find the most efficient use of my funds is to employ them at the best opportune level. As we Americans are so fond of saying, we require "more bang for the buck." What I mean by that, of course, is that buying XYZ at $40 a share with a current yield of 3%, is not nearly as attractive as buying it at $30 with a greater yield of 4%. To do so requires patience and sleuthing the markets on a continual basis. It further requires one to "just say no" sometimes to just buying yield for yield's sake.
Now, I realize that the great gnome of Omaha, Warren Buffett, is quoted as saying that he would "rather buy a great stock at any price than a poor stock at a cheap price", or something to that effect. But, I counter that it is more advantageous to buy a great stock at a great price. As I flip through chart after chart in my investing universe list, using both technical price charts and valuation charts, I see precious little that ruffle my feathers. I. Mean. Darn. Little. I have far too many stocks in my own portfolios yielding in the 2% or low 3% range that were purchased well over the 4% yield, that honestly I would not buy today. Yes, most have been owned for several years or more, and yes, they have all increased the dividend payout, and yes, they have a good yield on cost. However, I am not opposed to swapping a few of those lower yields for something with greater current value and an increased cash flow for my retirement income needs.
But then, the sole purpose of this article is not to persuade one to swap shares, but also to investigate new values that might be attractive new investments as well. For that purpose, I went to a source that rates stocks on a scale of attractiveness based on a proprietary system. That source was YCharts, to which I subscribe. I simply chose from a personal list those stocks that were pegged by their rating system as attractive. I have shown below several of those that I found the most attractive at current prices. Even here I found little that "tickled my feather" that would persuade me to spend much of my hard-earned cash at current levels.
From a list of 24 companies, I omitted those yielding less than 3%. Why? As my kids were fond of saying, "just 'cause." Then I examined the remainder through my own personal analysis of determining value, using a historical blend of current yield, PE, EPS, and dividend payments to arrive at a few that might merit a deeper look for the reader. After the smell test, I choose the following three companies as possible candidates for purchase based on current valuations and a yield greater than 3%.
The Three Survivors
| Security | Price | Yield | PE |
| --- | --- | --- | --- |
| AT&T (NYSE:T) | 35 | 5.3% | 10.2 |
| Mattel (NASDAQ:MAT) | 34.5 | 4.3% | 15 |
| Tompkins Financial (NYSEMKT:TMP) | 45 | 3.5% | 12 |
After a review of 24 starting companies, I selected these three based on a history of good dividend growth, a current yield that ranked in the top half or top quartile of its own historical yield zone. In addition, each company was selected based on a P/E ratio in the lower half or bottom quartile of the historical ranking. This is NOT a report that tries to predict future earnings as that is best left to equity analysts who do that as a full-time endeavor. This is a value report that starts with YCharts' attractive rating, and then narrowed down to equities with my qualifying yield of 3% or more, and a valuation based on my two primary indicators of historical yield and P/E.
AT&T
I recently wrote an article on the company that digs a bit deeper into the details. AT&T is the most stable of the three, especially for an above-average market yield, coupled with dividend growth, although slow over the last 6 years. The dividend increase and cut, shown in the chart below, in 2003-2004 is due to merger activity and extra dividend payments. The shares rank in the upper quartile in yield and the lower quartile in P/E, both areas of good value.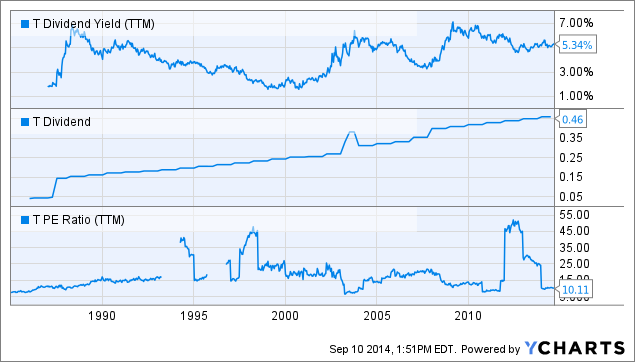 Key Growth Rates & Revenue Chart for AT&T
In addition, AT&T continues to show good growth revenue, earnings, and dividend growth.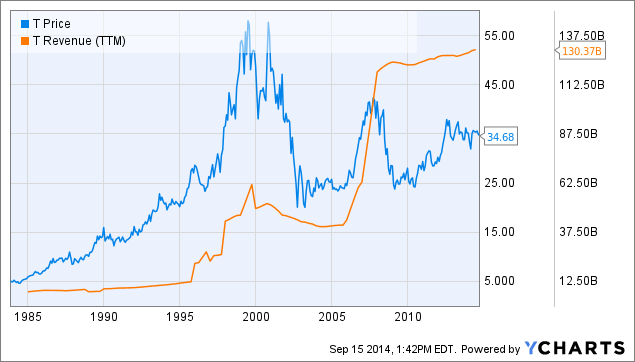 T data by YCharts
AT&T Chart
The following chart of T illustrates that the shares are trading at initial support with additional support levels just a few points under current levels. Coupled with valuation, the shares are trading at a low risk entry point.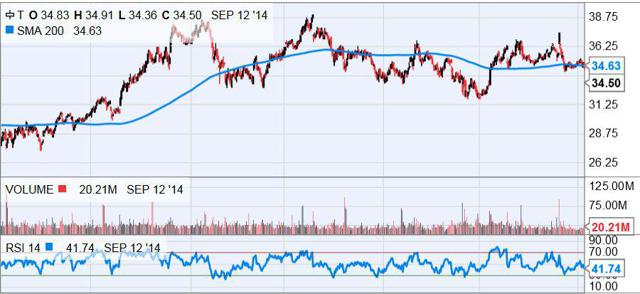 Mattel
The shares are valued in the top quartile for yield and about average based on historical P/E. The chart, which appears to show a dividend cut in 2011-2012, is actually where Mattel began paying a quarterly dividend rather than once a year.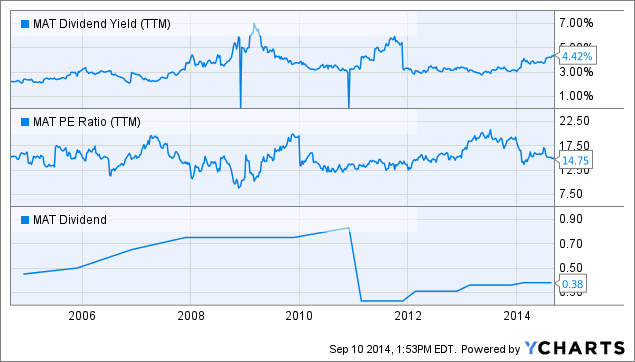 Key Growth Rates for Mattel & Revenue Chart
Revenue for Mattel is not a strong over the last year as desired, but the company does suffer from the setbacks of toy styles and trends in its sales and marketing from time to time. In the past, the company has managed to right the ship after such occurrences, and the investor should give the company the benefit of doubt that it will do so once again. The recent slowdown is represented in the pullback of the shares. Buying value usually corresponds with buying a problem.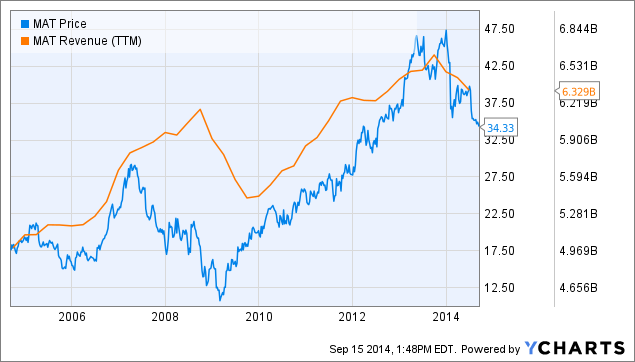 MAT data by YCharts
Mattel Chart
My initial inclination with Mattel was to buy the stock based on value. However, when I studied the price chart, I began to have doubts that the shares should be bought at the present time. The stock is still trending lower with no clear support that would prompt investors to jump in to buy. For the present, despite the valuation levels, I would wait until the shares develop a more clearly defined bottom.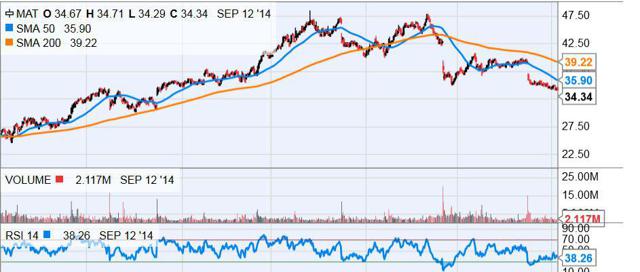 Tompkins Financial
Not widely known outside of New York and Pennsylvania, Tompkins is a banking, insurance, and wealth manager founded in 1836. The shares offer an attractive current yield as well as a value as measured by a below-average P/E level. The dividend growth is steady and consistent.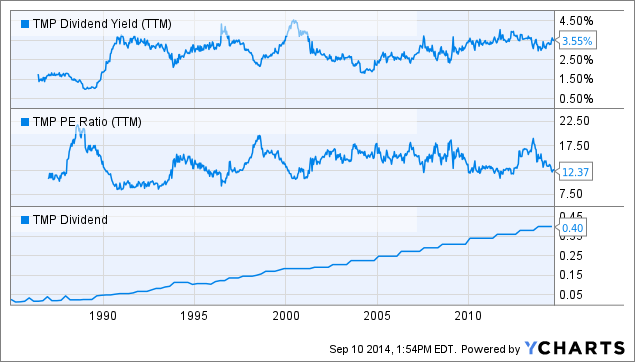 TMP Dividend Yield (TTM) data by YCharts
Key Growth Rates & Revenue Chart for Tompkins
As plotted below, the revenue growth for Tompkins has been very much in an uptrend. The five-year growth rates (Barcharts.com) are strong.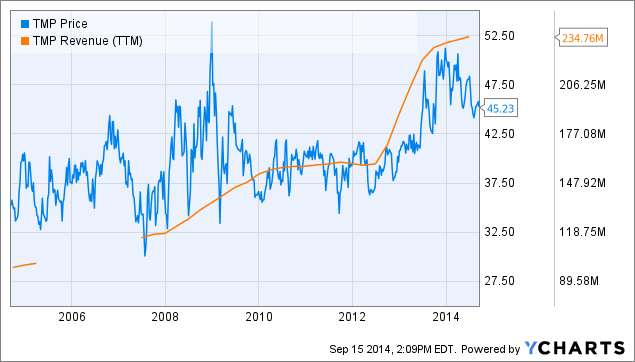 TMP data by YCharts
Tompkins Chart
Tompkins is trading in a consolidation on top of a multi-year base. This pattern is quite often a prelude to a sustained uptrend in price. Although shares of financial companies are not normally known for large fast uptrends, it is my opinion that the risk level is much less than the potential reward. A healthy dividend pays one to wait for potential capital gains.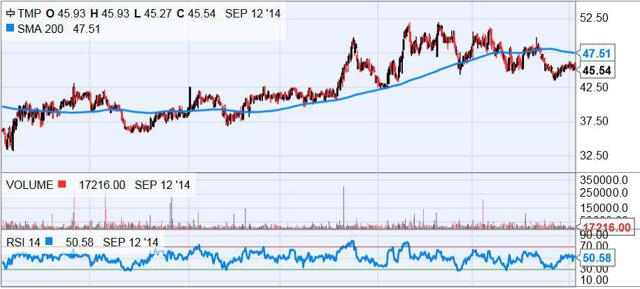 Conclusion
If one is to assume that the total return of a company is the dividend plus the estimated EPS growth summed together, then each of these companies can potentially earn the investor a five-year total return in excess of 10% year to year. The assumption that must be made is that valuation remains at the same point, or improves, and EPS and dividends grow as expected. The table below highlights each stock with estimated growth and current yield added for "estimated" five-year total returns.
| Security | Estimated Five-Year EPS Growth | Current Yield | Estimated Five-Year Total Return |
| --- | --- | --- | --- |
| AT&T | 5% | 5.3% | 10.3% |
| MAT | 5.7% | 4.4% | 10.1% |
| TMP | 8% | 3.5% | 11.5% |
If we are correct that these three securities represent good investment prospects at today's valuation levels, then not only would we be safe in predicting that the estimated five-year total returns are possible, but an expansion of valuations then allow for even greater returns. That is one of the primary reasons for buying undervalued securities; the other being reduced market risk.
While Warren Buffett is indeed known for the quote in the opening paragraph, he is also quoted as saying that "growth and value are joined at the hip." Though the three stocks listed above might not be considered value slam dunks, I would not be alarmed if they were included in my portfolio. Maybe one of them will "tickle your fancy."
Disclosure: The author is long T.
The author wrote this article themselves, and it expresses their own opinions. The author is not receiving compensation for it (other than from Seeking Alpha). The author has no business relationship with any company whose stock is mentioned in this article.
Additional disclosure: I may initiate a position in TMP soon, but cannot give a time frame.