BP Plc. (NYSE:BP) is a world leader in oil & gas production with operations in more than 80 countries. The company is vertically integrated with both upstream and downstream operations. The upstream segment consists of exploration and production of oil & gas, while downstream operations involve refining petroleum products.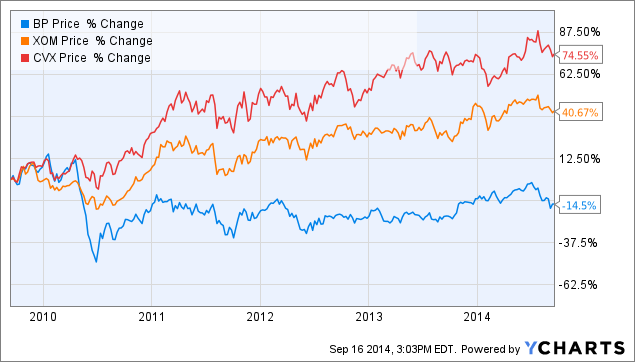 BP's overall production has declined significantly since the Deepwater Horizon oil spill incident of 2010. This has consequently negatively impacted its stock price. Even though BP stock has doubled down from the June 2010 low following the disaster, it's still 20% lower than where it was before the blowout. Meanwhile, peers Chevron (NYSE:CVX) and ExxonMobil (NYSE:XOM) are both up more than 40% since.
The current outlook for BP is however, improving due to factors such as relatively stable crude oil prices being driven by higher production in non-OPEC countries, improving profitability due to the closure of some of the company's low-margin assets, higher levels of heavy crude refining and opening new upstream projects.
BP Post Deepwater Horizon Oil Spill
BP's oil production has declined significantly since the Deepwater Horizon accident. The company only managed to pump 363,000 barrels per day out of the ground in 2013 compared to 453,000 barrels per day in 2011.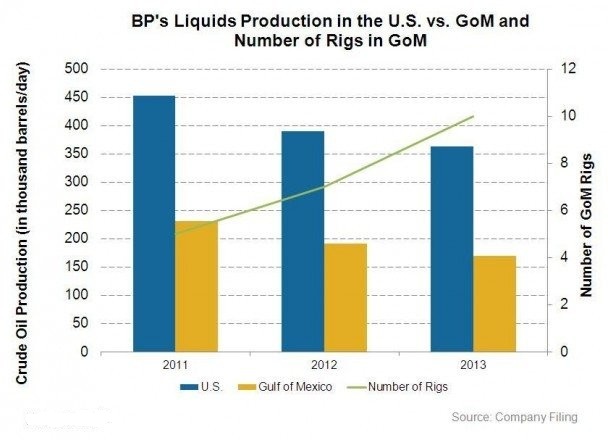 Source: Market Realist
BP has undergone some major changes since the Deepwater incident, primarily due to divestments that it has been forced to make to fund charges associated with the fiasco. BP had completed the divestiture of $38 billion by the end of 2013. Many of these sales include upstream installations, wells, and pipelines. This is the main reason why the company's production has plummeted. The company has, however, managed to retain about 90% of its proven reserves. The company's overall hydrocarbon production fell about 21% since 2010 to 2,256,000 boe/d (barrels of oil equivalent per day) in 2013.
The company's production has, however, hit an inflection point and has begun improving this year. In H1 2014, BP recorded a significant 13.8% increase in production and averaged 413,000 per day. The company started production from five new projects in 2012, and three more in 2013 so as to ramp up production and revive its operational strength. The three projects started by the company in 2013 include the Angola LNG project, North Rankin 2 project, and the Atlantis North Expansion project off the Gulf of Mexico.
In 2014, BP has commenced production from 3 major projects including Mars B, Chirag Oil in Azerbaijan, and phase 3 of Na Kika in the Mexican Gulf. BP expects to boost production from Na Kika from 130,000 boe/d to 170,000 boe/d in the space of a few months. Additionally, BP is already working on three more projects, all of which are on track. These new projects will not only boost the company's production, but also ramp up its margins.
Improving margins
BP's downstream margins were badly hit in 2013 due to industry overcapacity. Refining capacity this year has, however, improved significantly with more capacity added than what has been retired. Many of the world's governments, especially in the Middle East and Asia, are expanding their refining capacity so as to lower their reliance on imported fuels and create more employment.
China has the largest refining capacity among Asian countries, and can handle about 12 million barrels per day, more than the domestic demand. This has helped the country turn into a net exporter of refined products and continues to expand its refining capacity. In the Middle East, the joint venture between Saudi Aramco and Total started shipping 400,000 barrels per day from the Jubail refinery in September 2013. Two other such projects of that huge scale have been planned.
The massive increase in refining capacity has put a lot of pressure on the operating margins of many refineries. BP has announced that it plans to shut down refining operations at its Bulwer Island refinery in Australia by mid-2015. The company plans to convert this refinery into an import terminal for refined products. BP's operating costs in Australia are high due to the smaller size of refining units and a strong local currency. These measures will lead to an overall improvement in margins.
BP is focusing on ramping up its refinery capacity in U.S. refineries where margins are higher. The company is on course to ramp up production of the Whiting refinery from 200,000 barrels per day to 280,000 barrels per day in the current year. The enhanced capacity of BP to refine heavier grades of cheap crude oil will further boost the company's margins. BP expects the modernization of the Whiting refinery to generate incremental cash flows of approximately $1 billion. BP drills 20% of its oil in the U.S., and 30% in Russia.
Ban on Government Contracts Lifted
The United States Environmental Protection Agency (EPA) recently lifted its ban on BP which barred the oil giant from bidding on government contracts following the Deepwater incident. BP came back with a bang, winning drilling leases in the Gulf of Mexico barely a week after the ban was lifted. The company won 24 of the 31 auction blocks for $41.6 million.
A major overhand for BP remains its spill liability. The company has only 9 billion left from the $43 billion it set aside for spill damages. BP's spill liabilities might end up higher-than-expected. The company's large exposure in Russia might also prove problematic. BP swapped its 50% stake in TNK BP for 19.75% stake in Rosneft, Russia's giant state-owned oil company. The Rosneft stake is worth about $13.5 billion. The Russia-Ukraine debacle might reduce the value of BP's stake. Continued sanctions against Russia might shave off as much as $600 million in dividends due to BP this year. In the current climate of heightened political animosity between America and Russia, there is a possibility that BP, along with other American oil companies such as ExxonMobil, might be forced to temporarily put a hold on their Russian operations for a while at least, or if things get really sticky, for good.
Despite these headwinds, BP should be able to generate a profit growth of at least 15% on revenue of $350 billion and a cash flow of $10 per share in the current fiscal year.
Conclusion
The overall outlook for BP remains good especially due to the company's significant ramp up in production capacity. Although there are still some nagging issues that the company has to deal with, the worst seems to be over. BP stock yields a healthy 5% and with share buybacks could hit 6% in about two years. The shares have significant upside of about 15%-17%.
Disclosure: The author has no positions in any stocks mentioned, and no plans to initiate any positions within the next 72 hours.
The author wrote this article themselves, and it expresses their own opinions. The author is not receiving compensation for it (other than from Seeking Alpha). The author has no business relationship with any company whose stock is mentioned in this article.