By Brett Owens
The protests and social unrest in Egypt provided an additional tailwind to crude prices over the past week (and we should note that crude had already rallied to two-year highs before the demonstrations began):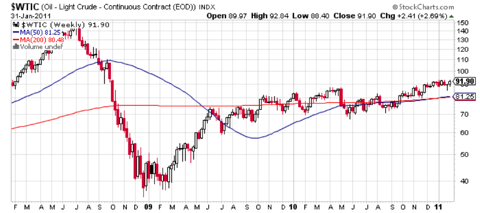 Even before the hysterics began in Egypt, the trend in oil was UP. (Source: StockCharts.com)
Walk (And Protest) Like An Egyptian
Since protests began on Jan. 25, the "day of anger," the global oil markets have experienced a lot of activity—mostly bullish, even though crude yawned for the first few days. WTI crude for March delivery is up over 5 percent in the past week: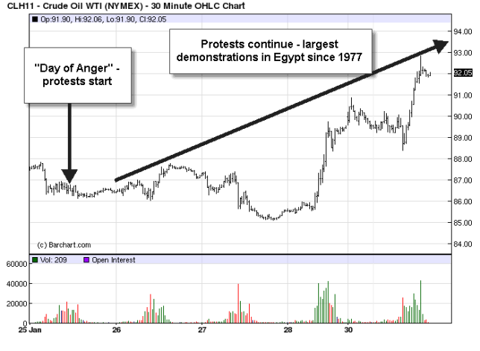 Brent had a smoother ride up, although it didn't run as far as WTI. Brent for March delivery rose over 4 percent in the past week: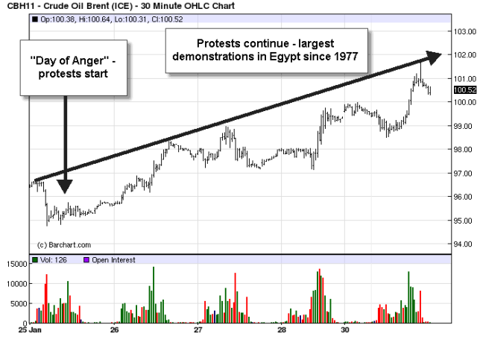 Brent crude is now trading above $100/barrel—a historically high spread with respect to WTI. (Our own Julian Murdoch recently discussed how to play the high Brent-WTI spread.)
But how has this translated to the oil ETF space?
Oil ETFs For The Short Run
I pulled up charts of four major futures-based oil ETPs to see how they've performed since the Egyptian protests started, and not surprisingly, their gains are on par (and have actually exceeded) that of the goo itself:
United States Oil Fund LP (NYSE Arca: USO) +5.98 percent
United States Brent Oil Fund (NYSE Arca: BNO) +5.58 percent
United States 12 Month Oil Fund (NYSE Arca: USL) +5.31 percent
iPath S&P GSCI Crude Oil Total Return Index ETN (NYSE Arca: OIL) +6.18 percent
(All gains measured from the Jan. 25 opening price through the Jan. 31 closing price.)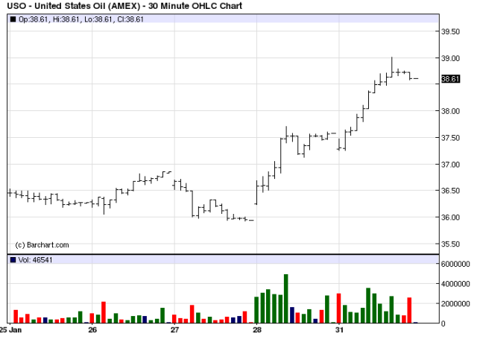 USO has performed well over the past week—as have its oil ETF counterparts. (Source: BarChart.com)
But In The Long Run, It's A Different Story
But when I pulled up these funds' three-year charts, the wheels started to come off the "ETF as reasonable proxy" bus. Both USO and OIL have severely underperformed the spot price of crude—by looking at these sleepy charts, you wouldn't know oil was in a bull market!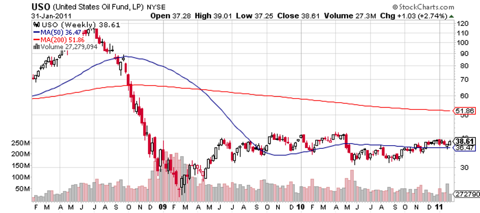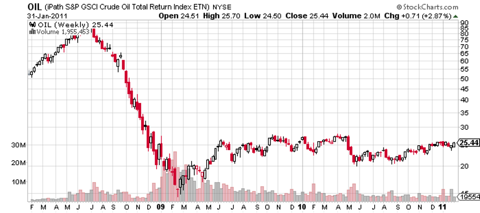 It may be a bull market in crude—but not if you've been buying USO and OIL. (Source: StockCharts.com)
Investors who've been loading up on USL have comparatively fared quite a bit better: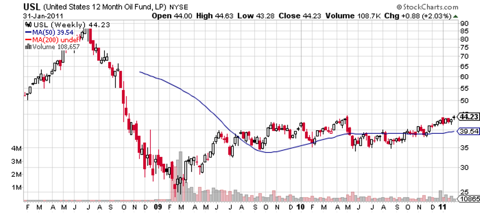 USL's uptrend may not be as pretty as the WTI crude chart we highlighted earlier, but at least it's still heading from the lower left to the upper right. (Source: StockCharts.com)
And BNO is a relative newcomer to the OIL ETF party-since launching last June, there's no mistaking this trend: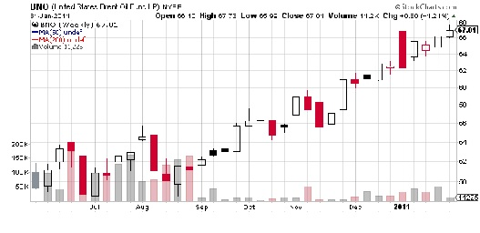 Why Aren't All Oil ETFs Created Equal?
The reason for USO and OIL's underperformance is obvious: contango. USO is fully invested in the nearest month's WTI futures, and every month it has to roll over these contracts. When the oil markets are in contango (as they are now), USO takes a haircut when it must pay more for the next month's contracts (which are more expensive). While OIL is structured differently (at least technically speaking), it still suffers the same front-month curse-as reflected in its near-perfect correlation with USO since its launch.
The reason USL outperforms these two is that it holdsequalpositionsineachofthenext12months' worthoffuturecontracts-hence minimizing the contango haircut.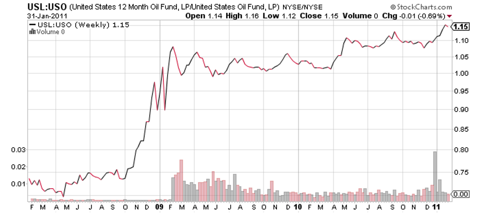 Perhaps the most reliable of all energy ETF trades: Long USL, Short USO (Source: StockCharts.com)
Brent, on the other hand, has flip-flopped between contango and backwardation for months, and has appeared to finally settle on backwardation for the time being. BNO, which holds near- month Brent contracts, has therefore not experienced painful rolls to the same degree as the WTI funds have, and its return has most closely mirrored its underlying commodity. In fact, it has even outperformed it.
If you bought BNO along with a March 2011 Brent contract on June 2, 2010—the day BNO launched—the ETF would actually have outperformed your futures contract, rising 31.72 percent, vs. 29.09 percent for the Brent contract (assuming no margin). BNO is living proof of the benefit of going front-month in backwardated markets.
In The Long Run, We're All ...
For short-term trades (less than a month), it probably doesn't matter which oil ETF you choose. But in the medium to long run, it matters a great deal.
BNO's outperformance may seem attractive as a long-term play, but as a front-month fund, it's just as exposed to the effects of contango and backwardation as USO or OIL are. Should Brent slip into a contango as deep as the one currently plaguing WTI, so too will BNO's returns suffer.
So if you're looking for a medium- to long-term oil ETF holding that reduces that risk, consider USL. Not only has it historically done a better job at mirroring crude's gains than its laggard cousins USO and OIL, it's less sensitive to the day-to-day vagaries of contango and backwardation overall.