This week's Federal Reserve meeting is expected to be the most watched meeting of the year. The market expects the Fed to give language on the curtailment of its quantitative easing program, whether it expects to maintain a low interest rate environment for the foreseeable future or raise rates as expected in 2015 in order to head off inflation. I have always been under the impression that Fed Chairwoman Janet Yellen was dealt a hand where she practically had to continue with former Chairman Ben Bernanke's bond buying program. She now has the platform to chart her own course - keep rates low or head inflation off at the pass with higher rates. I expect Yellen to use tomorrow's meeting as a chance to chart her own course.
Anemic Jobs Growth Ties Yellen's Hands
The 142,000 new jobs created in August was anemic and well off the 212,000 new jobs created in July or the 230,000 figure economists had forecast. Jobs growth is actually a lagging indicator in that it lags GDP growth - if GDP rises this quarter, jobs will most likely increase the next quarter, and so on. My previous article explained this phenomenon in more detail:
The biggest risk from quantitative easing is not inflation, but continued deterioration in U.S. credit quality. Despite pundits' attempts to explain away disappointing 142,000 jobs created in August, the figures speak volumes for the health of the U.S. economy ... By definition, if employment figures are anemic then GDP growth is most likely to be anemic also. After the government shuts down quantitative easing, GDP growth will likely worsen.
That is a long-winded way of saying that the disappointing jobs growth kills the Fed's inflation thesis.
Ending QE Is De Facto Rate Increase
After the Fed ends its bond-buying program in October, one would surmise that a decrease in purchases by tens of billions per month would decrease bond prices and increase yields. In effect, the Fed's stance on QE is a de facto rate increase.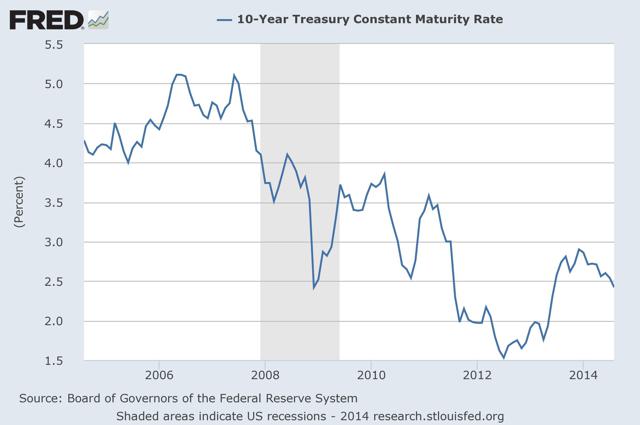 Since the Fed began its bond-buying program in 2008, the 10 year treasury troughed at 1.5% in July 2012 and recently rose to 2.4% in August 2014. Part of the rise is due to inflationary expectations by investors who demand higher rates as compensation. Also, after beginning its bond-buying at $85 billion per month in 2008, the Fed has cut it back considerably. Quantitative Easing has been a boon to the market and after the Fed cuts off the program, I expect broader markets - (NYSEARCA:DIA), (NASDAQ:QQQ), (NYSEARCA:SPY), (NYSEARCA:IWM) - to sell off.
Considerable Time
The market is focused on whether the Fed will vow to continue to keep rates low for a "considerable time." I do not believe Yellen will change this language due to the fact that the anemic jobs report lowers inflationary expectations. However, since ending quantitative easing is a "de facto" rate increase, the Fed will have to add a caveat to the "considerable time" language.
Conclusion
I do not expect the Fed to accelerate expected rate increases. However, I do expect the Fed to add a caveat to its language of "considerable time."
Disclosure: The author has no positions in any stocks mentioned, and no plans to initiate any positions within the next 72 hours.
The author wrote this article themselves, and it expresses their own opinions. The author is not receiving compensation for it (other than from Seeking Alpha). The author has no business relationship with any company whose stock is mentioned in this article.