In this Bull market lower-quality, lower-yield stocks have been outperforming higher-quality, higher-yield stocks. Earnings growth has been rewarded, but perhaps not with sufficient distinction between long-term sustainable growth and unsustainable earnings growth.
It is important to distinguish between earnings growth coming out of a depressed earnings recession and with low labor and interest costs that cannot be perpetuated in the long term, versus earnings that are not based on low interest rates, depressed labor rates or climbing out of an earnings slump without supporting revenue growth.
If you are a momentum follower, that may be just so much "so what". If you are focused on high quality, above-average yield, consistent revenue and dividend growth, and reasonable price for growth; then you have to turn over a lot of data. This filter is one of many approaches you might employ to uncover potential opportunities.
The elements of quality tend to persist for long periods, but pricing is volatile, so a list of prospect stocks changes with significant frequency.
The best entry points for the stocks you seek may be when they are out of favor, which is likely to be a necessity in may cases if you want reasonable pricing in a Bull market.
Here is an exercise we did today looking for a short list of stocks to consider further.
The factors we considered for a core high-quality stocks list were:
David Fish's Dividend Champions, Contenders and Challenger list membership (minimum paid and increased dividends each year for at least 5 years) - 553 stocks
Wright Investors Service investment quality rating of BBB4 or better, or BAC4, or BCA4 or better (see our blog for explanation of the rating system) and trading on NYSE or NASDA or TSX- 738 stocks.
S&P Capital IQ Earnings and Dividend Quality rating of 4 or 5 of 5 (above-average rating for better) - 757 stocks
When we combined the Fish and Wright criteria, the universe reduced to 261 stocks. Then adding the S&P criterion, the universe reduced to 213 stocks.
To that core quality companies list, we applied these additional selection criteria in sequential order:
Revenue and dividend growth rate at least 3% for each over 5, 3 and 1 years - reducing the list to 88 stocks
Yield at least as high as that of the S&P 500 - reducing list to 25 stocks
Street Consensus 12-month target price change at least positive 5% - reducing list to 18 stocks
S&P Capital IQ Fair Value of 3 to 5 of 5 (not overvalued) - reducing list to 10
Value Line Earnings Predictability at least in the top half of their 1700 universe - reducing list to 9 stocks
S&P Capital IQ Fair value of 4-5 (undervalued) - reducing list to 6 stocks
Street Consensus lowest 12-month target price change among reporting analysts not worse than negative 5% - reducing list to 4 stocks
PEG ratio less than 3x - no reduction - final count 4 stocks
The surviving 4 stocks are:
These stocks have outperformed the S&P 500 over 10 years, and all but CAE outperformed by the end of the Oct. 2007-Sep. 2009 crash period. However, they are behind the S&P 500 over short periods, as shown in these charts: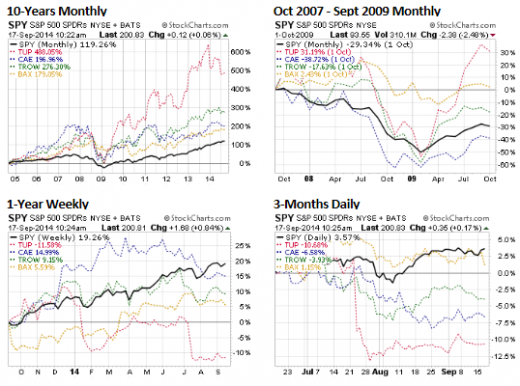 The underperformance is a contributor to the undervaluation rating from S&P Capital IQ, as well as forward operating views.
We own 3 of the 4 stocks (TUP, TROW and BAX).
This is a comparison of the 10-year growth rates of the 4 companies:
This chart is a comparison of the 10-year dividend growth history of the 4 companies: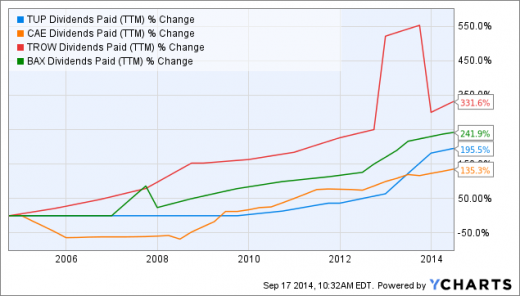 This chart compares the EBITDA for the 4 companies over 10 years: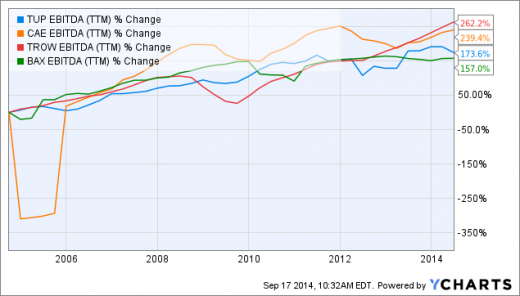 This chart compares the tangible book value of the 4 companies: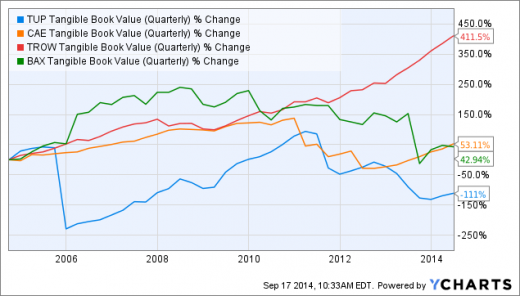 Now let's look at each company separately in terms of revenue, dividends, EBITDA, and tangible book value.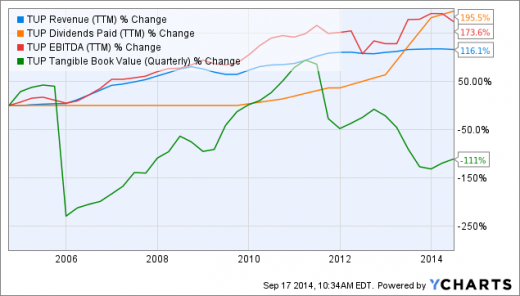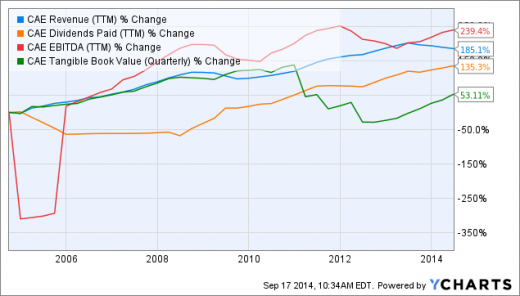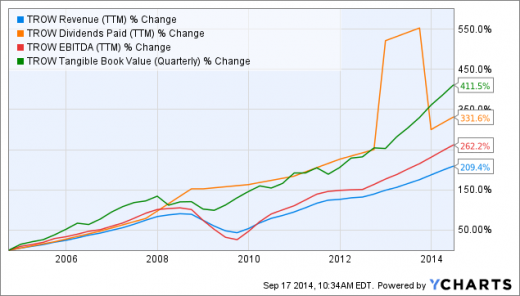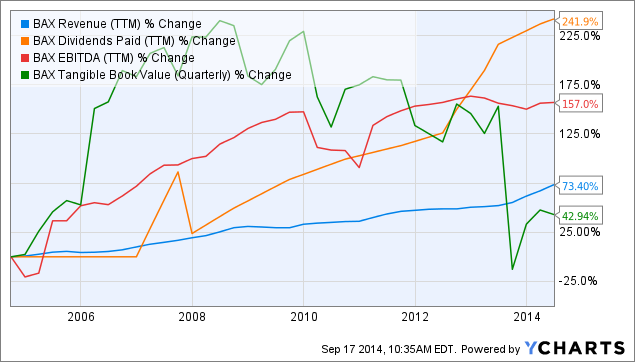 One or more of these 4 stocks may be suitable for you if the filter criteria appeal to you. Look beyond this data before making a purchase decision.
Business Descriptions
(via Yahoo Finance, but essentially from the SEC filings)
Tupperware Brands Corporation operates as a direct-to-consumer marketer of various products across a range of brands and categories worldwide. The company is engaged in the manufacture and sale of preparation, storage, and serving solutions for the kitchen and home, as well as a line of cookware, knives, microwave products, microfiber textiles, water related items, and toys and gifts under the Tupperware brand. It also manufactures and distributes beauty and personal care products, including skin care products, cosmetics, bath and body care, toiletries, fragrances, jewelry, and nutritional products under the Armand Dupree, Avroy Shlain, BeautiControl, Fuller, NaturCare, Nutrimetics, and Nuvo brands. Tupperware Brands Corporation sells its products directly to distributors, directors, managers, and dealers.
CAE Inc. provides simulation and modeling technologies, and integrated training services primarily to the civil aviation industry and defense forces worldwide. The company's Simulation Products/Civil segment designs, manufactures, and supplies civil flight simulation equipment, integrated training procedures trainers, flight training devices, and Web-based e-learning tools for regional commercial airlines, third-party training centers, and original equipment manufacturers, as well as provides various support services comprising emergency support, simulator updates and upgrades, maintenance services, and simulator relocations. Its Training & Services/Civil segment provides business, commercial, and helicopter aviation training services for flight, cabin, maintenance and ground personnel, and ab initio and pilot training, and crew sourcing services to regional airlines, helicopter operators, and general and business aviation markets. The company's Simulation Products/Military segment offers military training equipment and software tools for fast jets, helicopters, trainer aircraft, and maritime patrol and tanker/transport aircraft, as well as provides simulation-based solutions for land and naval forces. Its Training & Services/Military segment supplies turnkey training services, simulation-based integrated enterprise solutions, and maintenance and in-service support solutions. The company's New Core Markets segment offers healthcare simulation solutions, including patient simulators, surgical and imaging simulators, ultrasound simulators and task trainers, learning applications/courseware, and centre management systems; and provides technology and services for managing exploration and geological data, mine strategy, optimization, design and scheduling for mining methods and commodities.
T. Rowe Price Group, Inc. is a publicly owned asset management holding company. The firm primarily provides its services to individual and institutional investors, retirement plans, and financial intermediaries. Through its subsidiaries, it manages separate client-focused equity, fixed income, and balanced portfolios. The firm also launches equity, fixed income, and balanced mutual funds for its clients. It invests in the public equity, fixed income, markets across the globe. It also invests in late-stage venture capital transactions with equity investments between $3 million and $5 million.
Baxter International Inc. develops, manufactures, and markets products for people with hemophilia, immune disorders, infectious diseases, kidney diseases, trauma, and other chronic and acute medical conditions. Its BioScience segment processes recombinant and plasma-based proteins to treat hemophilia and other bleeding disorders; plasma-based therapies to treat immune deficiencies, alpha-1 antitrypsin deficiency, burns and shock, and other chronic and acute blood-related conditions; biosurgery products; and certain vaccines. The company?s Medical Products segment manufactures intravenous (IV) solutions and administration sets, premixed drugs and drug-reconstitution systems, pre-filled vials and syringes for injectable drugs, IV nutrition products, infusion pumps, and inhalation anesthetics; products and services related to pharmacy compounding, drug formulation, and packaging technologies; and technologies and therapies for peritoneal dialysis, in-center and home hemodialysis, and continuous renal replacement therapy. It sells its products through its direct sales force, independent distributors, drug wholesalers, and specialty pharmacy or other alternate site providers to hospitals, kidney dialysis and rehabilitation centers, nursing homes, doctors' offices, clinical and medical research laboratories, and patients. It operates in the United States, Europe, the Middle East, Africa, the Asia-Pacific, Latin America, and Canada.
Disclosure: QVM has positions in TUP, TROW and BAX as of the creation date of this article (September 17, 2014). We certify that except as cited herein, this is our work product. We received no compensation or other inducement from any party to produce this article, but are compensated retroactively by Seeking Alpha based on readership of this specific article. The author has no positions in any stocks mentioned, and no plans to initiate any positions within the next 72 hours.
Disclaimer: This article provides opinions and information, but does not contain recommendations or personal investment advice to any specific person for any particular purpose. Do your own research or obtain suitable personal advice. You are responsible for your own investment decisions. This article is presented subject to our full disclaimer found on the QVM site available here.