On Thursday, Jan 27, 2011, Verizon (NYSE:VZ) purchased Terremark (NASDAQ:TMRK) for $1.4 billion in a move to accelerate its "everything-as-a-service" cloud strategy.
Yesterday, Time Warner Cable (TWC) announced that it will acquire managed hosting and cloud services provider NaviSite (NASDAQ:NAVI) for $230 million.
Although the acquisitions are relatively different in size and cost, two cloud related deals in less than a week by cable/telcos did not happen by chance. The question is: will this represent only the start of a series of acquisitions in this space, as Michael Nelson, an analyst at Mizuho Securities USA Inc., seems to suggest?
First, some data about the latest deal.
Time Warner Cable will pay $5.50 for each share of NaviSite, a 33% premium to Tuesday's closing price of $4.13, almost in line with the 35 % premium paid by Verizon for Terremark.
Time Warner Cable said it expects the deal to immediately add to earnings and free cash flow. In addition, it also said it anticipates NaviSite's net operating losses will provide $40 million in tax savings after the deal's expected closing.
NaviSite's stock had already appreciated more than 30% in the past 52 weeks. Back in 2009, during the credit crunch, NaviSite's stock was trading for as low as just 26 cents. The company had a great turnaround when it started selling some assets to pay off debt and tightened its focus on managed hosting and cloud computing.
Back in July 2010, Navisite received a proposal letter from its largest investor to acquire all of the outstanding shares of common stock of NaviSite for $3.05 per share in cash, which was refused by the Board of Directors.
Both Terremark and NaviSite share a similar story. Both companies experienced a great turnaround in recent times, as they shifted their focus from colocation and managed services to cloud computing. Both companies probably lacked, because of their leveraged balance sheet, the resources to grow the business as needed.
While Verizon was already a player in cloud computing, NaviSite's acquisition represents TWC's first foray into enterprise hosting and cloud computing services.
Now back to the original question, will this represent the start of a buying spree in the cloud related sector? More important, which could be the ideal listed acquisition targets investors could benefit from?
Gartner Inc. may help us understand the industry dynamics better. The industry for Web-based data storage and services, known as cloud computing, may reach $148.8 billion by 2014 from $68.3 billion last year, according to its latest research.
In its recent "Magic Quadrant for Cloud Infrastructure as a Service and Web Hosting", released in December 2010, Gartner examines the competitive landscape for today's cloud players []: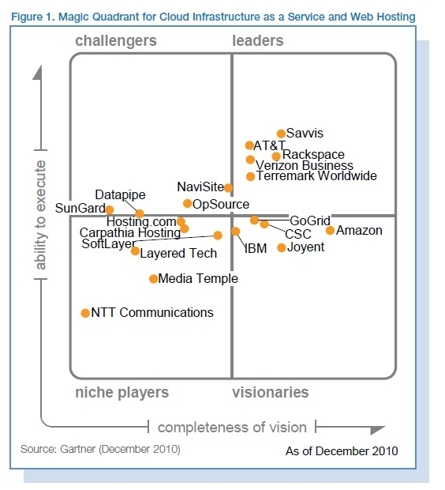 As you may notice, excluding AT&T (NYSE:T) and the companies who were part of the recent acquisitions, only two other players are mentioned in the leaders quadrant: Savvis (NASDAQ:SVVS) and Rackspace (NYSE:RAX).
Both companies already benefited in their share price, from the Verizon acquisition, and Savvis in particular saw an 18% increase since last Thursday. This is unsurprising, as its CEO recently made these comments on Cnbc:
Q.: "In 12 months is your company going to be independent?"

A.: "It's very difficult to say, there's a lot of consolidation going on".

Q.: "Can you see making a deal at a valuation at which say Terremark was taken out?"

A.. "That was a very attractive valuation," said Ousley, simply.
When pressed, he added:
A.: "We would not see ourselves making — unless we had tremendous synergies we could realize, we would consider that — but the valuation is definitely at the high end of the mark. But there again, for a growth industry like we're in, it's not beyond reasonable for a company to get leverage in it."
Another interesting aspect of the cloud computing industry is that it is a very capital intense business, also as it relies on data center space, the essential infrastructure to build these services around. That's the reason why we wouldn't exclude taking position with pure colocation players like Equinix (NASDAQ:EQIX) or InterXion (NYSE:INXN) in a wider investing strategy in the cloud industry. Unlike Cramer, we believe these recent cloud related deals are also a positive sign that data centers will still be at the core of the internet growth.

Disclosure: I am long EQIX.