Alibaba (NYSE:BABA) is the largest online and mobile commerce company in the world by Gross Merchandise Volume (~$251bn GMV in CY2013). However, Alibaba's disclosure doesn't provide enough detail to model the company accurately. In order to understand the company's growth potential, it helps to compare Alibaba to eBay (NASDAQ:EBAY).
At Triton Research we make growth projections based on bottom-up models of a company's operations. We think that if a model isn't bottom up, then it is made up. Given the lack of disclosure in the Alibaba S-1 and for the purpose of discussion, we looked at eBay, another global marketplace ($83.3bn GMV in CY13). Although eBay has a smaller scope and fewer businesses than Alibaba, eBay's ability to increase its revenue percentage of GMV over time paints an attractive picture for Alibaba's potential future revenue growth.
Currently Alibaba generates the vast majority of its revenue from advertising services and only monetizes a small portion of its transaction volume. Alibaba's 2013 Marketplace Revenue as a % of Gross Marketplace Value is only a fraction (3.1%) of eBay's current rate (19.3%).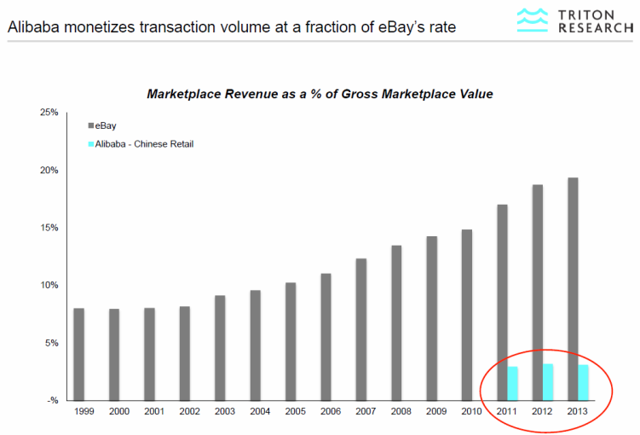 If Alibaba works to increase its Revenue as a % of GMV similar to how eBay did starting in 1999 (when its Rev/GMV was 8.0%), the incremental revenue potential is significant. The graph below shows how much Alibaba's CAGR would increase if the Company is able to increase their Rev/GMV from 3.1% to 10%. Keep in mind that this is a little over HALF of eBay's Rev/GMV. The two charts show expected growth potential for Alibaba based on (1) growth in Chinese online shoppers and (2) growth in China's consumer economy. Even assuming a decrease in Alibaba market share, the resulting revenue growth is impressive with an estimated CAGR of 47 and 78%, respectively.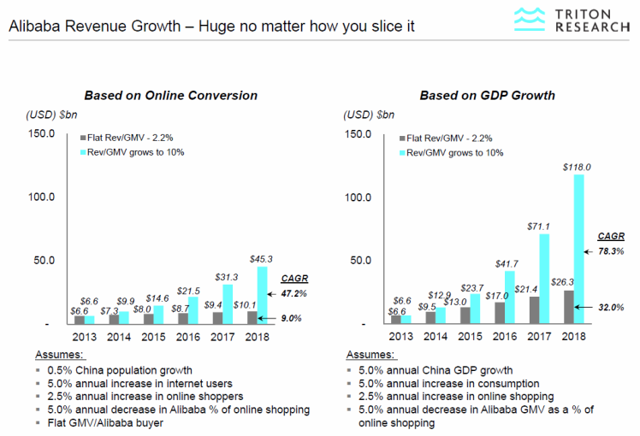 Although the story of Alibaba - dominance in a growing market - is attractive, the lack of provided financials has given some investors pause. Comparing the Company's Rev/GMV, a key indicator of a company's ability to monetize its merchandise volume, to eBay offers investors a glimpse of potential revenue growth for Alibaba.
Disclosure: The author has no positions in any stocks mentioned, and no plans to initiate any positions within the next 72 hours.
The author wrote this article themselves, and it expresses their own opinions. The author is not receiving compensation for it (other than from Seeking Alpha). The author has no business relationship with any company whose stock is mentioned in this article.