China has not plunged yet as Mr. Chanos and some other short sellers said it would. Of course 2010 was a good year for the short sellers, Chinese stocks performed poorly. Volatility in the China space was high. Because short-selling is mostly prohibited in mainland China, it is practical to bet against China and Chinese companies via Hong Kong and New York.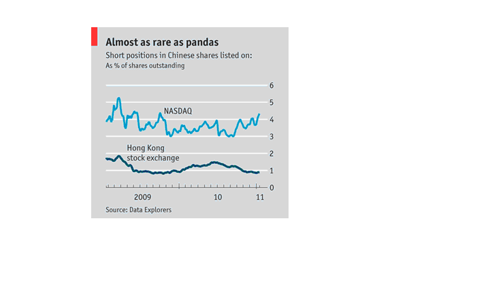 (Click to enlarge)
Total short positions on Chinese stocks listed in America or Hong Kong have not jumped in the past year and are at fairly low levels (see chart).
But more and more hedge funds are betting against companies. Some of the more heavily shorted Chinese stocks listed on NASDAQ, are considered by pessimists to have poor-quality profits and to be hard to understand (see Highest Short Interest list)
China MediaExpress

3.1 days

47.30%

China-Biotics

10.0 days

33.04%

China Agritech

6.8 days

32.89%

(DGW)

Duoyuan Global Water

15.2 days

31.99%

China Biologic Products

18.4 days

27.18%

Telestone Technologies

1.6 days

26.31%

China New Borun

2.4 days

26.21%

Harbin Electric

13.8 days

26.17%

China Integrated Energy

3.9 days

26.09%

(GFRE)

Gulf Resources

14.2 days

22.71%
Source: Trading China
Also the concern in US-listed stocks over discrepancies found sometimes in the financial statements between certain Chinese companies' State Administration for Industry and Commerce (SAIC) filings in China and their U.S. SEC filings contributes to short selling.
Investors often quickly conclude that the underlying China operating entities must be fraudulent in inflating sales and earnings figures, and that their public SEC filings in the U.S. may not be relied upon for accuracy.
On the contrary, it is highly unusual and it should cause real concerns to investors if SAIC filings do match a public company's SEC filings, according to Mr. Benjamin Wey, President of New York Global Group. The concerns over SAIC and SEC filing mismatches are overblown and unnecessary. The reason is simple: investors lack basic understanding of China's corporate registration processes and are comparing very different items. It is important to understand what these documents are, what they are not, and why it would be incorrect and ignorant to allege companies as frauds based on SAIC documents.
Also the release of questionable reports of boutiques like Citron Research, Bronte Capital etc. causes heavy volatility in the US-China space. One of the companies that is again under fire is China MediaExpress Holdings (OTCPK:CCME). I think it is a legitimate company but wrongly understood, but who am I?
The fight between longs and shorts will go on. The longs have the upper hand on the fundamentals and ask themselves when US-listed China stocks are going to fuel. The shorts are guessing what to do and in the worst case bring controversial rumors/reports in the market to defend their position.
Disclosure: I have no positions in any stocks mentioned, and no plans to initiate any positions within the next 72 hours.