Unilever (NYSE:UN) is one of the giants in the consumer goods market, with more than 2 billion people using their products on daily basis. Not only are they operating a solid business, but they have set focus to grow their sales faster than their competition by focusing more on high-growth markets.
Strong Brands
The brands are what make Unilever. The portfolio is impressive in the sense that probably none of us go a day without using some of the products Unilever and its subsidiaries have produced. The brands Unilever owns include well-known names such as Lipton, Dove, Rexona, Cif, Domestos, Ben and Jerry's, Hellmann's and Magnum -- the list could go on for pages. These strong brands and the nature of the business provides Unilever with predictable cash flow.
Presence in Emerging Markets
The core business strategy of Unilever, as they have stated in many of their presentations, is to gain from the rise of buying power in emerging markets. Currently, around 57% (Chart 1) of their total sales are made in developing nations. This greater presence in emerging markets has paid off over the long term, as sales in those regions have seen an average 9% growth annually (Chart 2).
Chart 1 - Most of the revenue generated in emerging markets

Chart 2 - Unilever revenue growth in emerging markets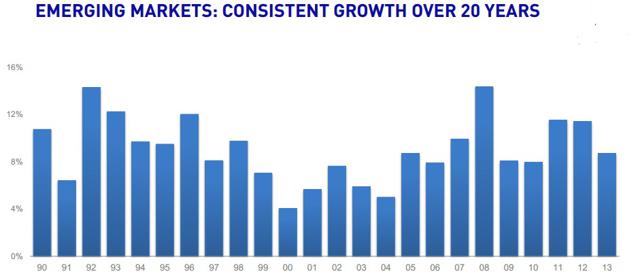 The Future of Emerging Markets
Emerging markets are likely to keep on their current trajectory of growth. Rising productivity, low trade tariffs, increasing investments in infrastructure and unsaturated markets compared to developed nations are only some of the reasons developing nations will see high growth rates in the future. Increased growth will lead to a rise in buying power, which will undoubtedly lead to more and more being spent on consumer goods. Currently, developing nations are predicted to grow over twice as fast as developed nations. There will be some crises on the way, but history has taught us that emerging markets, as a group, are less likely to enter into negative growth periods during global recessions and will undoubtedly outperform developed nations on a growth basis (Chart 3).
Chart 3 - GDP growth in retrospect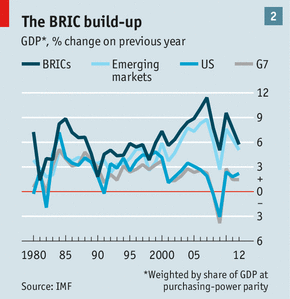 Downside Risks
The consumer goods market is always doing as well as the broader economy. If the business climate should cool, Unilever will certainly trade at lower P/E multiples. Looking back at the last recession, Unilever stock tumbled close to 50%. I avoid using the term "value" because the value of Unilever can not be dissolved by temporary economic downturn.
A worrisome trend in Unilever is to cut back on research and development, which is absolutely crucial for future growth. The logic behind it is that as they are aggressively moving to high growth markets, developing new products is not paramount. What is important, though, is brand recognition and thus spending on advertising and promotions has increased at the same time as R&D spending has decreased. Still, any long-term investor should keep an eye on the R&D spending -- too little of it might be compromising future growth.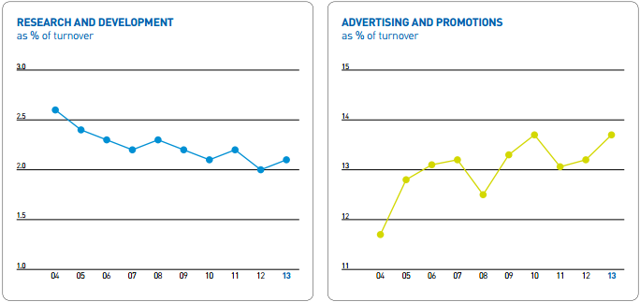 Position Compared to Competitors
Unilever is uniquely positioned in the consumer goods market compared to its main competitors. While companies like Nestle, Kraft and P&G posses a decent brand portfolio, they are less aggressive when it comes to emerging markets. Procter & Gamble currently generates slightly less than 40% of sales in emerging markets. While the number for Nestle is 35%, the same metric for Kraft stands around 20%. It seems as if Unilever's greater exposure to growing markets combined with high A&P spending has given them a solid position and a competitive edge over its competitors.
Conclusion
What consumer goods companies ought to be realizing is that there is only so much shampoo and cookies one can sell in developed nations as the markets are saturated. Emerging markets, on the other hand, leave much more room for growth and their financial means are fast catching up to their wants.
While Unilever clearly has an advantage in emerging markets, one has to take into account the variability of developing markets' year-to-year growth. In the short term the emerging markets might be losing some wind, but long term they will outperform and so will Unilever.
Disclosure: The author has no positions in any stocks mentioned, and no plans to initiate any positions within the next 72 hours.
The author wrote this article themselves, and it expresses their own opinions. The author is not receiving compensation for it (other than from Seeking Alpha). The author has no business relationship with any company whose stock is mentioned in this article.