Taiwan ended 2010 with the fastest pace of growth in 23 years, with GDP of 10.47% (and 4th quarter growth of 4.9%), according to the latest estimate by the country's statistics agency.
Demand for tech exports bolstered those numbers. But that's nothing new for Taiwan. Foreign trade has been driving growth for the past 50 years.
In the 1960s, the value of the country's trade grew five-fold.
In the 1970s, it grew ten-fold.
In the 1980s, it doubled.
In the 1990s, it almost doubled again.
From 2000 to 2005, exports grew by 60%. And from 2009 to 2010, exports rose 39%. Growth that slowed to 39 % is nothing to scoff at.
There are a number of funds with exposure to the island: SPDR S&P Emerging Markets Small Cap (NYSEARCA:EWX), with a 30% weighting in Taiwan; SPDR S&P Emerging Asia Pacific (NYSEARCA:GMF), also a 30% weighting; and WisdomTree Emerging Markets Equity Income (NYSEARCA:DEM), with 18% of its holdings in Taiwan. Be aware that these funds are thinly traded.
I like iShares MSCI Taiwan Index (NYSEARCA:EWT): this fund is a more direct exposure and far more liquid than alternatives (be aware that the top five holdings account for 32%). And the fund's long-term upward trend is well established (its trading 14% above the 200-day EMA).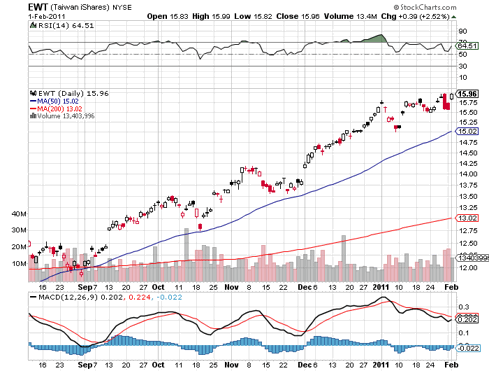 Disclosure: I have no positions in any stocks mentioned, and no plans to initiate any positions within the next 72 hours.