Media outlets out of China reported that the People's Bank of China (PBOC) will inject large amounts of cash into the five largest banks in that country. This could be the major stimulus that we have been waiting on, but is something even bigger about to happen? A bigger stimulus package just around the corner?
The PBOC, according to an article in Bloomberg, will give the five largest banks, each, 500 billion yuan or $81 billion via lending facilities. This is a tool which enables banks to ask a central bank for short term loan, usually one to three months. This move is not confirmed officially yet. Once Beijing confirms that it is undertaking a new quantitative easing program and lending money to banks, there is hope the banks will make further loans to business to spur capital expenditures and investments.
The impact of this was seen fast. Copper futures surged four percent before retreating. This move was so fast that the CME Group halted trading for 10 seconds. The Australian dollar (AUD), which is tied into China, was up over one percent versus the U.S. dollar. See the below chart.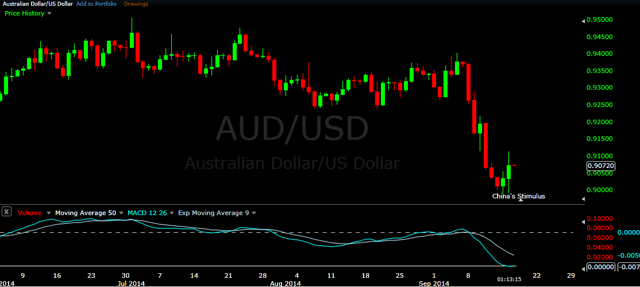 This move is not as aggressive as the easing measures they took in the second quarter. The PBOC, to recap, has cut the reserve ratio requirement or RRR for banks, especially those banks which lend highly to the agricultural sector and smaller business firms. However, this is a stimulus package with a broad reach. This is a big move, especially considering China's Premier Li Keqiang's comments over the last weeks balking at any new stimulus. He is more focused on reforms.
This news is once again raising the probability that China is getting ready for other target measures to help support their economy. This recent move is a safe path for them. One without big risks and rewards. If they want to boost growth, then Beijing must adopt more stimulus measures. They should lower mortgage rates, grant permission for medium term bond issuance for property developers, as they did last September. They should also accelerate fiscal spending. They should also cut the main lending rate, however, with this recent stimulus this move is now less likely to happen.
Recently, we have seen a spout of weak data reports out of China. Industrial production has slowed to just 6.9 percent in August (annual). This is its lowest level since the global recession. The country's real estate market is also slowing and it makes up a massive 15 percent of China's gross domestic product. With this said, we still wait on that stimulus package to emerge.
Disclosure: The author has no positions in any stocks mentioned, and no plans to initiate any positions within the next 72 hours.
The author wrote this article themselves, and it expresses their own opinions. The author is not receiving compensation for it. The author has no business relationship with any company whose stock is mentioned in this article.