EQT Corporation (NYSE:EQT) operates through two business segments: EQT Production and EQT Midstream. With 8,348 Bcfe proved natural gas, natural liquid gases (NLGs) and crude oil reserves, EQT Production is one of the largest natural gas producers in the Appalachian Basin. The EQT Midstream segment provides natural gas gathering, transmission, and storage services for itself and other independent companies that operate in the Appalachian Basin.
Strong Growth in Gas Reserves
EQT has successfully added more reserves in the recent years. In 2009, EQT held were 4,068 Bcfe proven reserves. The reserve level then increased at a CAGR of 20% in the four years following 2009 and reached 8,348 Bcfe. Growth in reserves came from the Marcellus play which is one of the most prolific dry gas regions of North America. The Marcellus Shale is a gigantic gas field that can satisfy the energy needs of the entire U.S. for 20 years, all on its own. EQT is the leading company operating in this growth region and hence has very healthy future prospects.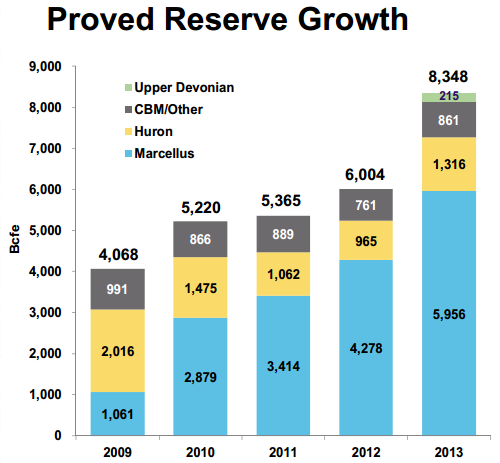 EQT secured a 99% development drilling success rate in the past three years which is a big achievement. The company drilled 225 wells in 2013. During 2014, EQT plans to invest about $1.6 billion for well development. EQT plans to drill 186 Marcellus and 30 Upper Devonian wells in 2014. This huge investment is expected to pay well and help EQT to increase the natural gas production.
Healthy Growth in EQT Midstream Business
The EQT Midstream segment has reported good performance. EQT Midstream's EBTIDA grew at a CAGR of 23% during 2008-2013. EQT Midstream holds transmission contracts that have a weighted average life of 15 years providing certainty to the income stream. Fixed fee contracts allow the company to earn profits that are not directly exposed to volatility in fuel prices. EQT Midstream is a very well run business and it is expected to show consistent growth in the coming years.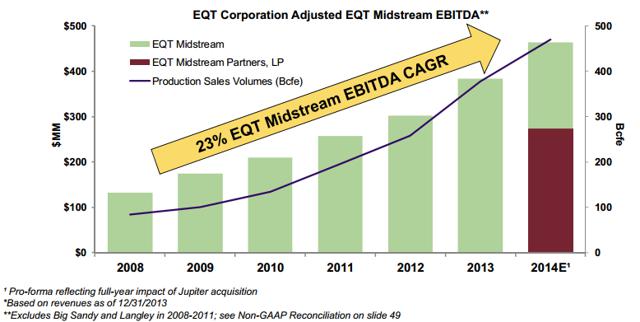 Leading Cost Structure
EQT is one of the most efficient operators in the industry that makes use of leading technologies and innovative production methods. EQT is in a strong position to capitalize on the growth in gas production and increase in gas prices.

EQT has reported one of the best finding and development (F&D) cost per unit in the industry in the last three years. EQT reported an F&D cost of $0.88 per unit which is much lower than its peers group whose mean F&D cost is $2.74.

In 2013 EQT reported the lowest operating expense per unit among its peers. The operating expense per unit was $0.52. An increase in operational efficiency can also be seen in EQT's improving gross and operating margins. The figure below shows that EQT consistently increased its gross margin from 45.4% in 2004 to 81% in 2013-14. Its operating margins also increased considerably from 24% in 2004 to 43% in 2013-14. Improving margins will allow sales growth to pour down to the bottom line which in turn will generate more value for investors.

Investment for Growth
EQT has invested heavily in its production and midstream businesses and that allowed the company to report a strong financial performance. In 2014 EQT plans to invest $2.3 billion and most of this investment is allocated to the EQT Production segment. This investment will fuel the growth in production volumes in the coming years.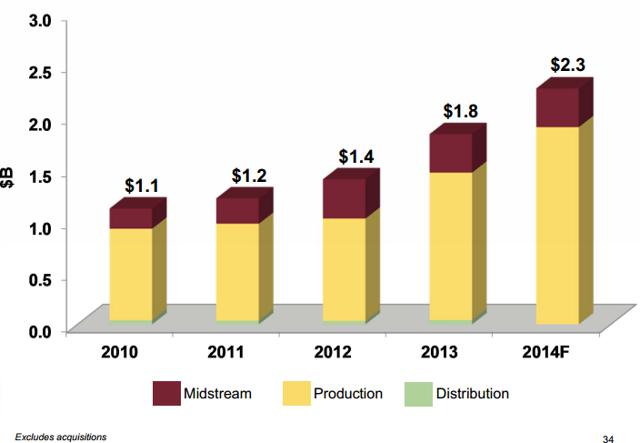 Attractive Upside on Current Price
The consensus target price of EQT's share suggests that it is underappreciated by the market at its current price level of $95.58. A summary of the target price estimates polled from 17 brokers is given in the figure below. It is assuring to note that even the most conservative intrinsic value estimate of $109 has a healthy upside of 14% at its current price level. The mean target price is $119.65 which presents an upside of 25%. The median target price is $117 which has an upside of 22.4%. The most optimistic estimate is $135 which if realized presents an upside of 41% at its current price level. An analysis of the target price reveals that EQT is a very attractive investment at its current price level and investors interested in gaining exposure in an efficient company that primarily deals in natural gas should consider investing in EQT.

Relative Valuation Indicates the Undervaluation of EQT's Stock
The price to earnings ratio shows that EQT is undervalued compared to the sector but overvalued compared to the industry and S&P 500. If the forecasted growth is incorporated into the analysis, the PEG ratio shows that EQT's share is undervalued compared to the industry and sector but overvalued compared to the S&P 500. An analysis of PEG ratio, considered a more advanced metric for relative valuation than P/E, suggests that EQT's share is undervalued on a relative basis.

Conclusion
EQT Corporation is an efficient player in the oil and gas sector with healthy growth potential. Its Production and Midstream segments have delivered strong performances in recent years. EQT is investing heavily in both segments which would allow the company to continue creating value for shareholders. EQT has improved its margins considerably in the past ten years and has attained leading cost efficiency metrics in the oil and gas industry. The consensus target price reveals very attractive upside potential at its current price level. Long-term investors should consider investing in EQT at its current price.
Disclosure: The author has no positions in any stocks mentioned, and no plans to initiate any positions within the next 72 hours.
The author wrote this article themselves, and it expresses their own opinions. The author is not receiving compensation for it (other than from Seeking Alpha). The author has no business relationship with any company whose stock is mentioned in this article.