In previous articles on Seeking Alpha I have spoken of my preference for taking a quantitative approach to investing that involves the use of stock screens to drive investment decisions.
These screens form the basis of my approach, allowing me to discard thousands of companies that do not meet my criteria for value. Using my own judgment I can then decipher between those that are left in order to find my favorite companies.
In this article I disclose three stocks that fit my criteria and which I am currently buying or have already bought.
11-rule value system
In my online video course I talk about 21 trading systems that were tested on US stocks going back to 2000. Many of these systems are based on technical analysis but one is value oriented and involves investing in companies that meet 11 fundamental rules. They are:
Rule 1: Market capitalization > 100 million
Rule 2: PEG ratio < 1%
Rule 3: Earnings growth over the last 5 years > 8%
Rule 4: 1 year price change > 8%
Rule 5: Dividend yield between 2% and 7%
Rule 6: Net margin last 12 months > 5%
Rule 7: Return on equity last 12 months > 5%
Rule 8: PE < 20 and >5
Rule 9: Price to sales > 0.5%
Rule 10: Lowest PE over last 12 months > 5
Rule 11: Net Margin over last 5 years > 3%
As I am sure Benjamin Graham would agree, by using rules such as these it is at least possible to eliminate those stocks that cannot be counted on to provide consistent and reliable returns. And by using these rules investing can be conducted in a professional and logical manner.
Returns
By firing up the portfolio simulator at portfolio123.com it is possible to test these rules on US stocks going back to 1999.
This data is free from survivorship bias and trading costs were set high to take account of commissions and slippage. One or two additional rules were set in order to exit stocks that were not performing as expected.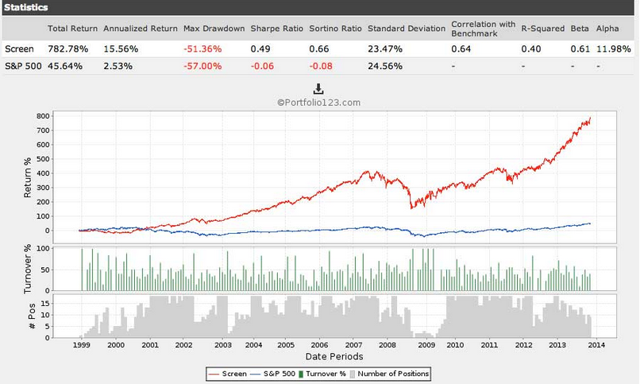 Source: Portfolio123.com
As you can see, analyzing the results proves that the rules have some merit since the annual rate of return between 1999 and 2014 was 15.56% CAR.
This is a strong performance and beats the S&P 500 by some margin. By investing in stocks that meet the rules-based criteria we were able to outperform the benchmark index.
Now that we have some evidence that the rules are good I believe we can further improve returns by using our judgment to pick the best stocks from the bunch.
Four stocks that meet the rules
Copa Holdings (CPA)
The first stock that meets the rules is Copa Holdings, a South American airline that has an impressive history of improving earnings.
In fact, the company has grown EPS at a rate of 28.90% over the past five years and is expected by analysts to grow EPS by 26.3% over the next five years.
This gives the stock a PEG ratio of just 0.39 while PE is 10.18. The dividend yield is 3.29% and ROE is 26%.
Copa trades on the NYSE as an ADR share and investors should note that capacity problems in Venezuela have had an impact on the company's day to day business.
However, much of the bad news is surely priced in as the stock is down 25% year-to-date. Furthermore, recent traffic reports for the airline have shown positive increases for the last two months.
It is true that Morgan Stanley recently downgraded the company but I can only see value here and a conservative DCF valuation gives traders at least a 50% margin of safety in my opinion.
For a more detailed write-up readers would be wise to take a look at Stephen Simpson's recent piece.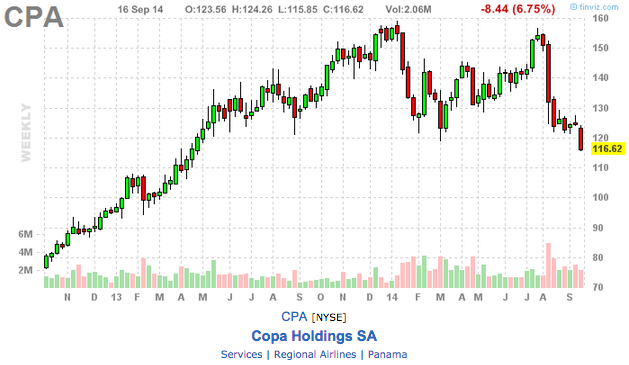 Packaging Corporation of America (PKG)
Packaging Corporation of America is another company that meets the rules based criteria and is in a good position to grow.
The stock has a PE of 13.06, PEG of 0.69 and a healthy current ratio of 2.40. As well, the stock pays a dividend of 2.40% with an ROE of 37.20%.
Packaging Corporation of America provides an essential service as the world moves further into the digital age. By providing cardboard and packing solutions, PKG will continue to benefit from the rise of online shopping and deliveries.
There has been a small amount of insider selling at PKG but not enough to spark any concern.
Again, a conservative DCF valuation gives the stock a hefty margin of safety, at least 40% by my reckoning.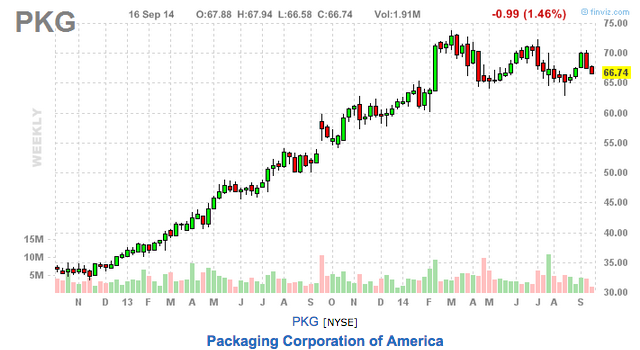 Freeport-McMoRan Inc (FCX)
Freeport-McMoRan Inc. is a company that easily meets the rules criteria with a PE of 14.48 and a PEG of 0.38.
Current ratio is 1.40, the dividend is 3.58% and this is a company that has been able to grow EPS at a rate of 16.80% over the last five years.
Freeport has suffered over recent weeks owing to logistical problems in Indonesia which impact the company's day to day business and from the recent slump in copper prices.
But investors must remember the extremely positive outlook from the company back in June of this year. Back then, management spoke of Chinese demand as 'very healthy' and highlighted the income that will come from the rolling out of the country's power grid.
Getting deals signed on the dotted line in Indonesia may impact the business over the short term but over the longer term, this is a quality business with an optimistic future.
As well, now we have seen the People's Bank of China inject stimulus into the Chinese banking system it's possible we could see a new, more stable era for copper prices.
The stock is good value and after hitting $34 last week, the bottom for FCX could well be in.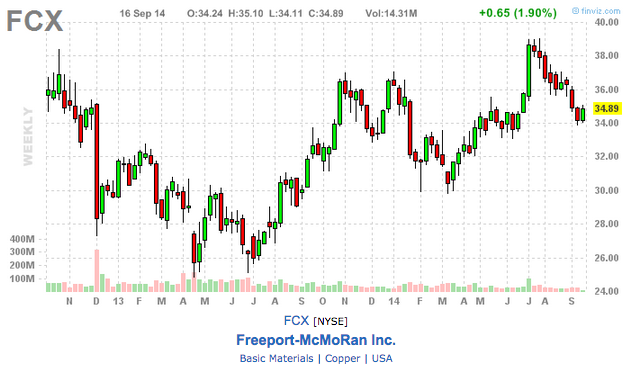 Disclosure: The author is long CPA, PKG, FCX.
The author wrote this article themselves, and it expresses their own opinions. The author is not receiving compensation for it (other than from Seeking Alpha). The author has no business relationship with any company whose stock is mentioned in this article.