People love beer. In 2012 49 million gallons of beer were consumed all over the world. The four companies in this article are taking advantage of all this consumption.
Anheuser-Busch Inbev SA/NV (NYSE:BUD) formed from a merger of the world's three largest breweries, Interbrew (the oldest and was established in 1366), Anheuser-Busch, and AmBev. BUD has a market cap of $179 billion with some of its most popular brands being Bud, Corona, and Bush.
Molson Coors Brewing Company (NYSE:TAP) was formed in 2005 by a merger of Molson and Coors. It is the 7th largest brewery by sales in the world. TAP brands include Coors, Killian's Irish Red, Blue Moon, and Keystone. TAP has a market cap of $12.99 billion.
Boston Beer (NYSE:SAM) was founded in 1984 and is the youngest of the four. Its most popular brand is Samuel Adams. It also owns Twisted Tea and Angry Orchard. It has the most U.S. sales by an American brewery and a market cap of $2.8 billion.
Craft Brew Alliance Inc. (NASDAQ:BREW) was founded in 1981. It is a group of three breweries that include Redhook Brewery, Widmer Brothers Brewing, and Kona Brewing Company. Its beer sales are ninth largest in the U.S. BREW's market cap is $240 million.
Price and Performance:
BUD went on the NYSE in July 2009. The Yahoo graph below shows the price returns of these stocks since then. SAM's price has done fantastically and is up over 600%. BREW did the second best with a return of over 500%. BUD is only up 200%. TAP is last and is under 100%.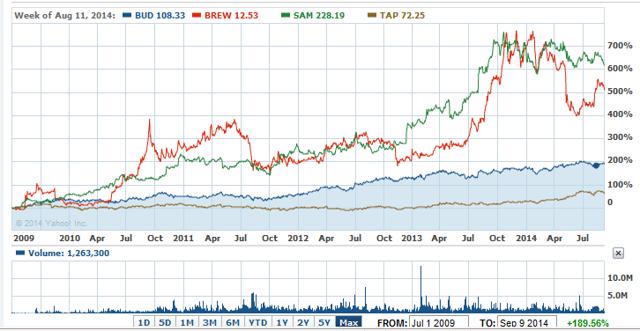 The PE ratio is an indication of the annualized returns. SAM and BREW have the highest PE ratios as investors have paid up for these two stocks. Their annual returns are over 40%. BUD has the lowest PE ratio but its stock has still done well and has an annual return of 25% since its inception. TAP has done the worst. BUD and TAP pay dividends which is a nice bonus. The following numbers were taken from Yahoo finance.
| | | | |
| --- | --- | --- | --- |
| | PE RATIO | ANNUAL RETURN | Yield |
| BUD | 13.43 | 25.00% | 3.70% |
| SAM | 40.75 | 46.16% | - |
| TAP | 18.49 | 12.59% | 2.20 |
| BREW | 69.94 | 41.00% | - |
Sales ratios:
Sales are usually one of the first items discussed on a quarterly report. Sales can change the price of a stock during earning season. The table below shows some sales ratios that I gathered from Morningstar. BUD is the king of sales. It sells its products everywhere. TAP also has high sales. Both are large global companies. BREW has fewer sales domestically and is not as involved in global sales. BREW's annual report shows only 5% of sales are international. SAM has the highest sales domestically for a U.S. brewery and only 4% of total sales are international.
Three of these companies have grown sales significantly in the last five years. SAM and BREW had the best sales growth as they are the smaller companies and had the most room for growth. BUD increased sales even though it already sells everywhere. TAP is in trouble. It had negative sales growth over the past five years. Alcohol sales in the U.S. have increased by 17% since 2009. If TAP can't increase sales when total alcohol sales increase then it has a major problem.
SAM has the best ROA. BUD has the best ROE which is probably because it has the most debt. SAM has the second best ROE even though it has no debt. BREW's ROA and ROE are probably low because it is such a small company and can't take advantage of economies of scale. TAP appears quite inefficient for such a large company.
Future sales growth is important. BUD and SAM have similar projected sales. I would have expected SAM's growth rate to be higher since it has the highest PE ratio. If it's only predicted to grow a little more than BUD, why would anyone pay a premium for it? BREW has the highest growth rate as it is the smallest and can grow its sales much easier. Once again TAP is last.
Days' Sales Outstanding isn't a big deal but the faster a company can get paid the faster it can put the money to use. The only thing that stands out is that it takes TAP twice as long to get its money. Maybe TAP has poor operations with its billing or collections which is not a good sign.
| | | | | | | |
| --- | --- | --- | --- | --- | --- | --- |
| | Sales(In millions) | Past 5 Yr. Sales Growth | ROA | ROE | 5 Yr. Growth Est(Yahoo finance) | Days Sales Outstanding |
| BUD | 43,195 | 17.51% | 10.89% | 31.46% | 9.20% | 23.96 |
| SAM | 739 | 63.13% | 17.52% | 25.73% | 10.00% | 18.15 |
| TAP | 4,204 | -2.30% | 3.57% | 6.83% | 7.00% | 51.25 |
| BREW | 179 | 35.00% | 1.17% | 1.79% | 20.00% | 22.29 |
Profits:
Making money is one of the most important things in a business. BUD has the best margins. BREW has the worst margins. The cause of this is from remodeling costs, flat beer sales, pressures from distributions, increased capitalized expenditures and packaging costs. SAM has a high gross margin but the third best profit margin. SAM is spending more on SG&A than any of the other companies. In the third quarter of 2013 it increased advertising by 25%. Eventually SG&A should level off and when it does SAM should see an improved profit margin. TAP's gross margin is alarming. Its 2013 quarterly report mentioned that its high COGS came from commodity inflation and packaging/rebranding costs. TAP'S 2014 first quarter report restates the same excuses. BUD deals with commodity inflation and packing costs too and its gross margin is 20 percentage points higher. The numbers in the table below were taken from Morningstar.
| | | |
| --- | --- | --- |
| | Gross Margin | Profit Margin |
| BUD | 59.27% | 19.62% |
| SAM | 52.08% | 9.52% |
| TAP | 39.48% | 13.49% |
| BREW | 28.05% | 1.09% |
Balance sheet:
The balance sheet is also important as this is what produces the sales. The ratios for BUD and TAP need to be looked at separately from the other two because their balance sheets are large. BUD is better with its assets and current ratio than TAP. The two inventory ratios are better for TAP but that may be because BUD has 12 times as much inventory and has to produce and distribute more all over the world. The D/E is higher for BUD and I think that has helped them grow faster than TAP.
SAM has the better asset turnover ratio than BREW because of its higher sales. The inventory turnover ratio and Days in Inventory are better for BREW. Its sales are more localized to its breweries. Both have a current ratio above one. BREW needs to pay more attention to this than SAM. BREW is a smaller company and not being able to pay its expenses on time would hurt it more. That could be a reason BREW doesn't have much debt. SAM has no debt. I think taking on some debt would help it grow. The information in the following table below also came from Morningstar.
| | | | | | |
| --- | --- | --- | --- | --- | --- |
| | Asset Turnover | Inventory Turnover | Days in Inventory | Current Ratio | Debt to Equity |
| BUD | 0.33 | 6.46 | 56.53 | 0.73 | 0.82 |
| SAM | 1.84 | 7.03 | 51.93 | 1.57 | - |
| TAP | 0.26 | 10.67 | 34.20 | 0.72 | 0.37 |
| BREW | 1.70 | 9.00 | 40.19 | 1.19 | 0.10 |
So which one is the best? BUD is the most profitable and seems to know what it is doing. SAM is on its way to becoming a powerhouse. SAM may not be as profitable but it is expanding its business and I think the future is bright for SAM. I think the price of SAM may be a little too high right now when looking at its future growth estimates. BREW is the third best. It's much smaller than the other three but it has the most room to improve and grow. I think it has a much better future than TAP. TAP is the worst. In five years it hasn't grown sales. TAP makes excuses on why its gross margin is low. TAP's ROA and ROE are terrible for such a large company. I would stay away from it.
Disclosure: The author has no positions in any stocks mentioned, and no plans to initiate any positions within the next 72 hours.
The author wrote this article themselves, and it expresses their own opinions. The author is not receiving compensation for it (other than from Seeking Alpha). The author has no business relationship with any company whose stock is mentioned in this article.