Suburban Propane Partners LP (SPH - $56) is an overlooked unregulated utility focused on delivering propane to retail customers. Currently SPH services 900,000 residential, commercial, industrial and agricultural customers, mainly on the East and West coasts, through 300 facilities in 30 states. Suburban is the fourth largest propane distributor. In addition, SPH offers heating oil, natural gas, and electricity on an unregulated basis. Propane comprises 77% of revenues.
Structured as a MLP, Suburban offers investors a steadily increasing distribution along with growth via acquisition in a mature utility market. Founded in 1928, SPH expands by acquiring smaller propane distributors in a highly fragmented market. Of note, in 1996, Suburban issued one-time shares to the General Partners in exchange for canceling their annual, and often higher, incentive distribution rights (IDR). Over the last few years, this type of exchange has become more popular with MLPs as a tool to generate higher unit holder returns.
The propane market is relatively stable and customer growth / increased volumes are generated through acquisitions. Five percent of households heat using propane, a market number that has been unchanged over the past 20 years. In 2009, the top ten propane marketers captured 38% of the market with no single company exceeding 10%. Each propane facility has approx five competitors within its service area and sixty-two percent of propane is distributed by smaller independent firms.
While natural gas is the most obvious competitive fuel, the capital cost to expand natural gas distribution into historic propane areas is slow. Offsetting this decline is propane's growth in newer rural areas and suburbs that are not serviced by natural gas. Propane is more expensive than natural gas and customers have a tendency to use less as prices increase, muting the profitable effects of strong markets.
With virtually thousands of local, independent marketers and farm co-ops, consolidation in the industry will pick up with an improving economy. However, acquisitions may become more expensive as well. Suburban completed four mid-size acquisitions in FY Sept 2010, however made no substantial acquisitions during the previous two years. Going forward, growth for individual firms in the industry will have to come from consolidation.
Propane use is seasonal with about three quarters of annual volume is sold from Oct to March. Earnings tend to fluctuate along the same timeline.
Within their sector, management has an admirable trailing 12 months return on invested capital of 15.4% and a 5-yr average of 28.2%. Conservatively managed with an eye towards cost cutting, maximizing margins, and a strong balance sheet, Suburban is known for its sensible approach to acquisitions. In addition, management has been paying down debt with its strong cash flow.
Distributions are $3.41 per unit, for a 6.0% yield, and SPH recently increased its payout. However, it was less than anticipated at 2% growth, which has put a damper on share price appreciation. Going out 5-yrs, anticipated distributable cash flow and distributions are expected to increase by 2.5% to 3.0% annually, based on stable revenues.
Growth above this rate will come from acquisitions. As it is difficult to project when or where they will develop, most analysts do not include acquisitions in projections and this is where the opportunity and upside for higher earnings and distributions lie.
Current stock valuations offer a slightly lower yield than other propane MLPs, but are offset by the long-term possibility for added distributions as consolidation adds customers.
Below is a 5-yr chart of Suburban () compared to its main competitors AmeriGas (NYSE:
APU
), Inergy (NRGY), and FerrellGas (NYSE:
FGP
), also MLPs. The key to this graph is to appreciate the better relative performance of SPH during the market decline of 2008 - 2009. Comparing 2-yr or 3-yr charts may distort this relative performance.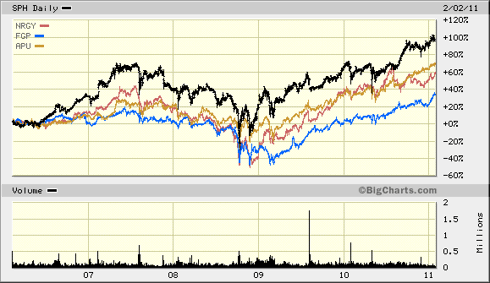 There are probably better places to invest for MLP income that offer improved distribution growth and along with it share appreciation. Within the propane business, Suburban is the best selection, but the entire propane industry seems fully valued.
As always, investors should conduct their own due diligence, should develop their own understanding of these potential opportunities, and should determine how it may fit their current financial situation.

Disclosure: I have no positions in any stocks mentioned, and no plans to initiate any positions within the next 72 hours.