Today I will explain why I plan on getting into three consumer discretionary stocks and how I plan on getting into them. First, I will state that I do expect a bit of a pull back (no more than 5%-7%) as outlined in How to Hedge With Vertical Put Spreads. And second, I will mention that I have taken this into account for the strategies in this article, and two of the three stocks outlined below have already pulled back nicely.
I believe a real recovery is underway and I think the stocks outlined in this article will benefit from this greatly. If we look at the Consumer Discretionary SPDR (NYSEARCA:XLY) compared to the S&P 500 SPDR (NYSEARCA:SPY) over the last year, we can see that the Consumer Discretionary SPDR has outperformed the S&P 500 SPDR by almost 9%.

(click chart to enlarge)
This also takes into account that the S&P 500 is currently near new highs, while the Consumer Discretionary SPDR has taken a bit of a breather and pulled back about 2.3% off of its highs, and back near its 50 day moving average. I believe the Consumer Discretionary SPDR is on pace to outperform the market once again as long as the majority of the data keeps coming in better than expected. With that all being said, I will outline my three favorite consumer discretionary stocks, and how I plan to play them using options.
Limited Brands (LTD):
The first stock is one which has pulled back about 10% from the highs in early December (not taking into account the $3.00 dividend paid in December). This company has some very popular brands which consumers are extremely loyal to. The most famous of their brands is Victoria's Secret, which surprisingly does well in times of boom and bust (no pun intended). Limited Brands seems very fairly valued with a multiple of 13.9, and expected earnings growth of 13% in 2012.This stock spins out 20 cents per share per quarter, not to mention they have been known to spin out special dividends once in a while. The two most recent special dividends were in March of 2010 for $1 and December of 2010 for $3. Going by just the 80 cents per share per year, it gives this stock a dividend yield of 2.70%. With a nice yield like this stock has, I prefer buying shares and selling longer dated covered calls.
Limited Brands Bullish Option Strategy:
I would choose a buy-write option strategy because it allows me to get an even better sale on this stock by taking option premiums up front, clip the coupon at least a few times, and have a nice return if the stock ends up getting called away. I would purchase shares and look to sell the the January 2012 37 strike options against them right away.
At current market values I could get 85¢ per share. This would immediately reduce my cost by 2.9% (as of close Wednesday), allow me to receive the next 4 dividends for a current estimate of 80¢ (assuming the stock stays below 37 and is not called early), and receive $37 per share if the stock is trading at or above this price on January 2012 options expiration. If this stock does in fact get called away, the total return (not taking into account any special dividends) would be 32.7%. Again, the break even point from this strategy - not taking into account any dividends paid - would be 2.9% lower, or 28.28.
Ford Motor (NYSE:F):
The next consumer discretionary stock I have been waiting for a pull back in order to get long is Ford. This stock has dropped almost 19% since earnings on January 28. Ford may have revved its engine (pun intended this time) a bit too much ahead of earnings, but with this nice pull back, I believe it's a great time to start accumulating again.
This is perhaps one of the best ways to play consumer discretionary, as automobiles aren't the easiest things to go and purchase. But I also see businesses upgrading their vehicle fleets near term as the economy is rebounding. One interesting piece of data recently released from CK Commercial Vehicle Research is that the Fleet Sentiment Report Buying Index surged to new highs in Q1 of 2011. It is worth noting that the index is quite young and started at 100 in Q1 of 2008. Another piece of recent data is that monthly car sales were released Tuesday and although Ford lost 0.5% market share, Ford sales were up 13.2%.
Below you can see the breakdown from the top four auto makers.
(Taken from WSJ.com, click to enlarge)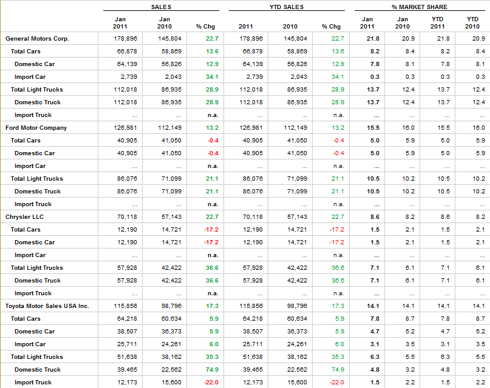 So, in my opinion, the future certainly looks bright for Ford, which is why I will structure the following option strategy.
Ford Bullish Option Strategy:
I would like to get into Ford near the 200 day moving average which comes in around 14.25, therefore, I will structure my option strategy around that price. Also note that it's very hard to catch a bottom, so I would structure my option strategy with plenty of time as well. The strategy I am about to use may seem very complex, but in reality is just two separate vertical spreads.
Using the January 2012 option contracts, I would choose to sell the 15 strike puts and purchase 10 strike puts (1 for 1) for a net credit of $1.65 per share or $165 per spread. With the premium received, I would use some of it to play the upside. I would purchase January 2012 17.50 calls and sell January 22.50 calls against them (1 for 1) for a net debit of $95 per spread. Net-net, I would receive $70 per custom option spread.
The break even from this trade would be shares of Ford at exactly 14.30 on January 2012 options expiration. If shares close somewhere between 15 and 17.50 on expiration, this strategy would return $70, or the net premium received. The maximum profit of $565 would be achieved If shares rally and close at or above 22.50 per share on January 2012 options expiration. The maximum loss of $440 per custom put spread would occur if shares sell off significantly and close at or below 10 per share on expiration.
Sirius XM Radio (NASDAQ:SIRI)):
Another stock I have been bullish on for quite some time is Sirius XM Radio. This has been one of my best performers over the last 18 months and looks like it could continue to be in the future. In my mind, I can't be bullish on the future of Ford without also being bullish on Sirius. Again, by looking at the auto sales numbers in the table above, we can see growth in auto sales, which is very good for Sirius XM as well. Not to mention, Sirius should benefit from the increased number of iPhones about to hit consumers hands as they come to Verizon (NYSE:VZ), and I expect a lot as I explained in a recent article here. Assuming just a fraction download and pay monthly for the Sirius XM app, this is certainly a positive.
I am scaling back in an attempt to raise cash, but I will explain below how I can still play a major move to the upside in Sirius (shorter term). First, I will put a chart of Sirius XM Radio below.
(click to enlarge)

As you can see, this stock has had a serious, no a Sirius run (pun intended again), from the bottom. This stock doesn't owe me anything as it has more than paid for itself multiple times over - but, I want to keep it that way. Not to mention, as long as I know long term capital gains are capped for 2011, I plan on selling most, if not all, of my shares to lock those in. I can, however, structure an option strategy that will allow me to take some risk off the table and play this stock if it has another serious move higher. By looking at the chart above, this looks very possible, as it could break out of that up trending channel (in yellow).

Sirius Bullish Option Strategy:
Using the January 2012 options, I would choose to sell naked the 1.50 strike puts for a net credit of 24¢ per share, or $24 per contract. Note I am selling these naked, which means I could be obligated to purchase shares at 1.50 come January 2012 expiration. With the money received, I would use it to play the upside. I would purchase September 2 strike calls for 19¢ per share, or $19 per contract. Net-net, I would receive $5 for one of these custom spreads. This would allow me to play Sirius - if it had any major moves until September - with unlimited potential profits above $2 per share in Sirius. For every 100 shares I sell I plan on getting long one of the spreads detailed above.

If Sirius sells off and closes at or below 1.50 per share on January 2012 options expiration, I would be obligated to purchase shares of Sirius back at $1.50, but assuming I sold near 1.72 per share it would be getting back in at a lower price - especially if I planned on holding the shares anyway. The maximum loss of $145 per custom spread would result if shares of Sirius dropped to $0 per share on January options expiration, or anytime after, assuming the shares are put to the investor at expiration and held. The break even for this spread would be shares of Sirius at 1.45 on January 2012 options expiration. If shares of Sirius rally significantly, gains are unlimited. I would likely choose to close out the January put options if the stock does rally and close well above 2 per share in September.

Commissions

were not taken into account for the calculations above, and it may be worth it to close out the position before expiration. I plan on getting long these spreads, so I will do my best to update my readers on any changes I make on this position as needed via Seeking Alpha StockTalk or I'll comment in the comment section of this article.

The ideas outlined above are bullish strategies and should not be considered if you think the stock will sell off in the near future. However, if you feel the stock could move higher in the near future, this strategy could yield a nice gain.

These are just examples and are not recommendations to buy or sell any security; if you're more bullish/bearish, you'll want to adjust the strike price and expiration accordingly.

The reason option volumes have surged in the last five years is because they are a great way to hedge your portfolio, as well as create income off of your shares (see chart here). Keep in mind when using this strategy that it is essential that broker commissions are low enough to profit from the position.

Disclosure: I am long SIRI.