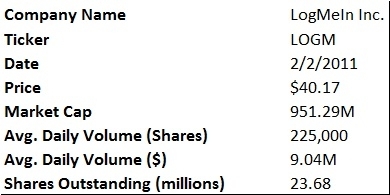 1-Year Price Target
Price Consider Buying: $34
Price of Fair Value: $42
Price Consider Selling: $51
About the company
LogMeIn (NASDAQ:LOGM) provides on-demand solutions that enable remote access and support to computers and electronic devices connected to the Internet using a web browser. The on-demand software is offered as a service on a subscription (Saas) basis while hosted on the company's data centers. LogMeIn's solutions improve the productivity of both end users and professional help desk personnel by enabling seamless connectivity to remote computers. The firm was founded in 2003 and is based in Woburn, Mass.
Income Statement
images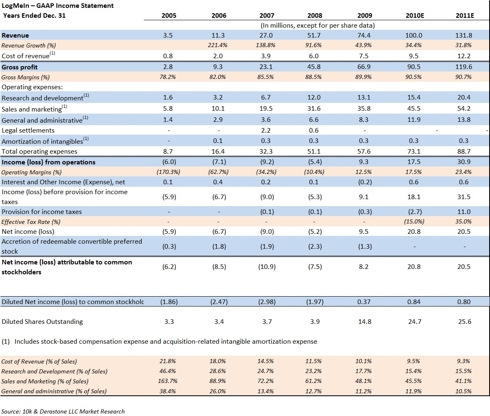 Investment Thesis
LogMeIn is in the crossroads of two technological revolutions. At one end the growing adoption of internet enabled devices and in the other the increasing use of cloud computing. Both technologies are penetrating the market rapidly and LOGM is enabled to service a large portion of these markets:
Access: $1.4B
Support: $6.9B
Collaboration: $2.5B
LogMeIn will continue to show strong and consistent growth in its core remote support and remote access businesses while maintaining the best in its industry gross margins and operating margins. This being said, t
he company continues to develop and launch new products to market, adding to the foundation already created by the company's core products. Additionally, we anticipate the momentum in LogMeIn's "Ignition" product will continue and we anticipate join.me will make a material contribution to 2011 results.
While management highlighted they anticipate an additional $1.5 - 2.0m of sales and marketing expense in the December quarter investing in the sales and marketing of join.me to maximize the product's launch in the quarter, we expect that this will have a compounded effect on other LOGM products, spilling over to 2011 revenue numbers as well.
LogMeIn reached approximately 490,000 total paying customers in the 3Q10, up about 85,000 or 21% from the 2Q10; this follows the addition of 65,000, then worth 19% of growth in the 2Q10. The company's active user base (including free and trial users) grew by 700,000, or approximately 7%, reaching a total over 10 million. As a result of these additions, LogMeIn's ratio of total premium customers to total active users improved to 4.7% in the quarter from 4.2% in the June quarter.
Valuation
LOGM at first looks expensive however, there are other few things an investor should note:
The stock currently has aprox. $153m in Cash ~ equivalent to $6.46/share in Cash
TTM Free Cash Flow / Sales is at 29%, in line with its comps but far ahead of companies like Procter & Gamble's (NYSE:PG) 6.13%. If cash is king, then LOGM just generates for each dollar sold 4.7x more amount of Free Cash Flow. Therefore, it is plausible to say that LOGM earnings are of better quality, validating a higher P/E ratio than Procter and Gamble.
Competitive Advantages
Large user base and efficient customer acquisition model
Proprietary technology that drives differentiation
Low service delivery costs
Cost efficient sales and marketing model
High lifetime customer value
Notable Customers
Sprint (NYSE:
S
), Bell, O2, Vodafone (NASDAQ:
VOD
), Orange (NASDAQ:
PTNR
), Symantec (NASDAQ:
SYMC
), Samsung, Sony (NYSE:
SNE
), Accenture (NYSE:
ACN
), Toshiba (
OTCPK:TOSBF
), Perot Systems (NYSE:
PER
), Geek Squad, Keane
Positive Catalysts
Hard: Above expectation results for its new and core products => Analyst re-rating of the stock
Soft: Continued improvement renewal rates and customer acquisition rate
Risks
Hard: Legal Proceedings - On September 8th, 2010, Canadian-based 01 Communique Laboratory Inc. [TSX:ONE], filed a patent infringement suit against LogMeIn
Soft: Inability to Convert Free Users to Paying Subscribers negatively impacting the cost of infrastructure-related costs associated with hosting a large user community
Soft: Large competitors with deep pockets
Competitors
Shareholders
Having insider and VC money in the company is a double edged sword. There is an inherent interest of the main stakeholders to have their company perform. However, Prism Investment Partners IV is of a 2001 vintage, which raises suspicion. Generally, VC funds do not hold their investment for longer than 11 years. I am worried that they might sell and given the size of the stake, put pressure on the stock in the short term.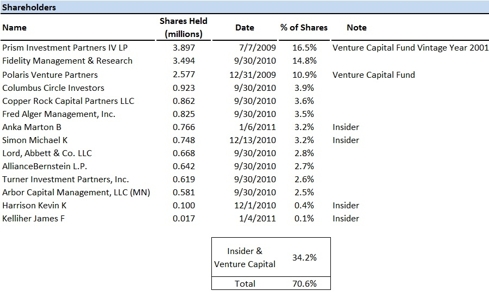 Disclosure: I am long LOGM.