Ambarella (NASDAQ:AMBA) is a developer of semiconductor processing solutions for video, which enables high-definition (HD) video capture, sharing and display. The company manufactures semiconductor chips for HD cameras, which are widely used for sports broadcasting, enabling the best viewing details on television screens. Ambarella has reported substantial revenue gains over the last few years, and the stock price has followed the strong growth in the fundamentals of the company. Ambarella's stock price has more than doubled (up over 108%) over the last twelve months.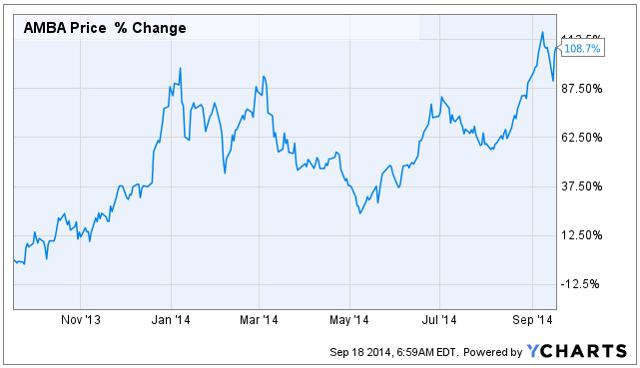 Business Model
Ambarella employs a fabless manufacturing strategy and sells its solutions to leading original design manufacturers (ODMs) and original equipment manufacturers (OEMs) globally. Initially, Ambarella focused its technological platform on the infrastructure market, where the company served broadcast customers based on high-performance, low-power consumption, transmission and storage efficiency and small-form factor technology. After gaining a significant market share in the segment, Ambarella then designed high-performance solutions for the camera market, as a result of which Ambarella became one of leading providers of video processing solutions for cameras that capture both HD video and high-resolution still images simultaneously. Further, the company also released its System-on-a-chip (SoC) solutions with advanced networking, connectivity and application processing functionalities.
Revenue and Business Performance
The trend of video traffic is growing at a significant rate over the last few years. As forecasted by Cisco Visual Networking, mobile video will comprise 71% of total mobile data traffic in 2016, with a compound annual growth rate of around 90% from 2011 to 2016. This increase will be mainly due to an increasing number of video capture devices, growing user generated content and broadband penetration, enabling the initiation of video cloud. Ambarella has a proven track record of developing and delivering multiple solutions regarding video recording and encoding, which has enabled it to report increased revenues of around $157.6 million in the last year - up 30% compared to the previous year.

Source: SEC Filings
The recent developments in the HD video capture quality, device size and costs have allowed video capture functionality to be incorporated into a broad range of devices. Nowadays, smartphones, tablets, wearables, IP security cameras and telepresence cameras have resulted in a boom in the demand - this boom in demand have benefited companies like Ambarella in the last few years.
Further, the company's supplier relationship with GoPro (NASDAQ:GPRO) and a number of OEMs will allow it to capture the camera market globally. Recently, Ambarella sales exceeded its estimates with its major OEM partner, GoPro, and recorded better than ever results during the second quarter of the current year. GoPro develops, manufactures and markets HD personal cameras and about 20-25% of Ambarella's revenues are linked directly to GoPro. So, it is important to look at GoPro's revenues as well - GoPro revenues increased by around 38% in the second quarter, which was mainly due to the increased sales of its Hero 3+ black edition camera. Also, GoPro is near to announce the new version of its Hero wearable camera, Hero 4, by the end of October - this shows that the demand from GoPro is likely to remain high in the short-term at least for Ambarella. The GoPro wearable cameras are highly popular among sports enthusiasts and targets more mainstream customers with its new edition.
Being the largest revenue contributor of Ambarella, the new version of GoPro's leading product could benefit both companies. Further, Ambarella revenues for the second quarter stood at around $47 million, up over 24% year-over-year. This increase is mainly due to the successful sale of the company's HD and Ultra-HD camera solutions in the expanding IP security camera, UAV and wearable sports camera markets.

Source: Second Quarter Earnings Release
New Technology Sparks Growth for Ambarella
Ambarella could benefit from its SoC solutions, which integrate HD video processing and several other functions into a single chip. The company introduced the A9 SoC last year, which supports 4K Ultra-HD video resolution for capturing fast action sports with 1080p video quality. According to NPD DisplaySearch, the 4K revolution is increasing in the TV market as leading manufacturers Samsung Electronics and LG are increasingly using 4K panels in their products. The research also shows that total 4K panel purchases will reach 20 million units during the current year, with a large share of orders from Chinese brands - representing around 36% of the global amount.
Fundamentals Continue to Grow
Ambarella is trading below the industry average P/E ratio (47.8), despite rising spectacularly over the last twelve months. It is currently trading at a P/E ratio of 40 and the forward P/E ratio of 22 looks even more attractive and shows that the market expects the company to continue growing its earnings. Operating and net margins of 18.3% and 16.8% are also better than the industry averages of 14.6% and 6.7%, respectively. As the discussion above shows, there is a lot of room for the company to grow its revenues as well as earnings. As a result, we believe the fundamentals of the company will continue to grow and the stock price will continue to follow the growth in its fundamentals.
Conclusion
The growth prospects for Ambarella are extremely strong, and we believe the company will continue to grow. Almost all the segments of the industry are growing at an impressive rate, which should ensure future growth for the company. Furthermore, the valuation is still attractive despite a massive rise in the stock price over the last twelve months. As the current and forward multiples show, the stock is still trading below the industry average and there is still room for Ambarella to rise. We believe Ambarella is a good investment.
Additional Disclosure: This article is for educational purposes only and it should not be taken as an investment recommendation. Investing in stock markets involves a number of risks and readers/investors are encouraged to do their own due diligence and familiarize themselves with the risks involved.
Disclosure: The author has no positions in any stocks mentioned, and no plans to initiate any positions within the next 72 hours.
The author wrote this article themselves, and it expresses their own opinions. The author is not receiving compensation for it (other than from Seeking Alpha). The author has no business relationship with any company whose stock is mentioned in this article.