Leggett and Platt (NYSE:LEG) is a diversified designer and manufacturer of a variety of components for furniture, automotive, and industrial use. Growth over the last 5- and 10-year periods has been disappointing. Operational and free cash flows are particularly strong for this company, and need to be taken into account when evaluating the stock.
As a dividend aristocrat, the company has increased its dividend for nearly 40 consecutive years.
Dividend Yield: 4.72%
Five-year dividend growth rate: 11%
Even with a P/E of nearly 20 and a high earnings payout ratio, I find Leggett and Platt to be a fair stock choice at the current price for those looking for substantial dividend yields.
[Click all to enlarge]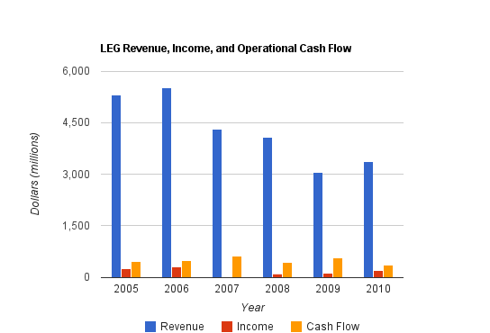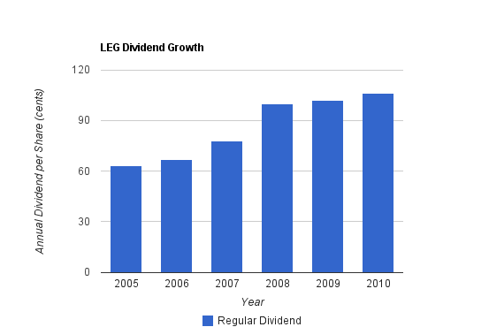 Overview
Leggett and Platt was founded in Missouri in 1883. The company is a broad designer and manufacturer of furniture components, automotive components, and industrial components such as steel wire and tubing. LEG has more than 140 manufacturing sites in 18 countries.
The company is broken down into four business segments, containing 19 business units in total.
1. Residential Furnishings Segment
This was the original segment of the company, and is the largest. This segment makes up about half of total Leggett and Platt sales, while the remaining segments make up the other half. Business units included in this segment are U.S. Spring, International Spring, Furniture Hardware, Seating and Distribution, Consumer Products, Fabric Converting, Carpet Underlay, and Geo Components.
2. Commercial Fixturing and Components Segment
This segment designs, manufactures, installs, and manages store fixtures. Business units include Store Fixtures, Point-of-Purchase Displays, and Office Furniture Components.
3. Industrial Materials Segment
This segment manufactures a variety of industrial materials that the company itself uses to produce components in its other segments; it also sells industrial materials to customers. Its annual output of steel rods, for instance, exceeds 500,000 tons. Business units include Wire Drawing, Wire Products, Fabricated Wire, Steel Rod, and Steel Tubing.
4. Specialized Product Segment
This segment includes the miscellaneous collection of other manufactured components. The automotive group, for example, manufactures lumbar support systems and various other cables and devices. Business units of this segment include Automotive, Machinery, and Commercial Vehicle Products.

Sales, Income, Cash Flow, and Metrics
Leggett and Platt has not grown much over the last five years, or even 10 years.
| Year | Sales |
| --- | --- |
| 2010 | $3.359 billion |
| 2009 | $3.055 billion |
| 2008 | $4.076 billion |
| 2007 | $4.306 billion |
| 2006 | $5.505 billion |
| 2005 | $5.299 billion |
Sales growth has been negative over this period. Part of this was due to a period of strategic divestitures of less profitable segments of its business, and part was due to weakness in the general economy.
| Year | Income |
| --- | --- |
| 2010 | $184 million |
| 2009 | $112 million |
| 2008 | $104 million |
| 2007 | $-11 million |
| 2006 | $300 million |
| 2005 | $251 million |
Earnings have also been negative over this period, again due to divestitures and economic weakness.
| Year | Operational Cash Flow | Free Cash Flow |
| --- | --- | --- |
| 2010 | $363 million | $295 million |
| 2009 | $565 million | $482 million |
| 2008 | $436 million | $318 million |
| 2007 | $614 million | $465 million |
| 2006 | $479 million | $313 million |
| 2005 | $448 million | $284 million |
Like sales and income, Leggett and Platt has experienced negative cash flow growth over this period. It should be noted, however, that both operational and free cash flow is extremely strong in comparison to net income. LEG is an exceptionally strong business in terms of cash flow generation. Years 2007-09 contained divestitures which artificially boosted cash flow, so the more realistic period to take note of is the latest year.
Metrics
Price to Earnings: 19.8
Price to Free Cash Flow: 11.4
Price to Book: 2.2
Return on Equity: 11.6%
Dividends
Leggett and Platt is a dividend aristocrat with 39 consecutive years of dividend increases. The dividend yield is currently 4.72% with an earnings payout ratio of over 90%. A payout ratio of over 90% is, in many cases, unacceptable for an investor looking for both dividend growth and dividend safety, but LEG's free cash flow easily covers the dividend with a much lower payout ratio, meaning the dividend is safer than the earnings payout ratio would suggest.
| Year | Dividend | Yield |
| --- | --- | --- |
| 2010 | $1.06 | 4.80% |
| 2009 | $1.02 | 6.30% |
| 2008 | $1.00 | 6.20% |
| 2007 | $0.78 | 3.50% |
| 2006 | $0.67 | 2.70% |
| 2005 | $0.63 | 2.60% |
Leggett and Platt has grown its dividend by an annually compounded average rate of approximately 11% over this period. Substantial dividend growth occurred in 2007, because at this time, Leggett and Platt released their current strategy to significantly boost shareholder cash returns. Dividend growth has slowed recently, but combined with the high yield is respectable. The most recent increase was a bit under 4%.
Share Repurchases
Over the last several years, Leggett and Platt has spent even more money on share repurchases than it has on its large dividend. With a market capitalization of a bit over $3.3 billion, the company has given back nearly $700 million in dividends and over $1 billion in net share repurchases between 2005-09. In 2010, the company repurchased another net $106 million worth of stock.
Balance Sheet
Leggett and Platt has a fairly strong balance sheet with a LT debt/equity ratio of only 0.50. Goodwill constitutes approximately 60% of shareholder equity, which is less than ideal but reasonable. The current ratio is over 2, which is quite healthy. The interest coverage ratio is above 8, which is decent.
Investment Thesis
Leggett and Platt is a case where the historical and present quantitative numbers may be quite misleading. Revenue, net income, and EPS in recent years are lower than they were in 2000, so the company clearly hasn't grown very well at all. The current price-to-earnings ratio is over 18, which is fairly high and certainly doesn't make sense at first glance when the history of no growth is considered. Lastly, with a payout ratio of over 90%, dividend growth investors may be inclined to be nervous of this stock despite its dividend aristocrat status.
So where's the good? My argument for long-term bullishness of Leggett and Platt mainly rests on two main points:
Case 1: The Case for Growth
The historical performance of company financials, including growth and dividends, is an important piece of the puzzle (especially for those looking to buy long-term dividend growers such as the dividend champions, aristocrats, and achievers), but the future is where returns are.
David Haffner, the current CEO, was appointed to his current position in 2006. In 2007, Leggett and Platt announced a new strategy to focus on total shareholder returns that involves four main points:
Divest low-performing businesses
Return more cash to shareholders
Improve margins and returns
Grow the company at 4-5% annually
Some of this is the type of thing that every company says, but Leggett and Platt has been noticeably changing over the last several years. The dividend increased 50% over a fairly short period of time, the company repurchased 18% of the market cap worth of stock, it made significant divestitures -- including reducing its store fixtures business and eliminating its entire aluminum business -- margins improved, and there's a new business unit planning strategy. The company aims to provide total shareholder returns in the top 1/3rd of the S&P 500.
Leggett and Platt now manages its business units in a different way than before. Previously, business units were treated rather identically, allocated capital, and were expected to grow. The business units are now managed like a portfolio, and are each labeled as "growth," "core," "fix" and "divest." Most of the units are core units which are meant to focus essentially on maintaining the status quo with minimal capital expenditure to provide strong free cash flow. Growth units are allocated capital to grow. Fix and Divest units are underperforming units that are either being given time to be fixed, or are actively being marketed for sale.
Examples of recently divested business lines include coated fabrics, fibers, aluminum products, wood products, plastic products, foam products, and some aspects of its fixtures and commercial vehicle segments. Leggett and Platt has kept its larger businesses that have an economic advantage and divested its smaller, less competitive businesses.
Overall, this represents a more focused, streamlined, and strategic Leggett and Platt.
Case 2: The Case for the Dividend
An earnings payout ratio of 90% can be concerning for dividend investors, but I believe it is quite safe. Leggett and Platt is close to 40 consecutive years of dividend increases with no signs of stopping.
The company continued increasing its dividend through the worst recession since the Great Depression. If a cyclical company can grow a dividend through this environment, it says a lot about its stability. Although the dividend represents 90% of earnings, it only represents 43% of operational cash flow and 53% of free cash flow.
It's not as though the company let this high payout ratio situation creep up on it. LEG actively boosted its dividend significantly in 2007 and 2008. It was driven by purpose rather than complacency. It likely did not predict the full extent of the recession on its business since its strategy began at the peak of the cycle, but it surely knew what it was getting into when it simultaneously raised dividends and divested 20% of its revenue streams.
An earnings payout ratio of 90% may make it appear as though the company is barely keeping up with its dividend, but in reality, Leggett and Platt is spending a ton of money on share repurchases while sustaining its dividend. In addition to paying $155 million in dividends in 2010, the company has repurchased $106 million net worth of company stock. And this isn't a one-year thing. The company's net share repurchases have xceeded dividend payments for at least the last 5 years prior to 2010 when dividends finally outpaced net repurchases. So while the earnings payout ratio makes it seem as though LEG is having trouble keeping up with its dividend payouts, in reality, it's actually paying twice as much as one might expect when looking at the dividend alone.
Leggett and Platt has been returning cash to shareholders in the ballpark of 10% of the market cap per year (in the form of dividends and buybacks). This is completely covered by operational cash flow, and approximately covered by free cash flow. So eventually this may have to be reduced a bit (and indeed in 2010 it was), but it shows that Leggett and Platt, even at the current valuation, is capable of returning a huge amount of cash to shareholders over long periods. In addition, by purchasing these shares, Leggett and Platt has reduced its total dividend payout despite consistently growing its dividend payout per share. The company paid out only $155 million in dividends in 2010, but paid $157 million in 2009 and $165 million in 2008. So not only do the share repurchases show Leggett and Platt's massive capability to return value to shareholders, but that it also has the effect of possibly reducing the dividend earnings payout ratio over time if that's the path that the company decides to take.
Risks
Leggett and Platt, despite its fair stability, is a cyclical company that is highly dependent on the overall economy for good performance. Making basic parts is a low-margin business and doesn't provide much of an economic moat. If this type of company is not managed well, it can fall far and fast. The company may fail to grow at its target rate. If the company requires making larger capital expenditures, its free cash flow levels will decrease, possibly resulting in less overall cash returned to shareholders in a given year.
Conclusion and Valuation
In conclusion, I find the P/E ratio of nearly 20 to be a bit misleading, and I find the company to be a value. The strong balance sheet, the high levels of operational and free cash flow, and the long-term willingness to return cash to shareholders come together to provide dividend growth investors with a solid stock. It may not make the best pick for those seeking huge returns, but for those who want solid risk-adjusted returns and income streams, it seems like a good portfolio candidate.
In a weak but reasonable scenario, the company fails to meet its growth target or improve its margins, but continues its long history of strong cash flow and returning value to shareholders, and provides a fair return and growing passive income. In a strong but realistic scenario, the company gets a revenue and income boost from a recovering economy, and then is managed well enough to meets its long-term growth targets, and continues sending huge amounts of cash back to shareholders in the form of dividends and share repurchases.
Disclosure: I have no positions in any stocks mentioned, and no plans to initiate any positions within the next 72 hours.