Timeless Wealth is compensated for research coverage, which denotes a clear bias to our investment opinion. We believe that our research is objective, weighing both the risks and rewards of an investment opportunity. However, our end goal is to highlight firms that we believe are innovative and offer compelling investment propositions. This brings me to discuss ImmunoCellular Therapeutics (NYSEMKT:IMUC):
Less than two years ago, Dendreon's (NASDAQ:DNDN) Provenge, an active cellular immunotherapy treatment for prostate cancer, was proven to prolong the survival rate of patients receiving the remedy in a series of controlled clinical trials. According to the company's data:
The median survival of patients in the PROVENGE group > 65 years of age was 23.4 months (95% confidence interval 22.0, 27.1), compared with 17.3 months in the control group (95% confidence interval: 13.5, 21.5).
The data had investors drooling over shares of the small biotech company, and Dendreon's valuation benefited as a result. Today, investors value Dundreon at approximately $5 billion.
Provenge, which one could argue accounts for much of Dendreon's acclaim, operates in a space familiar to ImmunoCellular Therapeutics, a clinical-stage biotechnology firm that is developing active immunotherapies against cancer.
ImmunoCellular's lead product candidate, ICT-107, is a dendritic cell-based vaccine targeting multiple tumor-associated antigens for glioblastoma, which is the most common and most aggressive form of brain tumor. Like Provenge, ICT-107 is an immunotherapy. It is designed to induce an immune response. Dendritic cells will be extracted from a patient, infused with antigens, and reintroduced into a patient's body to induce an immune response. As it happens, ICT-107 returned stellar results from Phase 1 clinical trials.
In the Phase I clinical study of ICT-107 in GBM, newly diagnosed patients who received the vaccine in addition to the standard of care of surgery, radiation and chemotherapy demonstrated a one year overall survival of 100 percent and a two year survival of 80 percent. This compares favorably with historical 61.1 percent one-year and 26.5 percent two-year survival based on the standard of care alone. The median overall survival has not yet been reached at over 30 months analysis point, with 11 out of 16 patients alive (69% percent).

The 12-month disease-free survival from the time of surgery was 75 percent with ICT-107, compared with the historical control of 26.9 percent, and the 24 month disease-free survival with ICT-107 was 43.8 percent, compared with 10.7 percent historically. The median progression-free survival (NYSE:PFS) of 16.9 months after surgery compared especially favorably with the historical median PFS of 6.9 months observed with the standard treatment. Six of the 16 patients (37 percent) who participated in the study continue to live with no disease progression with an average time of over 30 months. Safety data for ICT-107 also compared favorably to current treatments: no serious adverse events were reported and minor side effects included fatigue, skin rash and pruritis.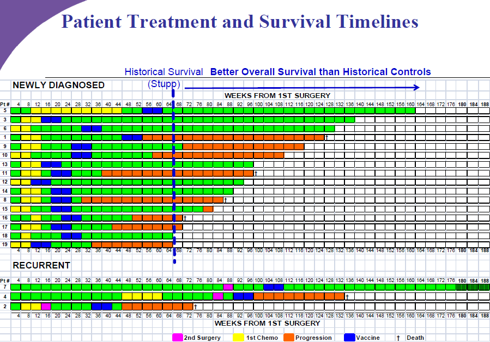 [Click to enlarge]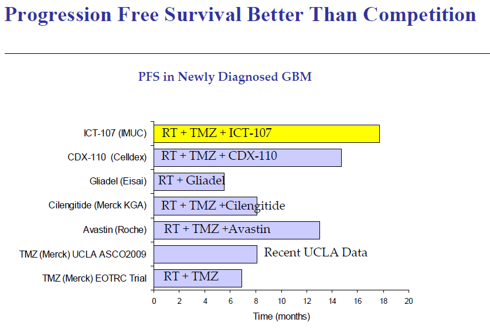 On Wednesday, ImmunoCellular Therapeutics announced its first patient had enrolled in clinical trials, Phase 2 for ICT-107. This crucial stage will determine the efficiency of an immunotherapy that may prove to be as effective, if not more effective, than Dendreon's Provenge. At a cash burn rate of just $1-1.5M/quarter, it's well worth finding out. According to Yahoo Finance, the company had $5.2 million in cash as of the most recent quarter, and no debt.
Phase 2 clinical trials may also bode well for the company in terms of developing strategic relationships and attracting large pharmas as partners. At a $38 million market cap, ImmunoCellular Therapeutics is valued at less than 1/1000 of Dendreon's market value, which also represents a mere drop in the bucket for any large pharmaceutical firm looking to capitalize on an effective technology in its early stages.
Disclosure: I have no positions in any stocks mentioned, but may initiate a long position in IMUC.OB over the next 72 hours.
Additional disclosure: I've been compensated for writing this independent opinion on the company. The views expressed are purely my own.