Oracle (NYSE:ORCL) is set to report earnings for its first fiscal quarter of 2015 after the closing bell on Thursday, September 18. Oracle is a technology company known for selling enterprise software, cloud services and computer hardware systems.
The company is undergoing a tough transition to adopt a subscription based business model rather than selling perpetual software licenses upfront. Cloud computing is an area with plenty of competition from peers such as Salesforce.com (NYSE:CRM), Workday (NYSE:WDAY) and longtime rival SAP (NYSE:SAP). While shifting to a subscription-based software business total revenue has grown more slowly than expected, but Oracle just closed a $5.3 billion acquisition to pick up the pace.
On September 6 Oracle closed its acquisition of Micros Systems, a maker of software and point-of-sale devices which are popular in restaurants, hotels and retailers. The addition of Micros Systems to Oracle is expected to add about $1.5 billion in revenue over the next 12 months. Purchasing Micros Systems is a point of optimism for Oracle, as the company has displayed a lackluster financial performance in recent months. Throughout the past two quarters Oracle has posted single digit growth rates on both the top and bottom line, but has failed to live up to analyst expectations.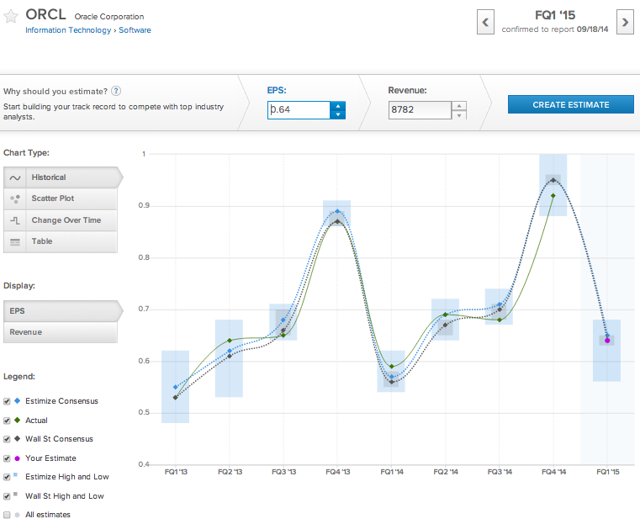 (chart source here)
Oracle has missed the Estimize earnings consensus two quarters in a row now. The technology company is struggling to move the needle on its total revenue, however last quarter software-as-a-service (SaaS) and platform-as-a-service (PaaS) subscription sales rose by 23% to $327 million. SaaS and PaaS sales still make up a small percentage of Oracle's total revenue, but the 23% segment growth is encouraging.
In June Oracle reported its 4th fiscal quarter of 2014, typically the company's best quarter of the year. The company reported earnings of 92 cents per share while contributing buy side and independent analysts on Estimize were forecasting 95 cents. This quarter the Estimize community is predicting profits of 65 cents per share, just a penny ahead ahead of the Wall Street consensus.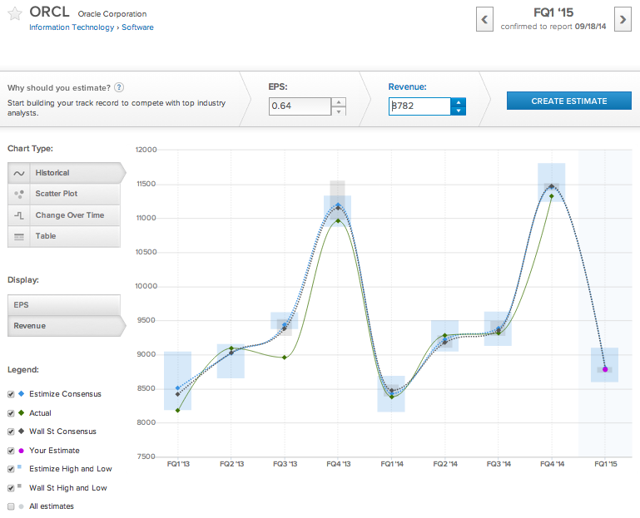 (chart source here)
In addition to missing analysts' profit expectations last quarter, Oracle also came up short on revenue. Oracle reported total revenue of $11.326 billion, up just 3% from the same quarter of one year prior. In its earnings release Oracle noted the transition to cloud-based subscriptions will mean more recurring revenue compared to the previous strategy of selling software up front for a one-time charge. Oracle's year-over-year revenue growth may be slow, but it remains a positive given the nature of subscription business models and Oracle's 23% growth in SaaS and PaaS.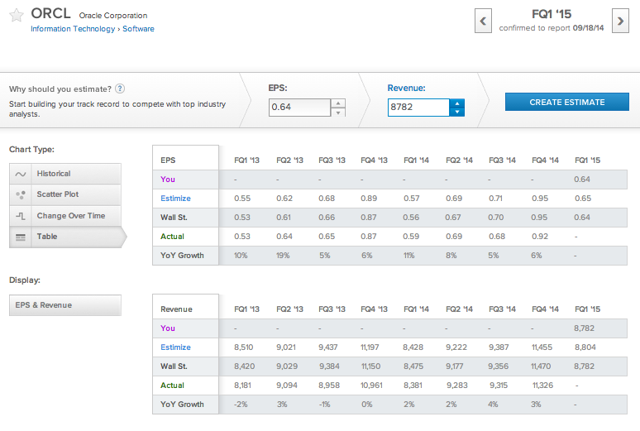 (Chart source here)
This quarter contributing analysts on Estimize expect Oracle to report 1 cent per share ahead of the Wall Street consensus while coming in marginally ahead of the Street's revenue projection. The Estimize community is anticipating that Oracle will accelerate its year-over-year earnings growth rate to 10%, topping the rate of expansion reported over the past three quarters. On the top line analysts are looking for 5% growth, which would be the best relative increase to sales in any quarter over the past two years.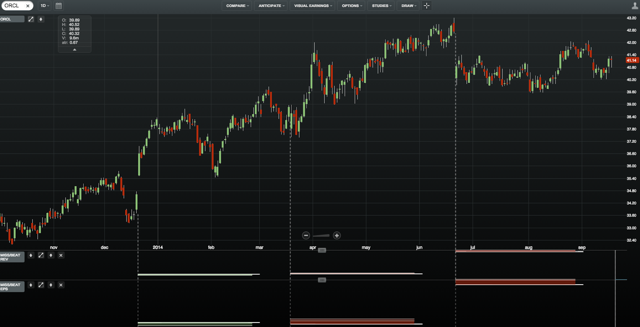 (Graph from ChartIQ Visual Earnings)
Shares of Oracle have largely been flat since the disappointing earnings announcement in June. Oracle's acquisition of Micros Systems and its small but flourishing SaaS and PaaS subscription businesses are the positives, while slow growth overall has been the leading concern. In order to keep up with investors' expectations on Thursday Oracle will need to the hit the gas on its growth by reporting at least 65 cents per share in profits and $8.804 billion in sales.
Disclosure: None.