Voters in Scotland came to their senses and voted to stay in the United Kingdom, keeping together one of the most powerful economies in Europe and ensuring that a split will not impact economic growth negatively. This should give pause to other separatist movements in Europe (particularly in Spain) and could result in those leading the drive to create new countries to focus on building support to make sure they can deliver the required votes should they get the chance to put independence on the ballot. It seems quite strange for these modern countries to want to break-up but looking around the world it seems that this is the trend rather than the exception.
Futures are pointing to a higher open in the US as the world cheers recent central bank moves and the news out of Scotland and the UK. It certainly appears that the trading week will end on a positive note.
Chart of the Day:
Japanese equities continue to rally on the back of the Yen's weakness versus the dollar. This is much like the late 2012, early 2013 rally where the deflating currency helped fuel a massive rally in Japanese stock markets.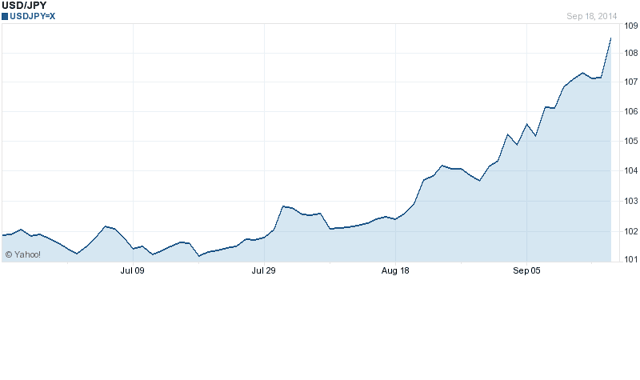 Source: Yahoo Finance
We have economic news today, and it is as follows:
Leading Indicators (10:00 a.m. EST): Est.: 0.4%
The Asian markets are higher today:
All Ordinaries - up 0.32%
Shanghai Composite - up 0.57%
Nikkei 225 - up 1.58%
NZSE 50 - up 0.53%
Seoul Composite - up 0.30%
In Europe, the markets are higher this morning:
CAC 40 - down 0.13%
DAX - up 0.28%
FTSE 100 - up 0.57%
OSE - up 0.41%
Turnover in the Executive Ranks
Yesterday there was an awful lot of news of management changes, more than we can remember among large companies in one day. The biggest news was that Larry Ellison was stepping down as CEO at Oracle (NYSE:ORCL) and appointing Mark Hurd and Safra Catz as co-CEOs. It will be quite interesting to see how long these two can share power, but with Mr. Ellison remaining with the company in the Chairman and CTO roles we think that these two can maintain a working relationship that lasts longer than some of the other co-CEOs of years past.
There were three other significant moves yesterday, starting with Clorox (NYSE:CLX) announcing that Benno Dorer would be the company's new CEO starting on November 20th.
JetBlue (NASDAQ:JBLU) also announced changes with its top executive as current CEO David Berger will step down in February due to retirement. Taking over for Mr. Berger will be the current President Robin Hayes.
At American International Group (NYSE:AIG), the company announced that Jay Wintrob, who is currently the President and CEO of the company's subsidiary AIG Life & Retirement, will be leaving the company. Assuming his role will be Kevin Hogan, who will see his responsibilities with the company expanded with the new title.
Update On Data Breach
Home Depot (NYSE:HD) updated investors on their data breach yesterday and actually raised their annual EPS guidance by $0.02 while simultaneously maintaining their revenue guidance. This is in spite of news that the data breach affected 56 million credit and debit accounts, almost 50% more than the 40 million from the Target (NYSE:TGT) data breach.
Thus far Home Depot shares have held up very well with the negative publicity and fears of costs related to the data breach.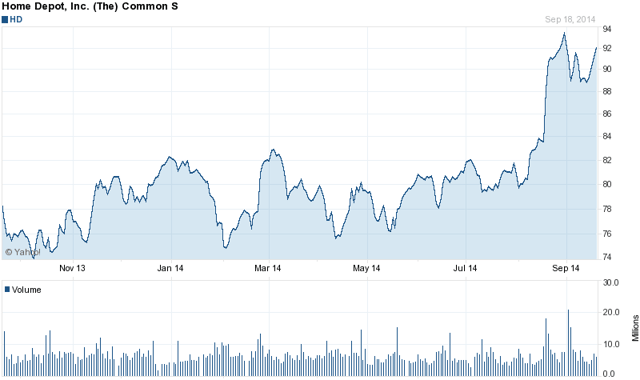 Source: Yahoo Finance
The company is maintaining a positive outlook for the year because of the timing of the data breach. Unlike Target's breach, Home Depot saw news break during a slow period of the year. The hackers stole data during the busy part of the year, which is probably why the number of accounts affected is so high, but because the breach took so long to be discovered consumers were not scared away like they were when news of Target's data breach broke.
If management at Home Depot is correct then what is good news for Home Depot has to be bad news for Lowe's (NYSE:LOW), which many investors, including ourselves, figured would benefit in the short-term from Home Depot's negative news.
Disclosure: The author has no positions in any stocks mentioned, and no plans to initiate any positions within the next 72 hours.
The author wrote this article themselves, and it expresses their own opinions. The author is not receiving compensation for it (other than from Seeking Alpha). The author has no business relationship with any company whose stock is mentioned in this article.