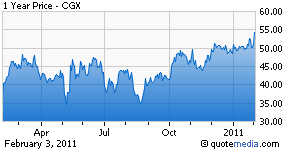 In December 2009, I wrote on why I thought commercial printing company Consolidated Graphics (NYSE:CGX) made for an intriguing small cap value play. See original post here. The main thesis was that the company was a leader in its segment, was trading at a depressed multiple on depressed margins, and continued to generate substantial free cash flow to de-lever its balance sheet. I felt the combination of future growth, margin expansion, multiple expansion, and deleveraging could drive 30% annual returns with limited downside risk. I also saw an opportunity for a stronger player to consolidate weaker competitors on attractive terms.

The stock was trading at $31.50 when I first posted, and I projected that it could rally to $51 by December 2011 largely on the basis of balance sheet deleveraging and $56-$73 with some added growth and multiple expansion. Today, the stock trades around $54-$55, up over 70% in 14 months. Whenever a position reaches my price target faster than expected, I will update the original analysis to see whether I should buy more (I was too conservative and need to adjust my price target higher), hold (still favorable risk reward and I should let my winner run), write calls and/or buy puts (long term potential but want to hedge for awhile), or sell (take the money and reinvest in a better opportunity).

If I go back to my original thesis, some of what I anticipated has played out better than expected and some not as well. CGX has seen its business and margins improve in line with my original these. Revenues in the Dec'10 quarter were up 8% YoY on 6% same store sales growth. EBITDA margins (excluding one-time charges) were 15.5% versus 14.7% in the 2009 period. CGX generated over $130M in calendar 2010 EBITDA.

However, free cash flow has lagged my projections as the company has invested more in working capital and capital expenditures. I originally projected that annual free cash flow would fall from $140M to $70M. However, over the last four quarters, free cash flow came in at $35M ($49M if you exclude a $14M settlement payment). In the December 2010 quarter, free cash flow was actually a negative $4M as the company spent over $18M on capex. On the one hand, I don't want to see declining free cash flow since the ability to deleverage was part of my thesis, but on the other hand this looks more like the company investing for future growth as opposed to seeing cash flows dry up from declining revenues or margins.

In other developments, the company refinanced its bank debt in August and pushed out the maturity date until October 2014. CGX also closed a couple of acquisitions and looks to have gotten a very attractive deal when it bought Hickory Printing Group. Also, the CEO has been a very active acquirer of shares in 2010, which I love to see. In May, he bought $7.6M worth of stock at $38/sh, and in August he bought another $4.1M again at $38/sh. He currently owns 12% of the diluted shares, and I'd argue his interests are well aligned with common shareholders.

All in all, my CGX thesis has mostly played out as expected. So, what to do now? The shares currently trade around 6.5x EBITDA, which is still below the historical trading range. If it maintains a 6.5x multiple, I believe the stock could appreciate another 15%-25% over the next 12-18 months. Additional multiple expansion to 7x could enable 35% upside. But I also have to keep in mind that the last major market meltdown took CGX shares all the way down to $11 from the prior high around $78. While I don't think there is any basis for the stock price to fall that low again, it's clear that the fundamentals can dislocate with price if we experience a significant market correction, and my bias these days is towards capital preservation given what seems to be excessive complacency among investors towards real macro risks.
So in summary, I still believe Consolidated Graphics is a well run company with additional upside, but the overall risk/return profile is not as attractive today as it was 14 months ago. As such, I will keep some CGX in my portfolio but I am not adding to my exposure, and if anything I will begin taking some profits and/or using options to hedge some of the downside risk. I would become a more aggressive buyer of CGX if it had a 25% or greater pull back to around $40 or lower, and I would accelerate selling my shares if the price moves into the mid $60s.
Disclosure: I am long CGX.