One sector that appeals to many income investors is telecommunications. There are a couple reasons for this, including:
Telecommunications companies are relatively resistant to negative economic trends. Individuals who are facing financial problems will be more likely to cut back on discretionary spending, such as luxury goods, rather than cutting off the telephone or Internet.
Telecommunications companies tend to have higher dividends than many other sectors. Much like utilities, telecommunications companies tend to be slow growers and so are able to return much of their cash to shareholders.
Two high-yielding foreign telecoms caught my eye and thus are flagged for further research. All estimates and stock ratings below were obtained via my Zack's Premium subscription.
Portugal Telecom (NYSE:PT)
Portugal Telecom Group is the largest telecommunications and multimedia company in Portugal. The company offers local, long-distance, and international telephone services alongside cellular service, cable TV, broadband Internet, and broadcasting services.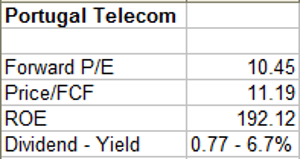 The six-month Zack's target price is $13.70. This represents a 15.1% six month return if the stock hits its target price. If you combine that with the impressive dividend, then there is the potential for high returns here. Zacks has the stock rated as a short-term "Strong Buy" and a long-term Outperform.
Portugal Telecom is currently trading at the middle of its 52-week range. Portugal has a 20% withholding tax that investors need to consider. It is advisable not to hold this stock in a tax deferred account.
Cellcom Israel Ltd (NYSE:CEL)
Cellcom Israel is the leading Israeli cellular provider. It has 3.096 million cellular customers throughout Israel and also provides cellular roaming services to tourists, allowing them to communicate via cell phones while they are in the nation of Israel.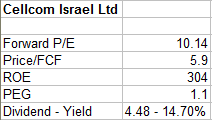 The six-month Zack's target price is $35.70. This represents a 14.5% six-month return if the stock hits its target price. This stock has an even higher dividend than Portugal Telecom, and that would certainly help to juice the return. Zacks rates the stock as a short-term and long-term Hold.
Analysts predict that Cellcom Israel will see decreasing earnings next year. That dividend may or may not be sustainable. I intend to research this stock further to determine if that is the case. Israel, like Portugal, has a 20% withholding tax. It is therefore advisable to hold this stock in a taxable account as opposed to a tax-deferred one.
Disclosure: I have no positions in any stocks mentioned, and no plans to initiate any positions within the next 72 hours.