I have written several times with great skepticism about the idea of holding emerging market bonds as part of one's bond allocation. I have always seen the bond part of a portfolio as what should be the stable part of a portfolio, with limited risks to changes in interest rates and to credit risk. Thus the portfolios should have relatively short durations -- five years or less -- and be limited to investment grade and treasury bonds. Even high-yield bonds, if held in an account, should be considered part of the "risk asset" side of the portfolio along with commodities and equities.
Thus the rationale for emerging market bonds as part of a bond allocation never made sense to me. Compared to my preferred bond holdings, these added risks in terms of currency risk, political risk, and the vagaries of foreign monetary policies.
I am skeptical that the real reason for investors flocking to these bonds (and fund companies producing a new "product" in this area) was not simply a search for yield in a low-rate environment for lower-risk U.S. dollar-denominated bonds. The argument for holding these bonds is that the economies of these countries are growing strongly and thus have a low risk of default, despite the higher yield relative to U.S. dollar bonds.
While the argument of the lower default risk may have merit, it sill doesn't make the case for holding emerging market bonds. That faster growth in the emerging markets creates the potential for inflation. The appropriate central bank response to inflation is to raise interest rates to slow down economic activity and limit price pressures. And of course those higher rates will be bad news for bond prices.
That is exactly what has been happening: Concerns over inflation from commodity prices and local excess demand have led to the expectation of higher interest rates in the emerging markets.
A far better way to participate in emerging markets growth is to do it on the equity side. After all, in an inflationary environment, prices and earnings should correlate closely. Equities perform better in an inflationary environment than bonds. The asset allocation is to invest in emerging market equities and keep the fixed-income allocation conservative with short-duration, high-quality U.S. dollar-denominated bonds.
The last three months, with the increased concerns for inflation -- particularly in the emerging markets -- illustrates this well (see chart below). The JP Morgan Emerging Market Bond ETF (NYSEARCA:EMB) has fallen by 5.6% (blue), the Market Vectors Emerging Markets Bond ETF (NYSEARCA:EMLC) is down 5.1% (black), while the Vanguard Emerging Markets Stock VIPERS ETF (NYSEARCA:VWO) is down 0.7% (green). Keeping the bond allocation very conservative in the short-term iShares Barclays 1-3 Year Treasury Bond ETF (SHY, yellow) would have generated a small loss of 0.5%.
Bottom line: To benefit from emerging market economic growth, hold emerging market equities, not bonds.
[Click to enlarge]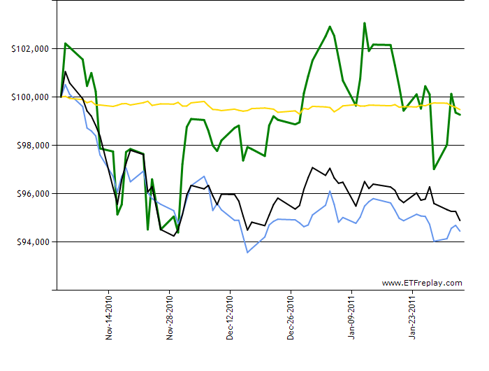 Disclosure: I have no positions in any stocks mentioned, and no plans to initiate any positions within the next 72 hours.