Politicians and journalists scramble to tell us at every opportunity that the recovery is in full swing, and that many sectors of the economy are back to "normal." But some industries have yet to recover – and these sectors are potential areas for substantial growth as the economy continues to normalize. Case in point: The recession absolutely capsized the boating industry.
In 2010, the marine retail market in the United States was half the size that it was in 2007. It's unlikely that it will return to its former glory in the summer of 2011, but a modest recovery seems to be brewing. According to the U.S. Census Bureau, Americans own nearly 17 million pleasure boats, and buying and maintaining pleasure watercraft is a $33.5 billion-a-year business.
There is one leading name in leisure watercraft that is worth a look right now -- and not just because of its exposure to the boating market.
Brunswick Corporation (NYSE:BC) sells boats under dozens of brands, including Sea Ray, Boston Whaler and Bayliner. The company's Mercury and Mariner motors are specified on other companies' watercraft as well.
Brunswick is a leisure products conglomerate. Beyond boating, its products are the dominant name in bowling, billiards and exercise equipment. It operates Brunswick bowling lanes as well.
During the recession American discretionary spending dried up and smacked Brunswick's profits. For 2009, Brunswick reported a net loss of $586 million. Sales fell from $4.7 billion in 2008 to $2.8 billion in 2009. The company was saddled with excess inventory as it had to take back unsold boats and parts after its dealers went out of business.
But the company restructured, consolidated manufacturing to cut excess capacity, and trimmed its work force by 24 percent. Now a leaner Brunswick is starting to get back on track.
In 2010, the company still lost money -- $1.25 per diluted share. But that was a vast improvement as compared to a loss of $6.63 per share the year before. Net sales improved 23 percent to $3.4 billion, excluding charges, and Brunswick reported positive free cash flow of $163.2 million for the year. The company's operating margin was 2.3 percent.
With a leaner, meaner operating strategy and a modest recovery in its recreational markets, Brunswick's stock is attracting investors once again. The share price increased in 2010 by 48 percent and is in a sustained uptrend, trading well above its 50-day moving average.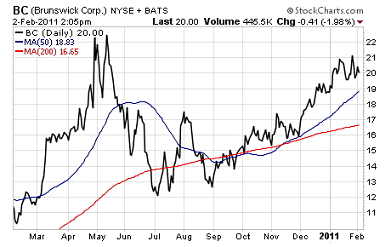 The company still offers investors another incentive - it continues to pay a dividend. Currently the annual rate is $0.20 per share, for a yield of 0.25 percent.
On the January 27 conference call, CEO Dusty McCoy sounded more optimistic about the 2011 outlook for his company, and gave indications that the boating industry's retrenchment had bottomed out. Of course, CEOs are supposed to sound optimistic, but he did provide analysts with compelling reasons to believe him.
One of those reasons is overseas demand. The company recorded improved fourth-quarter volume in emerging markets, including China, Brazil and Russia. In the quarter, marine sales outside the United States grew by 8 percent.
There is a big boat show in Miami later this month which will help manufacturers get a better handle on whether demand is truly increasing or if this is just a blip in a bear boating market. One other concern: Tight credit markets could keep potential buyers out of the market if banks refuse to supply loans.
McCoy believes that Brunswick can return to profitability in 2011 and deliver EPS between $0.05 and $0.40. Analysts who cover the company expect $0.26 per share in earnings, according to Thomson Reuters. Even better, EPS is expected to quadruple in 2012.
In other segments, bowling product demand is down but Brunswick sees growing demand for its exercise equipment. The company's Life Fitness division is working to incorporate the Internet in its fitness equipment, and promises a smart phone app that will integrate with its Virtual Trainer website.
Brunswick offers a good value at current levels. The stock is currently trading under $20, and it has a forward P/E of 18. Keeping the dividend intact during its painful restructuring likely kept some shareholders on board as well.