By Richard Bloch
During part three of Barron's annual Roundtable forum, Mario Gabelli, Chairman of Gamco Investors, listed his picks for 2011:
Part of the discussion from the Roundtable:
Gabelli: Lastly, I'll recommend a gold stock.

[Barron's]: Not you, too.

Gabelli: People in this room want physical gold available to them. How will it be transported? By Brink's (NYSE:BCO).
Brinks? A gold trade? Gabelli also cites an added bonus. There's 7% more currency in circulation than five years ago, which also needs to be moved around.
I'm not convinced – at least not yet. Moving paper currency around just doesn't seem like a growth industry to me, especially in an age of debit cards and other payment methods. And if people accumulate gold, wouldn't that mean fewer larger shipments? Sure, there might be plenty of shipments of a few ounces, but who gets shipments like those from Brink's?
Cash flow is "manageable"
Anyway, I took a look at the company's most recent investor presentation (PDF). Just a quick scan shows this slide: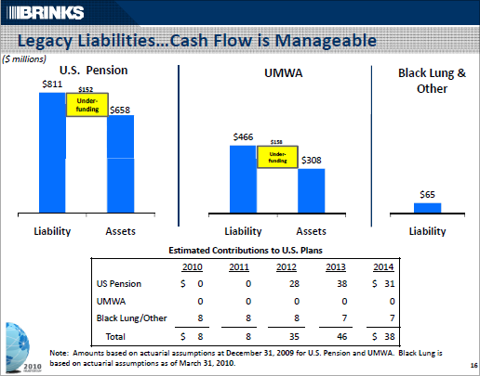 All other things being equal, I prefer companies where cash flow is well more than "manageable" with no "legacy liabilities." And this long-term chart makes me queasy:
How many years will it be before that 2008 gap gets filled?
Maybe there's some value here I don't know about. That's what value investing is, after all, seeing value where others do not.
There wasn't much more to go on from what Gabelli said in Barron's. He did note "consolidation taking place in this business." Did he mean another company might acquire Brink's – or the other way around?
The stock trades at a forward P/E multiple of about 17. Gabelli did suggest that earnings could "grow at a 17% annual rate in the next several years," but it's unclear to me how the company will deliver that growth.
Just the quickest of screens shows there could be hundreds of stocks that have annual earnings growth over 17% and cost less than 17 times forward earnings. So I don't see a bargain here.
It also seems to me that if one wanted to invest in security companies, then those that manufacture systems, technology, armor, arms, etc. could be a better place to look.
Yes, I may be missing something, but. I just don't think of Brink's as a "gold stock." Sorry Mario.