Gap Inc. (NYSE:GPS) is one of the oldest and largest apparel companies in the United States. The company has nevertheless not had a very good year as far as financial results go. In the first quarter of the current fiscal year, revenue grew just 1% to $3.77 billion, with same-store sales declining 1%. EPS was badly hit plunging 18.3% to $0.58. The company's marquee brands recorded negative growth: Gap global sales fell 5%; Banana Republic global sales fell 1%; Old Navy global sales fell 1%.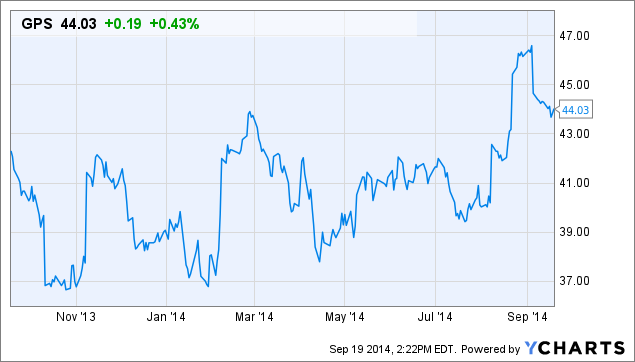 In the second quarter, things improved for the apparel seller. Revenue grew 3% to 3.98 billion, while EPS improved 10% to $0.75. Comparable store sales, however, remained flat compared to 5% growth during the previous year's comparable quarter. Leading brands recorded mixed results: Gap global sales fell 5%; Banana Republic global sales remained flat; Old Navy global sales grew 5%. Old Navy sales were 40.7% of sales; Gap sales accounted for 36.9% while Banana Republic made up 17.7% of sales. Gap's shares rose marginally after the company managed to beat consensus analysts' earnings estimates by $0.06 per share, and raised its full-year EPS from $2.90-$2.95 to $2.95-$3.00.
Gap Inc. is facing some significant headwinds, such as inventory management and timing of product launches. The company is however working hard to solve these problems. In the first quarter, Gap mistimed the launch of its spring collection. Persistent cold temperatures resulted in weak demand for its spring inventory. The company, however, was able to counter this using well-planned and well-executed promotional strategies which helped it finish the quarter with a clean inventory position.
Despite the near-term challenges Gap Inc. is facing, I believe the company, and its shares, are bound to perform well over the long haul.
Fast-Fashion Brands
The overall U.S. retail sector is still in recovery mode. Shoppers have turned to bargain hunting and show low brand loyalty, unlike what was the case in the past. As a result of this trend, customers have been gradually shifting from traditional apparel retailers that have traditionally had strong brand recognition such as American Eagle Outfitters (NYSE: AEO), Abercrombie & Fitch (NYSE: ANF), and Aeropostale (NYSE: ARO) to fast-fashion brands such as Gap Inc. Forever 21, H&M, and Zara. Gap caters to a large demographic and has a deep understanding of the needs of its customers.
Gap sells three main retail brands-Old Navy, Banana Republic, and Gap-each at different price points that creates a unique shopping experience for each brand. Although Gap's more expensive brands have also suffered declining sales, its more affordable brand Old Navy is doing well. Old Navy offers casual clothing at affordable prices for fashion-conscious college and high school students. The brand's website reflects a wide array of vibrant colors where different products such as women's dresses, swim suits, flip flops, jeans for the entire family and so on are offered at a discount each week.
The Gap brand is more expensive than Old Navy and targets working professionals as well as teenagers. The brand's website is more subtle than Old Navy's and sports products such as jeans, polo's, khakis, and cardigans.
Banana Republic is Gap's affordable luxury brand, with a website that reflects this. It offers versatile workwear for both men and women that can be worn for every occasion. The brand occasionally partners with leading designers to offer exclusive but limited collections. Banana Republic attire offers affluent buyers looking to add a sense of style to their workplace attire a nice shopping option. It's worth noting that Gap online sales during the second quarter clocked in at $515 million, after growing 11% year-on-year. Gap's online sales make up almost 13% of overall sales, which is a good thing since online sales are growing much faster than brick-and-mortar store sales.
Although Gap Inc. is a casual clothing retailer, it has managed to create different marketplaces for itself each targeting a distinct group of buyers. This strategy has worked well for the company so far, and is likely to continue doing so in the future. The company's marquee brands account for over 65% of Gap Inc.'s sales.
Better Inventory Management
Gap suffered from a serious inventory setback in the first quarter due to weak demand for its spring attire as a result of unusually cold weather early in the year. Consequently, the company had to engage in heavy promotions and product markdowns, resulting in a 260 basis points contraction in its gross margin. The product promotions, however, helped the company to attain a desirable inventory position and inventory dollars per store improved 7% in the first quarter and 2% in the second quarter. The company has been optimizing its inventory mix to deliver season-relevant merchandise. This will dilute the need for extensive promotional activities which drag down margins.
Asian Expansion
Gap is undertaking aggressive expansion activities in China and India, some of the most promising apparel markets in the world. The company plans to enter India in 2015 through a franchise agreement by opening 40 stores. The Gap brand is popular in India with about 50% of the country's 1.2 billion people aged 25 years and under. Young people in India are as fashion-conscious as anywhere else in the world. The Indian apparel market is expected to triple between 2011 and 2020 from $40 billion to $120 billion. Gap also plans to open 110 namesakes stores in China and expects sales in China to triple to 1 billion in three years' time. Gap has a significant footprint known in China with almost 70% brand awareness. Although the Chinese apparel sector is currently struggling due to low consumer spending, the long-term outlook is good. The Chinese consumer market is growing rapidly, and is projected to grow from $140 billion in 2012 to $220 billion in 2016. The fashion casual market is predicted to grow at CAGR of 15% during this period, faster than the overall market.
Athleta Brand
Gap is planning to give yoga-pants seller Lululemon (NASDAQ: LULU) a run for its money with its Athleta brand, which is proving very popular. Athleta is a yoga/active wear brand, and poses serious competition for Lululemon's Luon brand Gap opened up 8 more Athleta stores in America during the second quarter, to bring up its tally to 79 compared to Lulu's 263. Gap plans to add about 40-50 Athleta stores each year. Gap is obviously targeting Lulu's customers with Athleta. Its stores are mostly located next to Lululemon's stores and the company mimicks Lulu's relationship with the yoga community and a healthy lifestyle positioning. The stores are 40% bigger than typical Lululemon stores. Gap took advantage of Lululemon's massive yoga pants recall of 2013 and its supply chain snafu to lure Lululemon's customers into its own stores, and the bait seems to have worked. Although Athleta stores only account for 2.23% of Gap's store count, they are currently the company's fastest-growing.
Conclusion
Gap shares trade at a trailing 12-month PE ratio of 15.94, price-to-sales multiple of 1.09 and EV/ Sales multiple of 1.17. I think the shares carry significant short-term and long-term upside and are a good buy.
Disclosure: The author has no positions in any stocks mentioned, and no plans to initiate any positions within the next 72 hours.
The author wrote this article themselves, and it expresses their own opinions. The author is not receiving compensation for it (other than from Seeking Alpha). The author has no business relationship with any company whose stock is mentioned in this article.