Groupon, the privately-held social buying service, just sent out an email to subscribers with the subject line promising a "Super Groupon" that provides the buyer with a $20 credit at Barnes & Noble (NYSE:BKS) for $10 (click to enlarge image):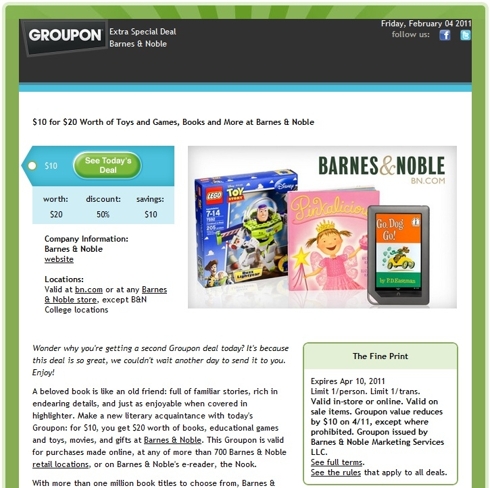 Barnes & Noble seems like they are trying to capitalize on rumors of the possible bankruptcy of their main brick-and-mortar competitor, Borders (BGP). Earlier this week, Borders shares fell about 50% after Bloomberg published news stating that "people familiar with the matter" said that Borders may file for bankruptcy protection as early as next week.
I think there's two important themes behind Barnes & Noble's Super Groupon.

The first point, which has become increasingly clear over the past few years, is that Barnes & Noble is playing to win in the war for brick-and-mortar media sales. They successfully brought an e-reader to market (the Nook) that has managed to differentiate itself from other offerings (Amazon's (NASDAQ:AMZN) Kindle and others) to remain relevant to tech-conscious consumers, and have kept a strong balance sheet during the process (while Borders teetered on the brink of bankruptcy). They are now proverbially kicking Borders while it's down by providing this offer.
Barnes & Noble will lose money in the short-term on this Groupon; not only are they selling a lot of merchandise at half-price, but Groupon takes a cut of the $10 face price, leaving Barnes & Noble with something like $5-8 of cash from the $20 of merchandise that the coupon buys. This must mean that Barnes & Noble is very comfortable where it is right now, and that it's bold enough to take a risk and spend some money to hopefully win a lot of its competitor's customers.
The second theme is that Groupon is becoming a very important marketing tool, even for large, nation-wide companies. In just a few short years, Groupon has gone from nothing, to providing customers with local deals from mom-and-pop stores seeking exposure, to providing national (or global) companies with a means of reaching out to tens of millions of customers. Many observers questioned Groupon's decision to not accept Google's (NASDAQ:GOOG) buyout offer... but Groupon just continues to do even more impressive things.
Disclosure: I have no positions in any stocks mentioned, and no plans to initiate any positions within the next 72 hours.