The problem with very tiny stocks is that they often suffer from a lack of analyst coverage and long-term forward looking guidance. Because of this, many of these stocks fly under the radar until the stock has already experienced much fundamental and price appreciation.

My goal is to uncover some of these teeny-weenie companies that might pop over the coming months. (You might also be interested to find out whether growth or value stocks are poised to outperform next)
Screening for Nano Caps
To find some potential Nano Cap picks we are going to screen for the following:
Price over $1
Average volume over 100,000
Positive EPS growth this year over 20%
Positive EPS growth quarter over quarter
Positive sales growth quarter over quarter
On a major exchange (not OTCBBs)
This is a fairly wide net. Even still, only 9 stocks were filtered.

The Nano Cap Stock List
Here are the Nano Cap stocks we will examine further.
Highlighting a Couple Nano Cap Stock Picks
INTT – inTEST is involved with semiconductors, microchips, and more. The company returned to profitability in 2010 after a long-term roller coaster ride with the break-even point. It is currently earning some of the biggest profits the company has seen in a decade, although share prices are less than half of the highs during that same period of time. Although the one analyst estimate of growth next year is only 4% higher than this year, inTEST increased its guidance on the 4Q of 2010. This could have a further healthy upside despite the recent share price run-up. A very low PE, forward PE, and Price to Sales ratio makes this a good value pick with high growth expectations.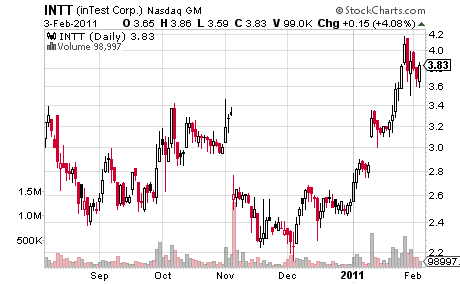 SMTX – SMTC Corp. is in the printed circuit board industry. Looking over the income statements, this company has experienced a steady decline in revenue when comparing 2007-2009. 2010 was the year of the turnaround. The company reports earnings on March 7th. It seems reasonable that revenue will be up annually well over 40% from last year. Earnings are trending upwards strongly overall as well. While small companies can have volatile earnings, this could be a good high growth pick to add to your portfolio. With low valuations such as a PE under 5, Price to Sales at 0.20, this may have rapid share price growth. Other positive long term trends are decreasing liabilities and paying off long term debt.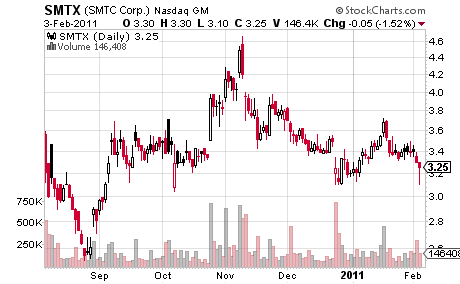 OINK – Tainli Agritech, a Chinese pig herding, breeding operation, is an interesting pick. This is a very volatile pick with a recent range from $8.43 to $3.60 and is currently trading at $4.86. Profit margins are high at 39.17%. The stock is currently touching a minor support level, and the next one down is at $4. Expectations for 2011? A 20% increase in profit of $1.04 - $1.14 on $28 - $29.5 million revenue. The company has plans to expand the farm, which is good. But this is still a very volatile pick. I'd like to see some volume at one of the support levels push prices up before I'd take a big position. Now, if it could create the next Gordy or Babe on the farm, the Hollywood status could give the company a bump up.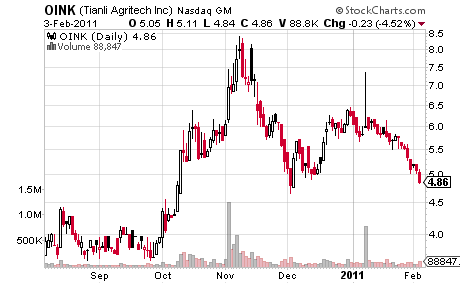 Should I Buy These?
Look over all the picks very carefully to ensure you are comfortable with the level of risk in Nano Caps. While some of these might go onto stardom, others might end up bankrupt because of a low cash flow and a lack of investor interest. A quick look at the charts also shows how quickly share prices can slide as in the case of MRNA, EFOI, and BIOF. You would want to see positive fundamental changes in these stocks before buying. Do your due diligence and you might find next year's winner.
Disclosure: I have no positions in any stocks mentioned, and no plans to initiate any positions within the next 72 hours.